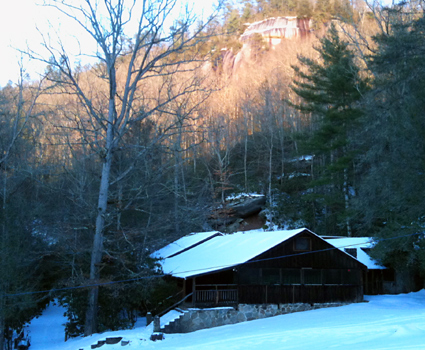 A Rockbrook Girl's Night Before Christmas
'Twas the night before Christmas, and all round the world,
Were the coolest of cool, those great Rockbrook girls.
Their trunks were still packed in the corners of their rooms,
And they offered camp-colors to wintery gloom.
The world was a snow globe, all twinkling and white,
And the houses and halls were all decked in their lights.
Their tummies were warmed by hot chocolates and ciders,
And the girls never worried 'bout snakes or wolf spiders.
The holiday season brought so much to love:
With ice skating, skiing, warm mittens and gloves,
With Thanksgiving, Hanukkah, Kwanzaa, Diwali,
With New Year's, and Christmas with boughs of bright holly.
But while sugarplums danced in the heads of their friends,
And their brothers' discussions of gifts would not end,
The campers they dreamed of a different time,
When the weather was warm and the company was fine.
They dreamed of the days spent beneath the hot sun,
Of laughter and joy and unstoppable fun.
They dreamed of old cabins of weathered brown wood,
Of the Dining Hall songs and the dinners so good.
For these girls have a place of which only they know,
A place that still calls them through sleet and through snow.
A queendom of summer, all wreathed in tall trees,
Governed by girls with dirty faces and knees.
A place of the Midget Man, Killroy, and Nancy,
A place where the costumes make everyone fancy.
A place where the coolest is she who sings loudest,
A place where the silliest is always the proudest.
There may be no presents, no Santas or stockings,
There may be no carolers on front doors knocking,
There may be no snowmen at that time of year,
But there's no other time with more pep or more cheer.
It's a time that's for rollicking, frolicking joys,
A time just for girls, with no smelly old boys.
It's a time that's for hiking, for swimming, for climbing,
A time that's for Honosorarius rhyming.
It's a time when directors can be seen walking,
And always with counselors and campers are talking.
A time when sweet Sarah stands up at the mic,
And says to the list'ners in a voice kind and bright,
"Now campers! Now counselors! Now barn staff and nurses!
On paddlers! On crafters! On singers of verses!
To the top of the Tower and to Rockbrook Falls,
Now hike away, climb away, dance away all!
For this is your time, on this midsummer's day,
And it shall be spent in your favorite way.
It's a time that we treasure in all of our hearts,
A time full of many incredible parts."
So campers, though you are now spread far and wide,
Though you may have grown older, left camp days behind,
Just think of dear Rockbrook, in days cold and dark,
And its spirit will bring summer's warmth to your heart.
And the day will come soon, for you or your daughter,
When you both stand once more beside cold running water,
And listen to red birds sing high in the pine,
And hear sounds of Rockbrook down each merry line.
But for now, let me tell you, with heart full of joy,
That I wish you best wishes for you to enjoy.
May your holiday season be happy and bright,
Merry Christmas from Rockbrook; to all a goodnight!