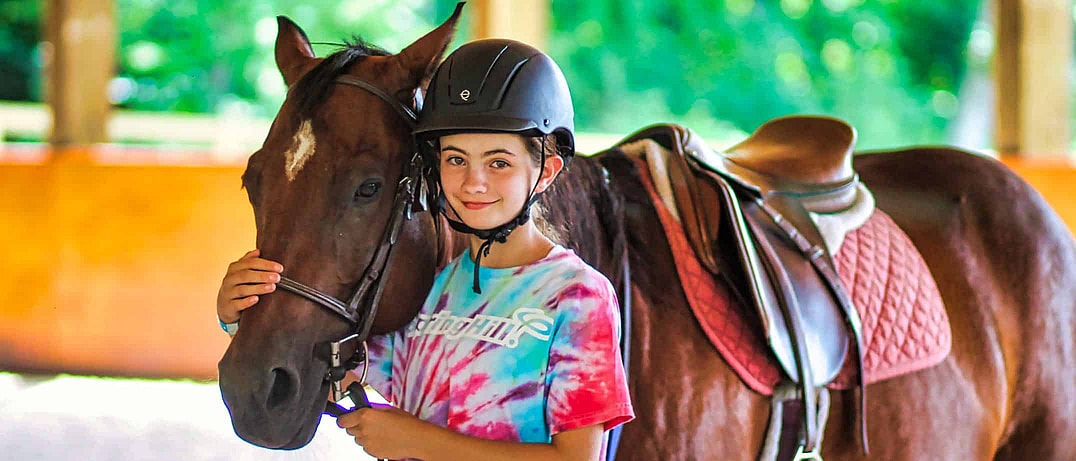 Let's Ride!
For Girls who Love Horses
Horseback riding at Rockbrook camp combines excellent horses and ponies, qualified instructors, and top-notch facilities, to create an equestrian program where girls can improve their horseback riding skills, deepen their horsemanship knowledge, and have fun riding with friends.
The riding program accommodates a wide range of riders— from advanced equestriennes with years of experience, to young riders who have never ridden before.
As part of our overnight camp program, all Rockbrook campers can enjoy horseback riding up to 6 days per week.
Horseback riding is included in Rockbrook's regular camp tuition.
Walk, Trot, Canter, and Jump!
Riding at Camp
At Rockbrook girls learn to ride, grow as a rider, and have fun horseback riding with friends.

Check it out in this short video!


English Riding
The Rockbrook horseback riding camp program is based on the American system of forward riding, a system used by many top hunter-jumper, eventing, and dressage riders.
When campers select horse riding as an activity at camp, the director considers their skill, confidence, and size in assigning appropriate mounts, riding groups, and instructors. The overall priorities of the Rockbrook horseback program are safety, fun, and skill advancement.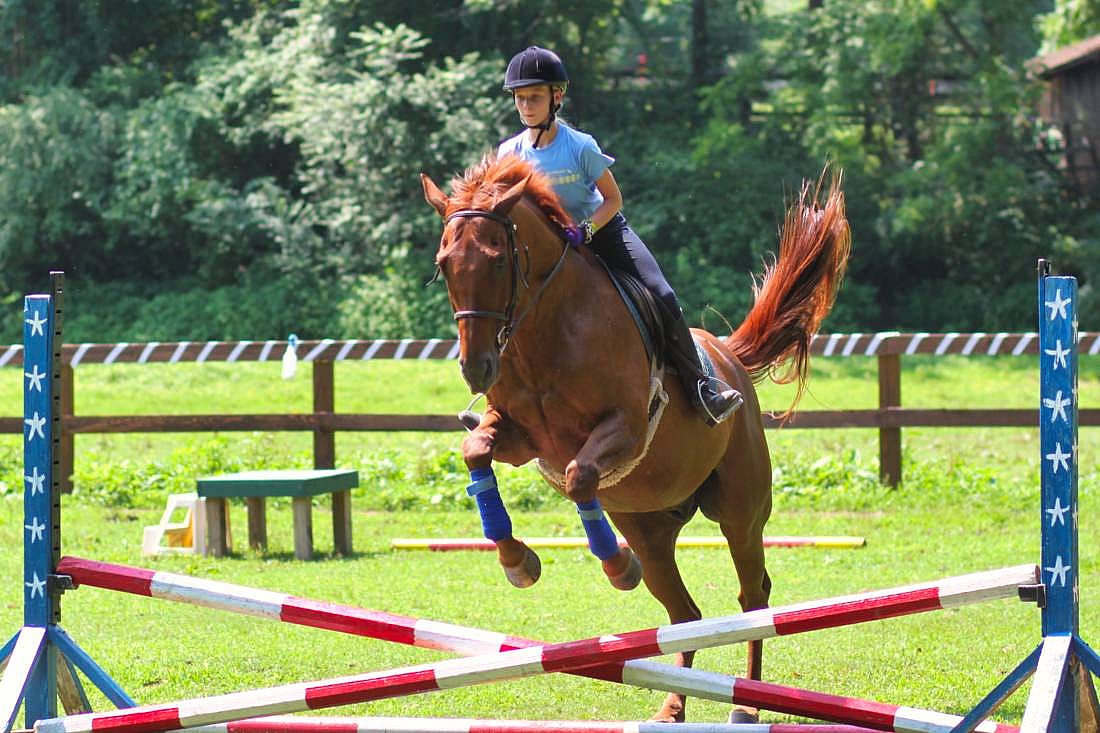 Four-legged Friends
Just the Right Horse
The riding program features horses ranging from experienced A circuit show horses, to seasoned beginner ponies. All of our horses are active in equestrian programs throughout the year, either in the equine program at St. Andrews Presbyterian College or working with the therapeutic riding program Free Rein.
Equestrian Staff
Our equestrian staff is trained and experienced to teach a wide range of riders. Young beginners play mounted games learning all about important riding principles, and their favorite horses, while others learn to post the trot, or canter or jump. More advanced riders can jump through gymnastics or over natural obstacles.
Kelsi Peterson is the senior director of the horseback riding program at Rockbrook Camp. She received a B.A. in Equine Business Management from St. Andrews Presbyterian College where she served as the Barn Manager and as the intercollegiate Show Team coach. Kelsi is an Affiliated National Riding Commission (ANRC) rated rider and has more than 20 years experience on the A circuit working with horses and teaching riding at summer horse camps.
Learn about our horseback riding instructor job opportunities.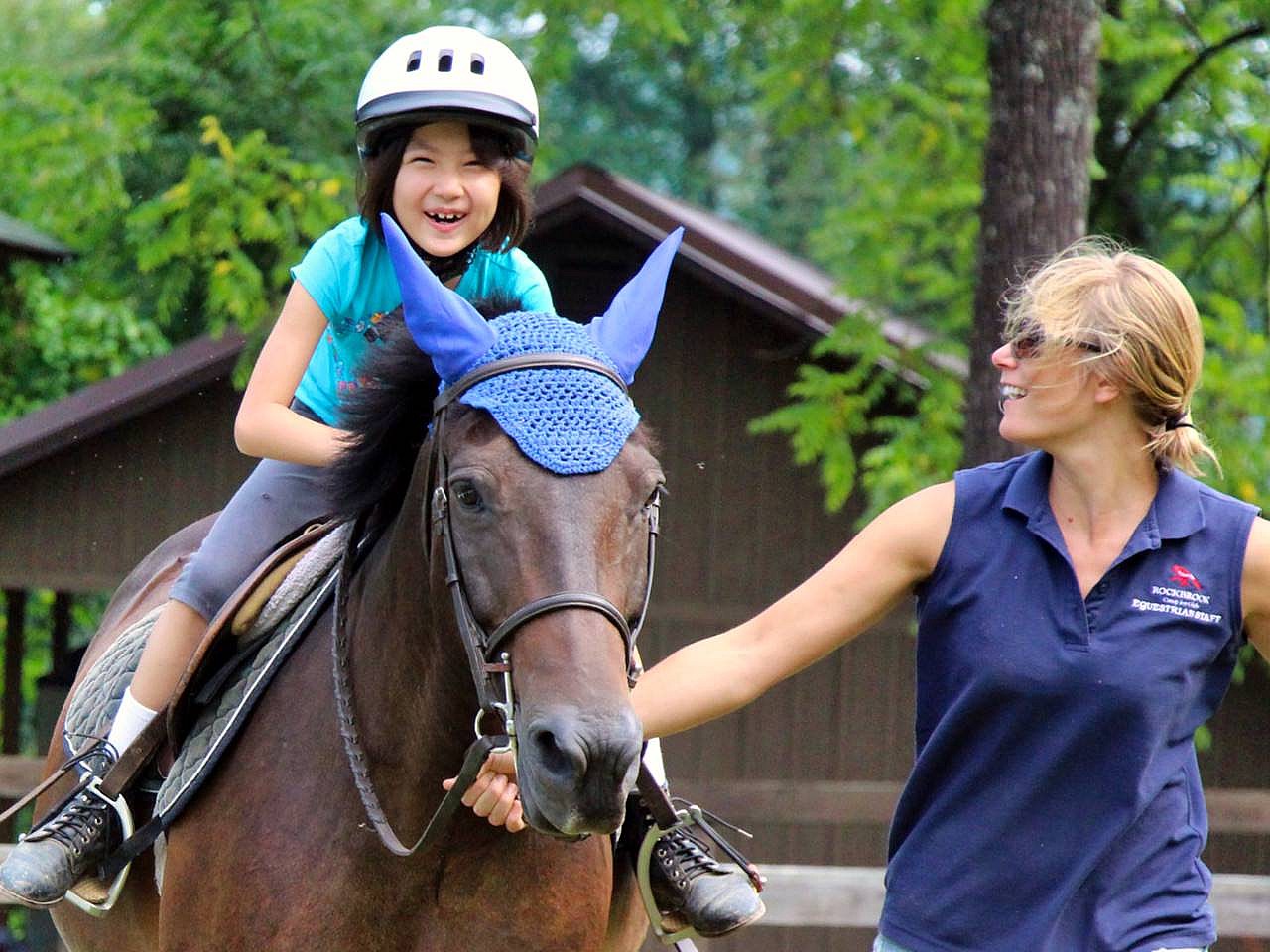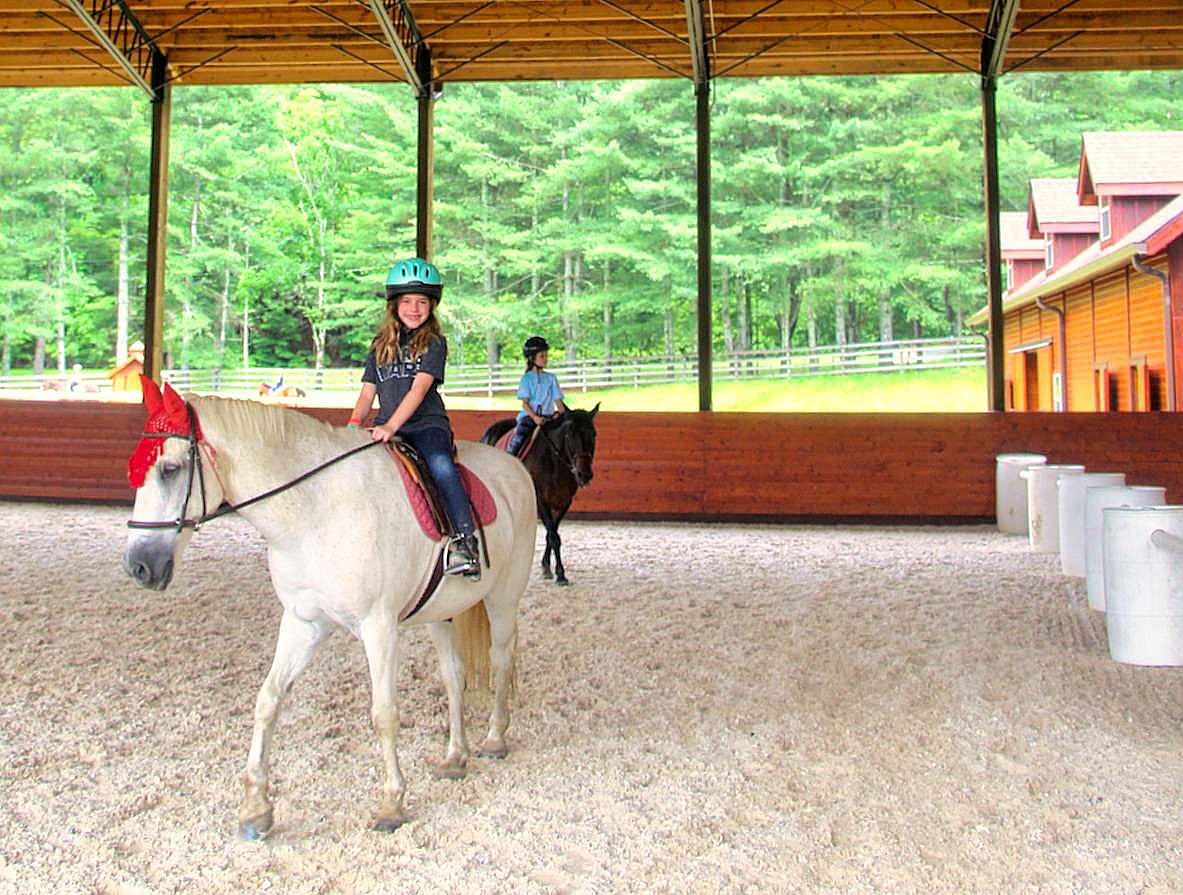 Amazing Riding Facilities
The Rockbrook Horseback Riding Center features a state-of-the-art barn with heated wash stalls, feed room and tack room, secondary barn, outdoor rings and jump course, 32 horse stalls, more than 40 acres of fenced pasture, private turnout areas, and a 90'x180′ covered riding arena, complete with lights and engineered sand/fiber footing.
All campers enjoy this premier equestrian facility!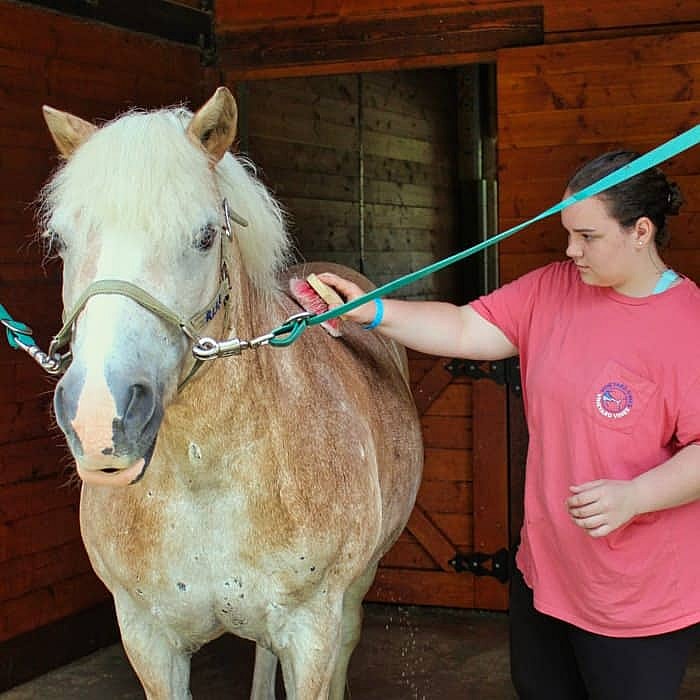 Join the Stable Club
Learning to take care of a horse is just as important as learning to ride one!
The Rockbrook Stable Club lets girls practice ground handling, feeding, bathing and grooming, tacking and untacking, stall care and more advanced horse health care.
All campers can sign up for Stable Club as one of their regular activities.
Horses All Day Long!
Want to ride even more?
Rockbrook offers a specialty 1-week horse camp where girls spend all of their activity time working with horses, receiving at least two mounted riding lessons each day, and developing their horsemanship knowledge and skills.
Designed for more advanced riders, this camp is perfect for the horse crazy among us!
Specialty Horse Camp