At Rockbrook, we're all about the thrill of group games! Whether it's the spirited chaos of outdoor soccer, the heart-pimping action on the volleyball court, or the outright silliness of dodgeball, our gym and grassy sports field are alive with the fun of playing games together.
There are many field games and gym sports camp activities for the girls at Rockbrook. We love to keep things moving and depending on each group's interests will combine athleticism, traditional sports, and offbeat creative fun.
Summer Camp Sports & Games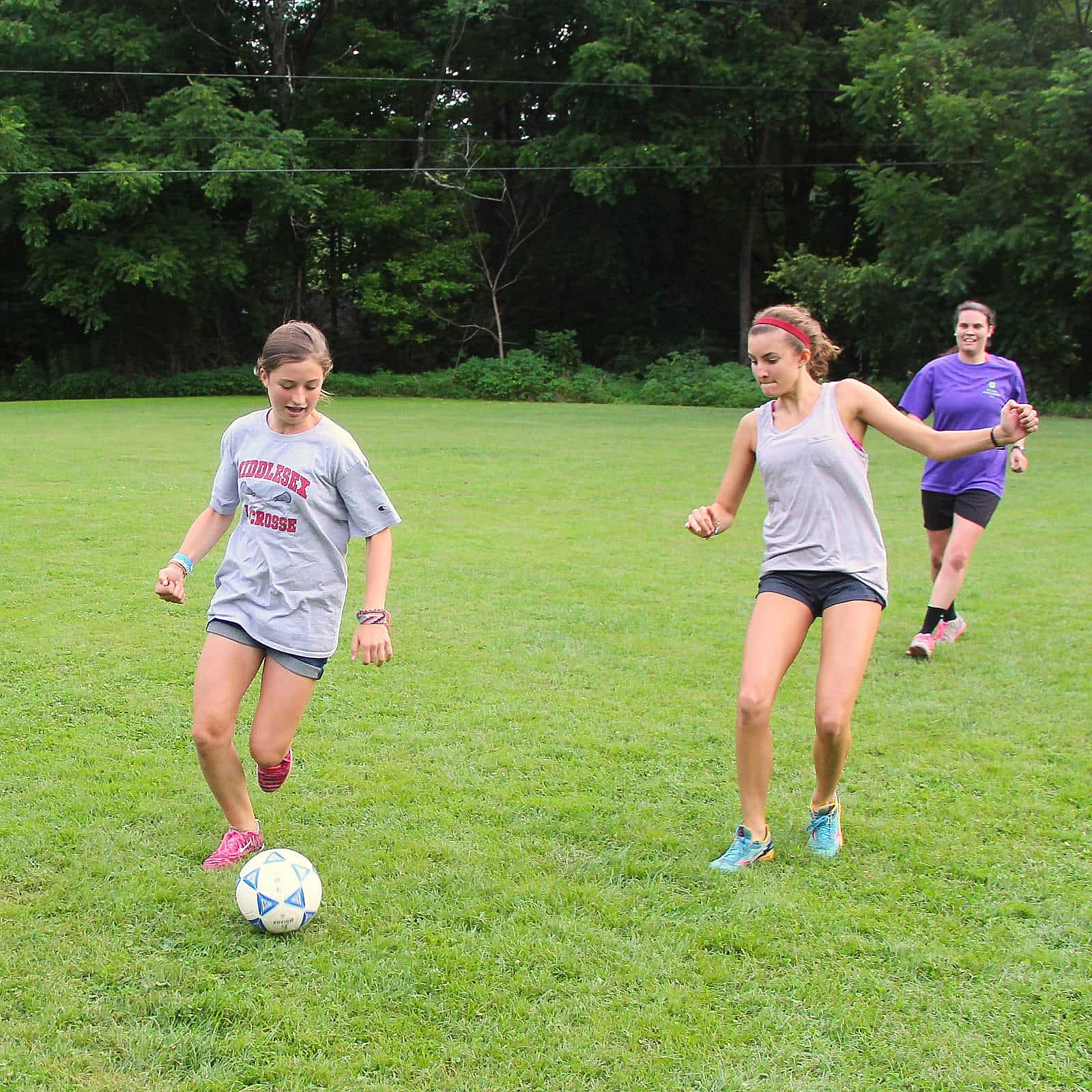 Outdoor Sports and Games
The Rockbrook Camp grassy sports field is perfect for kicking soccer goals, playing challenge games with frisbees, kickball matches, or playing badminton or Croquet.
The whole group could have a blast with relays. Look out for Dizzy Lizzy, hula hoop races, wheelbarrow partner challenges, and giant ball games to name a few.
Different games of tag, like elbow tag, are always a popular choice!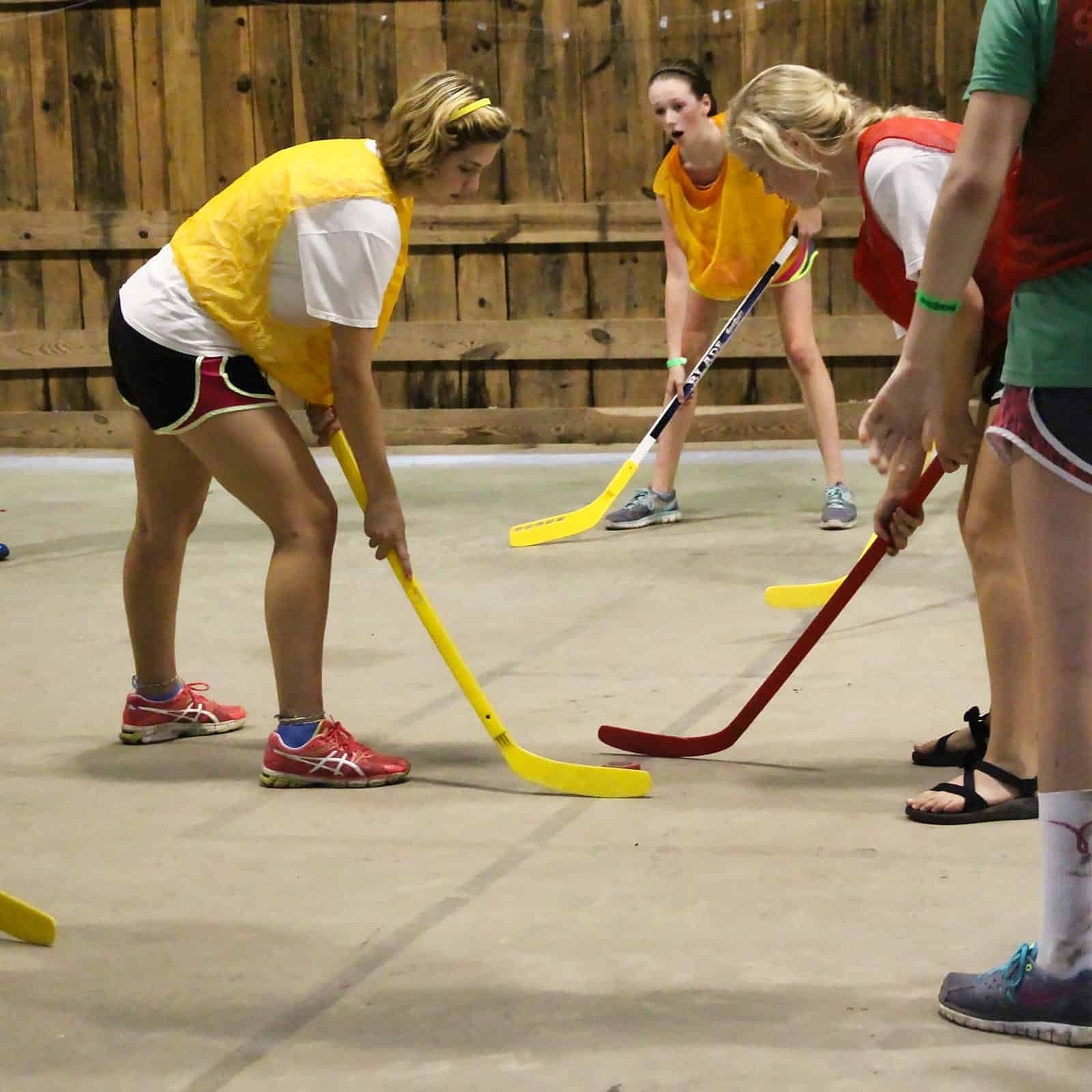 Gym Sports and Games
The gym is a great place to square off teams for volleyball, hockey, basketball, or 9 square in the air.
Work on drills and build your basketball handling skills, or let your silly side come out in a funny game of jumprope, or using the parachute.
Watch out for a wild game of dodgeball!
Freetime Group Games
During Rockbrook's 3 freetime periods, girls will always be jumping around, and in and out of, the gagaball court.
The tetherball courts attract a crowd throughout the day as campers take turns trying to swat the ball around the pole.
There's a way to pay a game anytime of the day!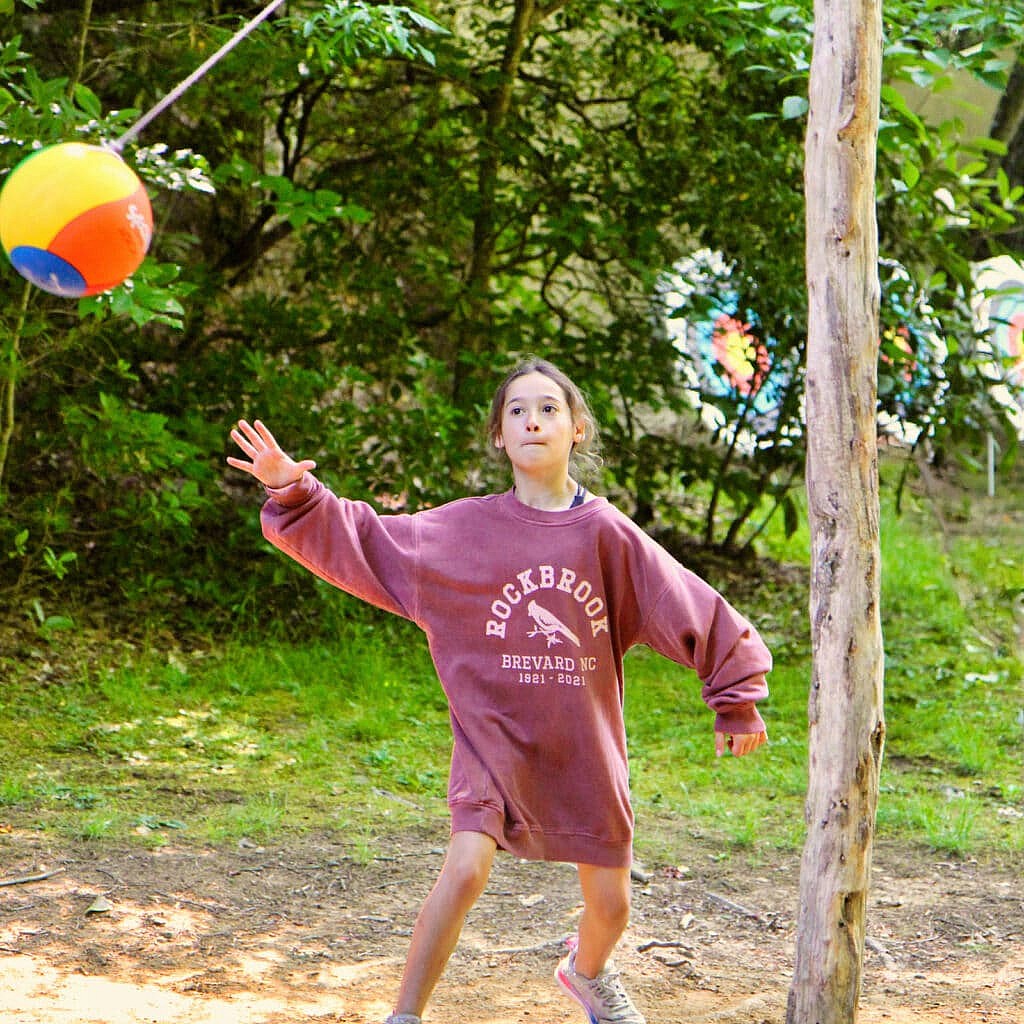 The spirit of Rockbrook carries through all of the sports and games played at camp. There's a spirit of camaraderie, and joyful enthusiasm for playing itself, and not intense competition. The goal is to laugh and have fun, not find our who can earn the highest score.
Gym sports and field games are a great way for camp girls to stay active and have a great time while improving their skills at both traditional sports and silly creative games. While playing, girls build their confidence and coordination, strength and knowledge of the sports and games. One day you'll play basketball, and perhaps volleyball the next, a wild game of tag or frisbee golf.
Gaga Ball is a special form of dodgeball that's played in its own octagonal court. Using only their hands, campers bounce a ball off of the court's walls while doing their best to avoid having the ball hit their foot or leg. Being hit means you're out! The goal is to be only person left not hit.
While instructors are prepared to teach traditional rules and strategies for sports, they also get creative with bending those rules. Girls have played soccer inside, where they can bounce the soccer ball off of the walls. Campers also might have a "dress up" day or play a version of a fictitious sport, like Quidditch. Playing a game at camp means nurturing relationships, being active, and having fun.