Rockbrook has an extensive arts and crafts program designed for its campers. With an emphasis on fun and creativity, girls at camp can be immersed in color while learning to weave, to throw a bowl on the potters wheel, to paint, to sew, and so much more! There are seven different craft activities available.
Arts and Crafts for Kids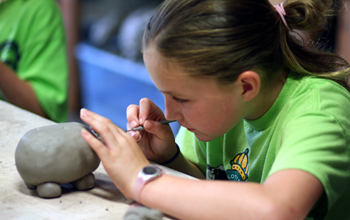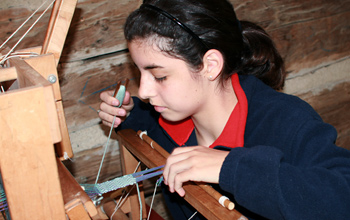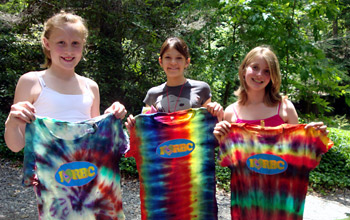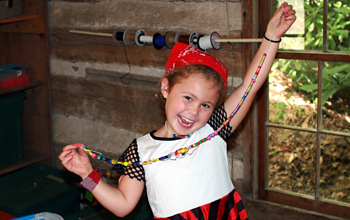 • Pottery — Take clay and press it into a slab, roll it into a coil or a ball, or spin it on the potter's wheel to make cups, bowls and fun sculptures. Paint on glazes, and after a kiln firing, your ceramic creation will be beautiful.
• Weaving and Needle Crafts — Weave a cloth place mat on a loom, a basket from reeds, or a potholder using finger weaving. Learn to knit, crochet, embroider, and cross stitch using colorful yarns.
• Jewelry Making — Learn to tie a friendship bracelet from string. Twist and bend wire to make a ring or necklace. Add colorful beads of all shapes and sizes, you can make amazing jewelry for your friends.
• Painting and Drawing — Learn how to sketch and shade figures in pencil. Compose realistic still life drawings and use acrylic, water color and tempura paints to create complex abstract works of art you can hang on the wall.
• Papercrafts — This crafts activity uses different colors and textures of paper. Cut, fold, and layer pieces to make scrapbooks, memory boxes, cards, books and calendars. Make a card to mail home from camp!
• Hodge Podge — Take a white t-shirt, fold and twist it, tie it together with rubber bands, and add a rainbow of dyes; it's tie dyeing, a camp classic! We'll also decorate sparkly headbands, tie knot pillows, make mosaics, sock puppets and more.
• Folklore — Here we focus on traditional crafts like making dolls from corn husks and wooden thread spools. Learn to sew by hand and make quilt pillows. Dip candles into colorful melted wax and make scented soaps.
Rockbrook's arts and crafts activities are held in the historic buildings around camp. The "Curosty" cabin and the "Goodwill" cabin are both 19th century log buildings and make beautiful settings for weaving, needle crafts and paper crafts.
The camp ceramics program is one of the more popular arts and crafts activities. There are two pottery studios to accommodate both beginning and advanced skills levels, teaching both hand building and wheel-thrown techniques. Like all crafts made at Rockbrook, the girls take home all their pottery creations as keepsakes of their summer camp experience.
Creativity blossoms at Rockbrook!