Rockbrook Camp takes girls whitewater rafting every session, and they absolutely love it! More than any other outdoor adventure activity at camp, rafting is a "must-do" trip for Rockbrook girls.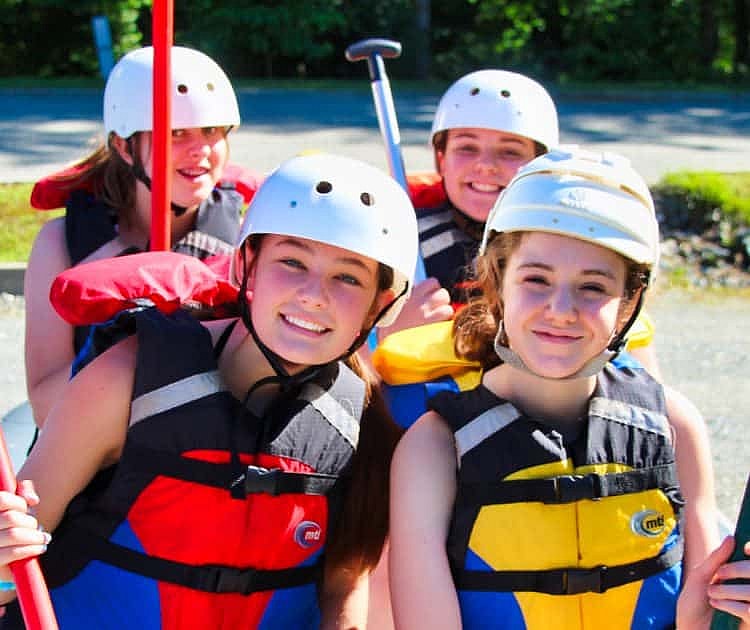 Camp Rafting
Rockbrook is one of the few girls camps in the country awarded a US Forest Service permit to operate guided rafting trips in NC. Using our own professional equipment and seasoned guides, we create a 100% Rockbrook experience.
Every camper old enough (5th grade and older) can go whitewater rafting as part of their camp session, and at no additional cost.
Rafting is so popular at camp, almost 90% of the eligible campers go on a whitewater rafting trip sometime during their session.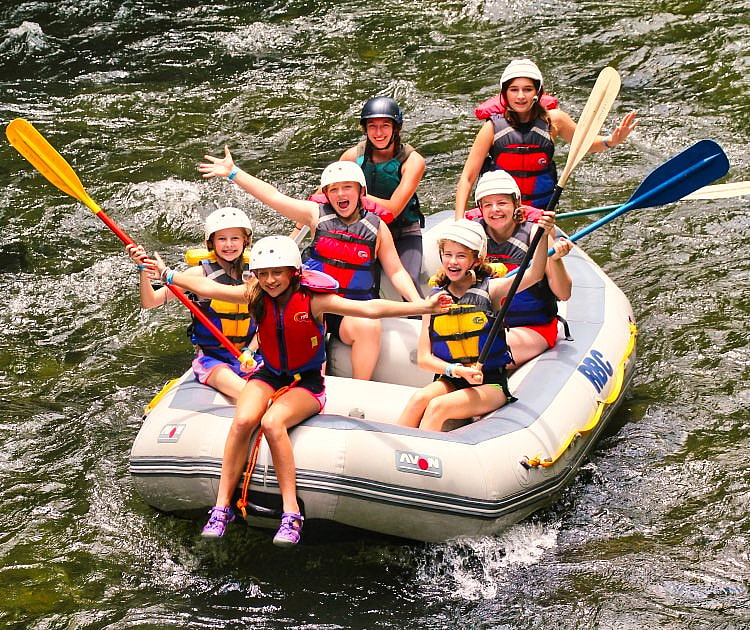 Whitewater Trips
These whitewater rafting trips are a complete blast! Outfitted with a helmet, PFD life jacket, and paddle, and wearing your swimsuit and water shoes, each boat holds 5-7 campers and a guide.
Get ready to laugh, sing and goof around together as you splash and bounce down the rapids. You can count on many wide-eyed screams of excitement as you blast over the clear cold waves.
Rafting is guaranteed to be a wet and wild adventure thrill like no other.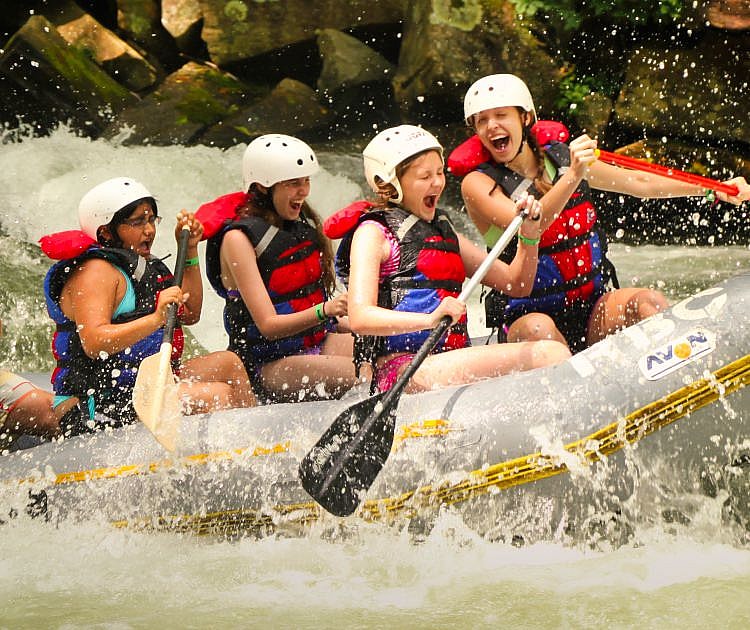 Rafting the Nantahala River
The Nantahala, which is a Cherokee word meaning "River of the noonday sun," is one of the most popular whitewater locations in the southeast.
Over nine miles of flow, it alternates between named rapids like "Patton's Run," "Delbar's Rock," and "The Bump" and more relaxed stretches of easy moving water.
The river trip culminates with the class III-IV rapid, the famous "Nantahala Falls," which is a thrilling double drop waterfall.
Summer Camp Rafting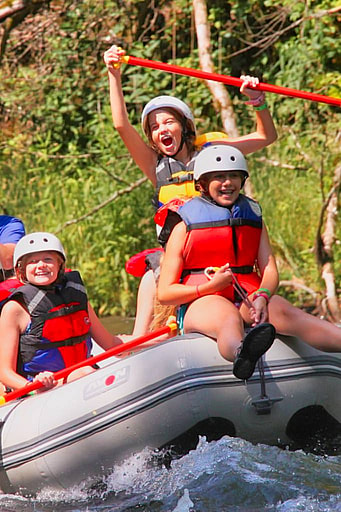 Rockbrook is known as a "rafting camp" in North Carolina since we take so many girls down the Nantahala every summer. We also have been taking these trips since the early 1980s, and operate our own rafting program. This allows us to be inspected by the US Forest Service annually, establish a professional operating plan, and hire and train our own guides. Our own program assures that we have great folks in the boats with our campers.
Trips begin with a thorough safety talk. One of the guides explains how to use the equipment and important safety protocols. That presentation answers the girls' questions about where to sit in the boat, how to hold and use the paddle, what to do when you fall out of the boat, how to be rescued with a throw rope, and the whitewater swim position.
Part of the fun of rafting is bouncing over the rapids, being splashed by the cold water, and singing during the more calm sections. When paddling in the back or front of the boat, or "riding the bull" (which means sitting on the front of the boat like a hood ornament), every seat is exciting and fun.
Many girls choose to combine their rafting adventure with an overnight camping experience as well. Rockbrook owns property near the Nantahala River (and the Appalachian Trail) where campers can spend the night before rafting the next day. These overnight rafting trip girls look forward to a hot dinner, making s'mores around the campfire, and the camaraderie of sleeping in the forest together.
Whitewater rafting is a great example of an outdoor adventure activity that combines physical challenge, technical knowledge and skills, and a beautiful natural environment. It takes real courage for the girls to tackle the experience, but with built in accomplishment, rafting is a valuable self-confidence boosting experience. We know that it can be a powerfully inspiring experience for everyone.