Summer is time for swimming, and there's no better place to enjoy a refreshing swim than at summer camp. At Rockbrook, campers can enjoy our mountain lake when they want to play in the water, relax and float, or just cool off after a busy day at camp.
The Rockbrook lake is one of a kind! A cool mountain stream feeds the lake, filling it between 4 massive boulders. It's also surrounded by large trees, making it feel hidden, like a secret swimming hole in the forest, formed just for Rockbrook. It's sunny and shady at different times of the day, and varies from 3 to 12 feet deep. The Rockbrook lake is a popular place for everyone to spend part of their camp day.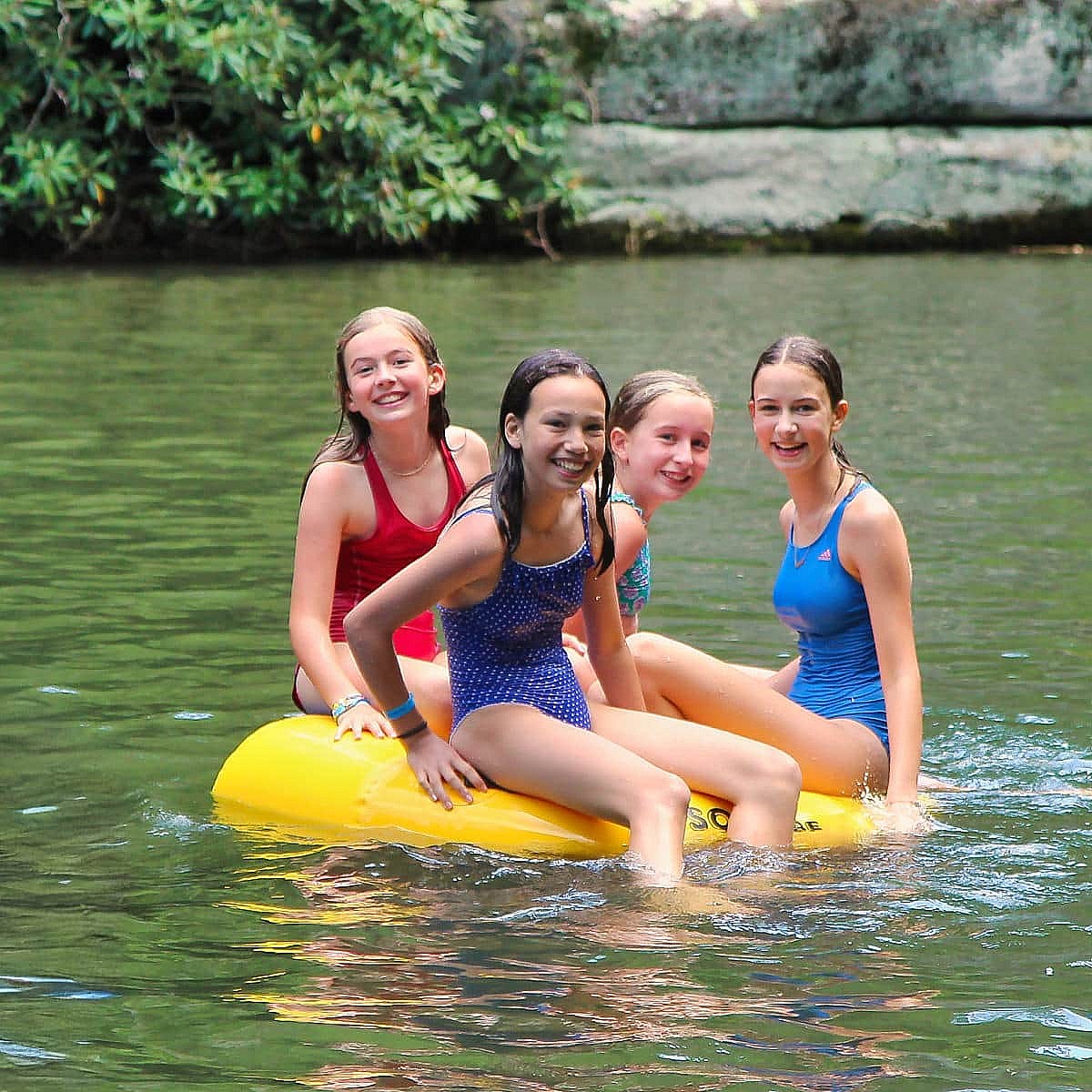 Swimming Fun in the Sun
The camp lake is buzzing with fun swimming activity all through the day!
From playing swim games to relaxing with friends, there's always a crowd at the Rockbrook lake.
On one side there is a long dock complete with a fun spring board and ladders for climbing out of the water. On the other side, the paddling staff might be teaching canoeing strokes or kayaking skills, while in the shallow end, campers will be swimming laps.
Grab a float and climb on with your friends!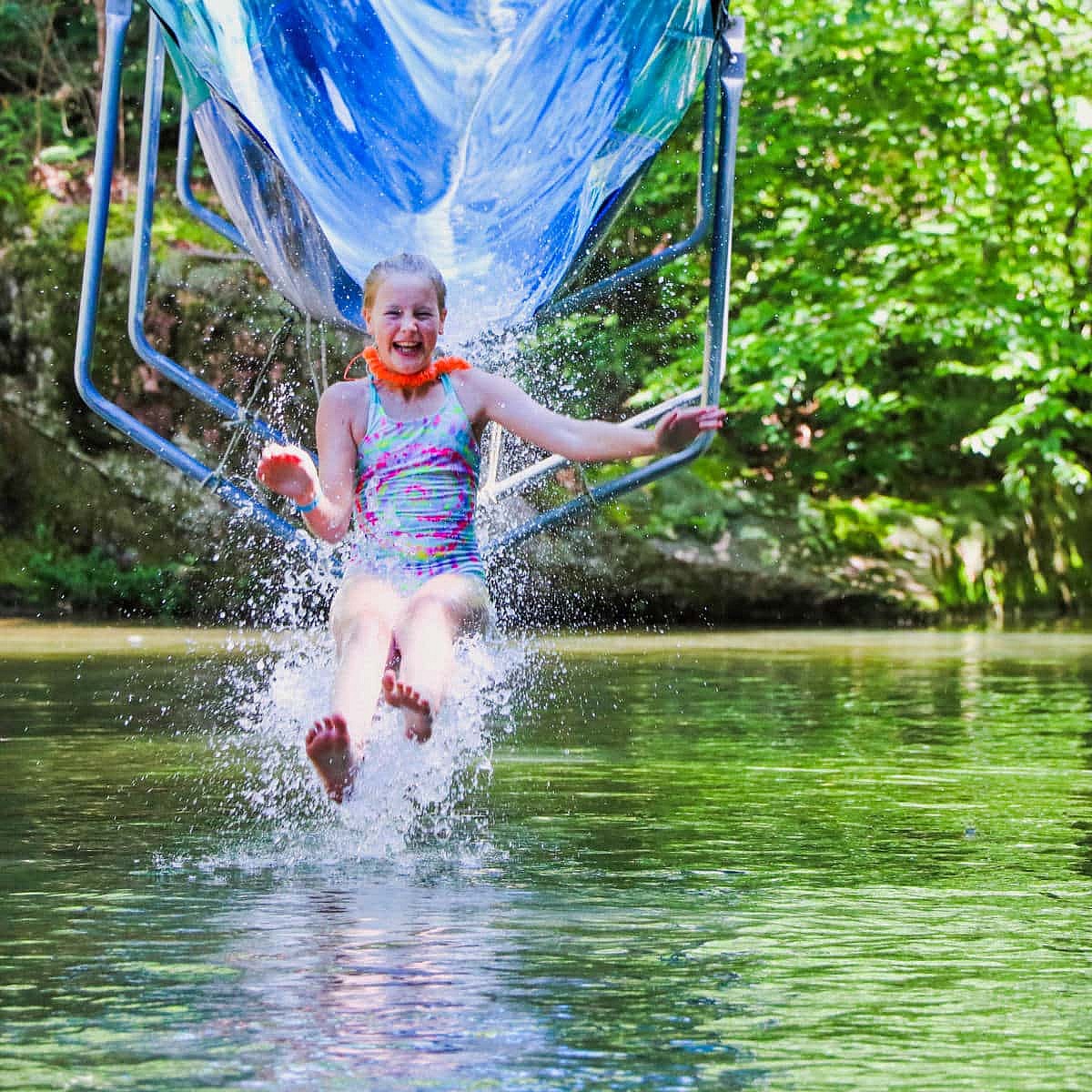 Let's Ride the Slide!
At the far end of the lake is the Rockbrook waterslide. It's an incredible thrill that starts with climbing 30 feet up to a platform, and then sliding down a screaming-fast 75-foot long slide that splashes into the lake at the bottom.
It can take some nerve at first to be that high up, but after a slide or two, riding the waterslide is something everyone wants to do again and again.
Slide, splash and back around for another ride!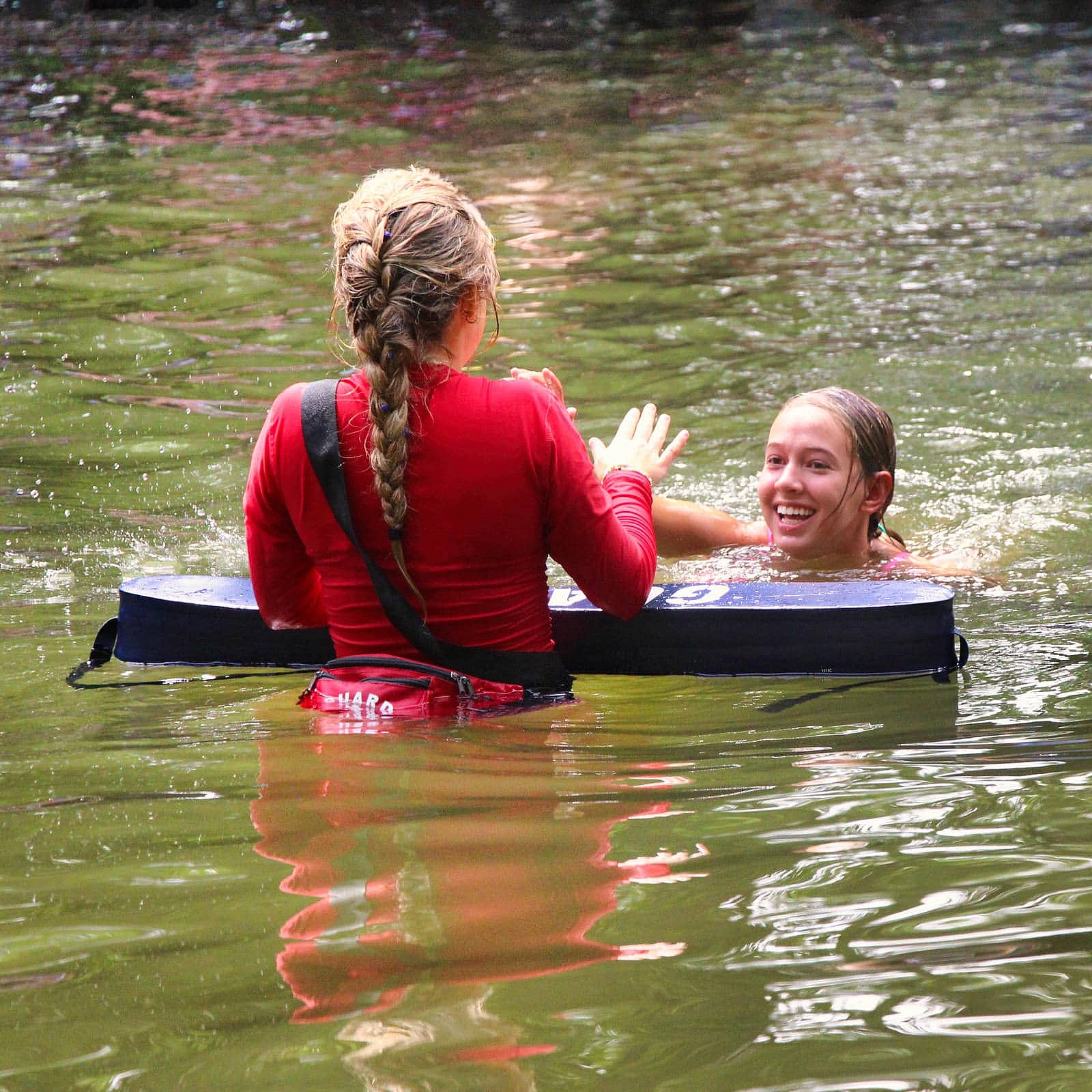 Swim Everyday!
Campers can sign up for an hour of swimming during their day to improve their swimming skills, and even take individualized swimming lessons if they like.
There's also a chance for everyone to swim during the two "free swim" periods everyday. Right before lunch and again before dinner, campers can head down to the lake and cool off with a quick dip.
For those who would rather sunbathe, you can spread your towel on the dock or on one of the large rocks at the edge of the lake.
Summer Camp Swimming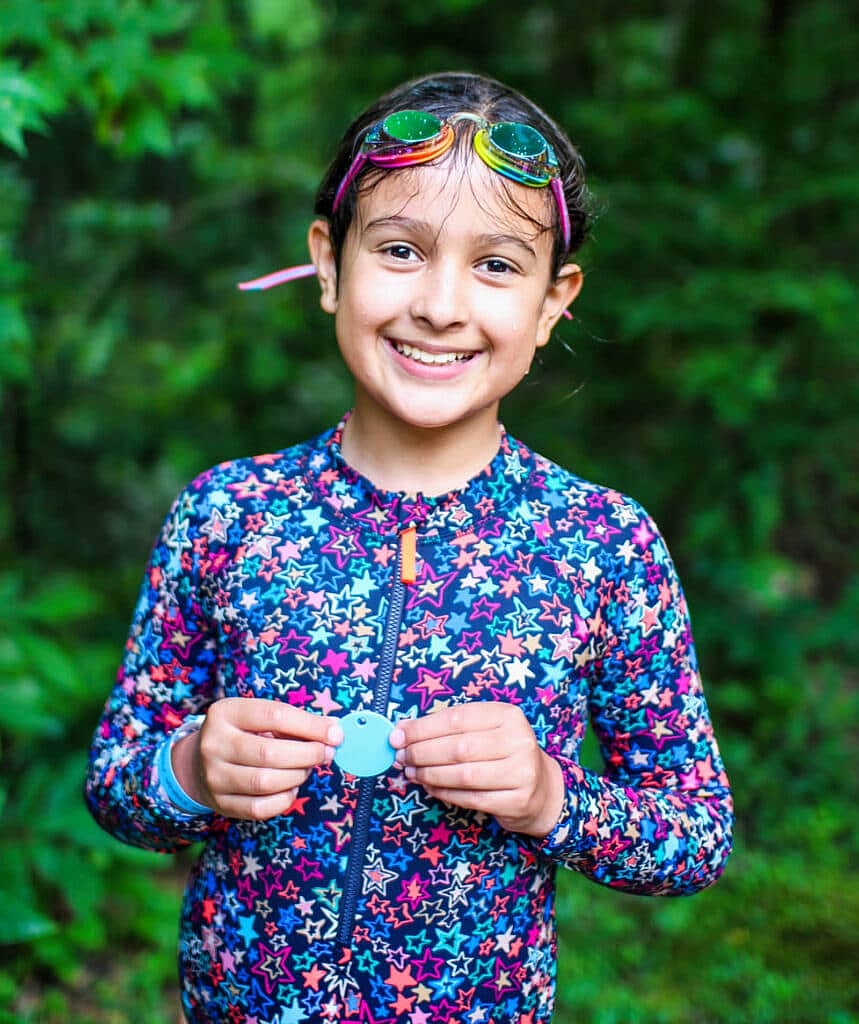 In order to ensure the safety of everyone at the lake, campers complete a brief swimming evaluation at the beginning of camp. This requires them to jump into the water, swim a short distance and then tread water for a minute, all under the careful supervision of the lifeguarding team. Everyone receives a color coded tag after these "swim demos" qualifying them to swim in different areas of the lake. If needed, campers can enjoy the lake wearing a lifejacket. No matter what their swimming ability, everyone at camp can have fun and cool off at the lake in some capacity.
The waterfront area is staffed by a team of lifeguards that each hold a current lifeguarding certification, and who undergo a pre-season training on the Rockbrook Camp waterfront protocols as well as regular in-service drills.
The diving board is another popular thing to try at the lake. Go ahead and jump off while holding a pose mid air. Try jumping as high as possible and catching a ball before hitting the water. Or play a game of "categories" where you have yell out a example of an item in a surprise category shouted to you. Yell your example before hitting the water.
There's also a lap swimming club that meets regularly. Anyone can join and strive to hit a certain number of laps. At the end of every session, those in this "Mermaid Club" receive a special treat!