by Chrissy Swartz, Waterfront Director
RBC started off our lazy Sunday with a full extra hour of sleep and a special treat of Krispy Kreme donuts for breakfast. The girls came to the dining hall in their pajamas, and then returned to their lines after breakfast to tidy up both their cabins and themselves in preparation for Cabin Inspection and Chapel. Chapel at Rockbrook is always a meaningful experience full of sharing communal values in a supportive, safe place.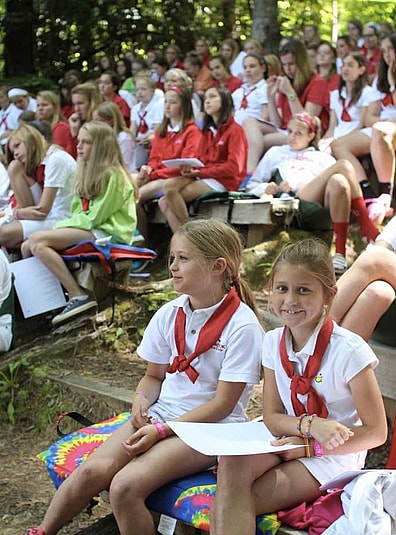 Today's theme, goodwill, promoted feelings of kindness and awareness towards others, in addition to being the namesake of one of our oldest buildings on the property—the home to our camp library and the activity K.I.T. (Keep In Touch).
Girls from every age group volunteered to share stories and sentimental objects that they believed symbolized goodwill. Many of the stories focused on the idea that a small act of kindness towards someone else can start a domino effect of good deeds. No matter how small an act of goodwilll is, its impact can be monumental.
One counselor shared a story she remembered from a TED Talk, an organization devoted to the spread of ideas in Technology, Entertainment and Design. The video of the talk is below, filmed September 2010 at TEDxToronto. I highly encourage you to watch the short video for the full story. However, I have also included the meat of the transcript below that I felt connected well to our chapel theme. This is the story of lollipop moments.
Drew Dudley: Everyday Leadership [transcript]
I went to a little school called Mount Allison University in Sackville, New Brunswick. And on my last day there, a girl came up to me and said, "I remember the first time I met you." And she told me a story that had happened four years earlier. She said, "On the day before I started university, I was in the hotel room with my mom and dad, and I was so scared and so convinced that I couldn't do this, that I wasn't ready for university, that I just burst into tears. My mom and dad were amazing. They were like, "We know you're scared, but let's just go tomorrow, go to the first day, and if at any point you feel as if you can't do this, that's fine; tell us, and we'll take you home. We love you no matter what.'"

She says, "So I went the next day. I was in line for registration, and I looked around and just knew I couldn't do it; I wasn't ready. I knew I had to quit. I made that decision and as soon as I made it, an incredible feeling of peace came over me. I turned to my mom and dad to tell them we needed to go home, and at that moment, you came out of the student union building wearing the stupidest hat I've ever seen in my life."

"It was awesome. And you had a big sign promoting Shinerama,"—which is Students Fighting Cystic Fibrosis, a charity I've worked with for years—"And you had a bucket full of lollipops. You were handing the lollipops out to people in line, and talking about Shinerama. All of the sudden, you got to me, and you just stopped. And you stared. It was creepy."

"Then you looked at the guy next to me, smiled, reached into your bucket, pulled out a lollipop, held it out to him and said, 'You need to give a lollipop to the beautiful woman next to you.'" She said, "I've never seen anyone get more embarrassed faster in my life. He turned beet red, he wouldn't even look at me. He just kind of held the lollipop out like this."

"I felt so bad for this dude that I took the lollipop. As soon as I did, you got this incredibly severe look on your face, looked at my mom and dad and said, 'Look at that! Look at that! First day away from home, and already she's taking candy from a stranger?!'"

She said, "Everybody lost it. Twenty feet in every direction, everyone started to howl. I know this is cheesy, and I don't know why I'm telling you this, but in that moment when everyone was laughing, I knew I shouldn't quit. I knew I was where I was supposed to be; I knew I was home. And I haven't spoken to you once in the four years since that day. But I heard that you were leaving, and I had to come and tell you you've been an incredibly important person in my life. I'm going to miss you. Good luck."

And she walks away, and I'm flattened. She gets six feet away, turns around, smiles and goes, "You should probably know this, too: I'm still dating that guy, four years later."

A year and a half after I moved to Toronto, I got an invitation to their wedding.

Here's the kicker: I don't remember that. I have no recollection of that moment. I've searched my memory banks, because that is funny and I should remember doing it and I don't. That was such an eye-opening, transformative moment for me, to think that maybe the biggest impact I'd ever had on anyone's life, a moment that had a woman walk up to a stranger four years later and say, "You've been an important person in my life," was a moment that I didn't even remember.

How many of you guys have a lollipop moment, a moment where someone said or did something that you feel fundamentally made your life better? All right. How many of you have told that person they did it? See, why not? We celebrate birthdays, where all you have to do is not die for 365 days. Yet we let people who have made our lives better walk around without knowing it. Every single one of you has been the catalyst for a lollipop moment. You've made someone's life better by something you said or did. If you think you haven't, think of all the hands that didn't go up when I asked. You're just one of the people who hasn't been told.
Rockbrook is full of lollipop moments shared among campers and counselors alike. So many of our values at RBC encourage us to share and support and grow alongside each other while at camp. I truly believe every Rockbrook girl has a lollipop moment in mind when she immediately begs to sign up for next summer as she waves goodbye to this year's cabinmates and counselors. And I also truly believe that we have all inspired those moments in others, whether we are aware of our impact or not.
It was very fitting that our afternoon culminated in another Rockbrook special event, Miss RBC, which asks each cabin to collaborate on a skit of some sort. Remixes of traditional Rockbrook songs, rewrites of chart-topping hits, and some groovy dance moves were only a few of the highlights of the skits. Other girls chose to make their own music with their hands and feet and voices, or with props, including pots and pans.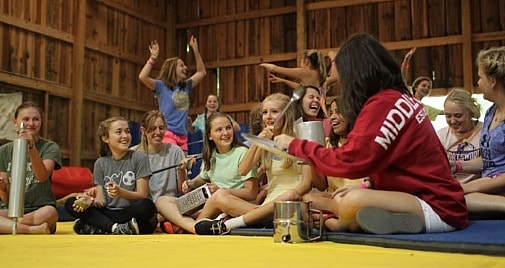 This event always challenges the girls in some way or another. It requires teamwork, communication, and compromise. But in the end, every skit comes together to form something beautiful that includes each and every camper in some way. It's a celebration of taking a chance, of getting up on stage in crazy costumes to perform in front of a lot of other people, knowing the whole time that you're not alone, that the girls on either side of you are also wearing a similar goofy costume and singing their hearts out about muffin breaks in harmony with you.
The entire point of Miss RBC is to be confident while looking and acting silly, together. That's pretty much the goal of camp in general, too.
"There's power in looking silly and not caring that you do." –Amy Poehler
Having the confidence to laugh at yourself for wearing three pairs of sunglasses and a pink boa inspires others around you to be confident and goofy. It lets our true and authentic selves shine through. I can think of no better place than Rockbrook where we can explicitly recognize these lollipop moments, and also intentionally create them. We pay it forward at camp; and in return we receive encouragement, love, and friendship.
My parting words this evening, then, are as follows: Peace on earth, goodwill to men, and pink boas for all.