Rockbrook has a wonderful community of talented staff who make camp a fun, exciting adventure! This summer, Rockbrook is proud to introduce one of our new international staff, Katie Pocklington, affectionately known around here as "Kayaking Katie"!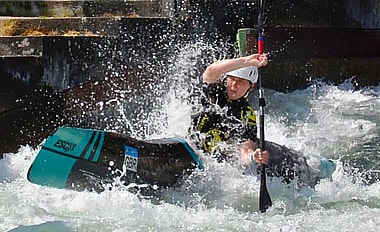 Katie is a member of our Adventure Staff and a kayaking instructor. She has been kayaking for over 6 years and competing for Team Great Britain Wild Water Kayaking Team for the last 3 years.
Katie came to us later on this summer. Why you might ask? Because this amazing Rockbrook Girl was competing at the European and World Wildwater Championships!
Katie said this about her experience:
"The European Championships were held in North Macedonia and involved a pretty complex river. The World Championships were held in Germany on the Munich 1972 Olympic course. The water was pretty challenging but it was amazing to compete on the world stage."
Our Katie proudly left the World Wildwater Championship coming in 21st in the world! This Wildwater kayaking competition involved both a sprint down a whitewater course and a longer "Classic" which is a 2-4 mile race.
Katie is so excited to work this summer at Rockbrook Camp with all the amazing counselors, staff and campers and to ensure the best kayaking experience for our campers!