Paging through the Rockbrook photo gallery, it's quickly obvious that our girls are extraordinarily crafty. In the Curosty Cabin, one end of the dining hall ("Hodge Podge"), Hobby Nook Cabin, the two pottery studios and several of the porches around camp, we're being creative and making things. It might be with fibers or clay, and it might require a brush or a loom, but dozens of girls have arts and crafts projects in the works.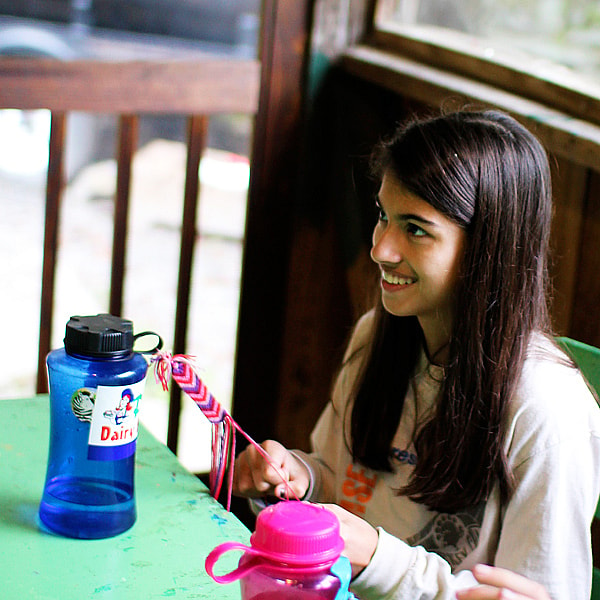 Throughout every day, in other words, Rockbrook girls are working with their hands. They're twisting (friendship bracelets), braiding (basket reeds), tying (and dying t-shirts), painting (still life compositions), rolling (coils of clay), gluing (paper collages), sewing (stuffed animals), and weaving (loom fabrics). Here, take a look:
This is great stuff for several reasons. Working creatively with different materials like this encourages kids to experiment, try unusual combinations, and "see what happens." There's a joyful attitude toward the process and the end result. Also, though, I think there's a benefit from simply working with real stuff, as opposed to what modern life ordinarily requires from us, namely a daily experience built upon abstract constructions and virtual representations (think about all those screens!). Perhaps, as we've lost our "manual competence" (recalling Matthew Crawford's argument), we've also diminished a basic satisfaction of being human, the feeling of making something useful and beautiful. If so, then camp is a welcome return, making all the arts and crafts at Rockbrook concrete opportunities for girls to be creative while recalling the deep pleasures of interacting with the real world.
This photo shows a few girls playing Ga-ga Ball in our octagonal Ga-ga pit located near the gym. If you haven't heard of it, this game is all the rage. It's essentially a form of dodgeball (sometimes called "Israeli Dodgeball") where players hit a small ball with their hands instead of catching & throwing it. Any number of girls can play, and the goal is to hit other players in the leg without being hit yourself. It's fast paced, as the ball flies around the pit bouncing off the walls, girls jump wildly out of the way, and players who are hit hop out of the pit. Like other forms of dodgeball, the game continues until one player remains. At that point, of course, everyone hops right back in the pit to start another game. During free times at camp, before lunch and dinner, for example, you can count on a crowd down at the Ga-ga pit.
Our head kayaking instructors, Leland and Andria, have been working with lots of girls at the lake preparing them for river trips. In addition to learning about the gear, the girls are practicing basic kayaking techniques like how to "wet exit" (escape the boat when it flips), and different paddle strokes to maneuver the boats. They are very excited to master these basics and were even more so to sign up for the trip to the Tuckaseegee River today or the Green River tomorrow. These girls can kayak!
Later this afternoon, for our Cabin Day activity, all the Middlers and their counselors took a ride into the Pisgah Forest for a picnic up near the Blue Ridge Parkway. We brought hot dogs (and grilled veggie dogs), pasta salad, fruit and potato chips to eat for dinner, and afterwards spent a little time digesting by playing a huge game of "I'm a Rockbrook Girl" on the grassy field. This name game was even more fun tonight with a group this size (almost 90 campers and staff members). Our next stop took us to Sliding Rock, where the girls had a blast zipping down the 60ft, natural water slide. As you might guess the water of Looking Glass Creek that forms the slide is a "refreshing" mountain temperature (i.e. really cold!), so part of the fun is belting out a scream to match the intensity of sitting down in that water. Just about everyone was daring enough to take the plunge, and some went down 6 or 7 times in all. Very exciting fun… but there was one more stop to top things off— Dolly's Dairy Bar. With their combination "Camp Flavors" like "Rockbrook Chocolate Illusion" and traditional ice cream flavors, Dolly's offers a sweet treat for everyone's taste. The girls happily lined up to select their flavor and then, after that first yummy lick, enjoyed sitting and chatting with one another on the porch or at the tables nearby. When Rockbrook arrives at Dolly's, like tonight with our big group, it becomes quite a party with the girls singing songs, laughing and posing for photos. Now dark outside and our hair still wet, but happy and excited, we loaded up the buses and headed back to camp finishing an excellent outing.