Get Ready to fly!
…through the trees on Rockbrook's own Zip Line Course!
A unique adventure experience combining massive trees, rock faces, a waterfall, bridges and several zip lines.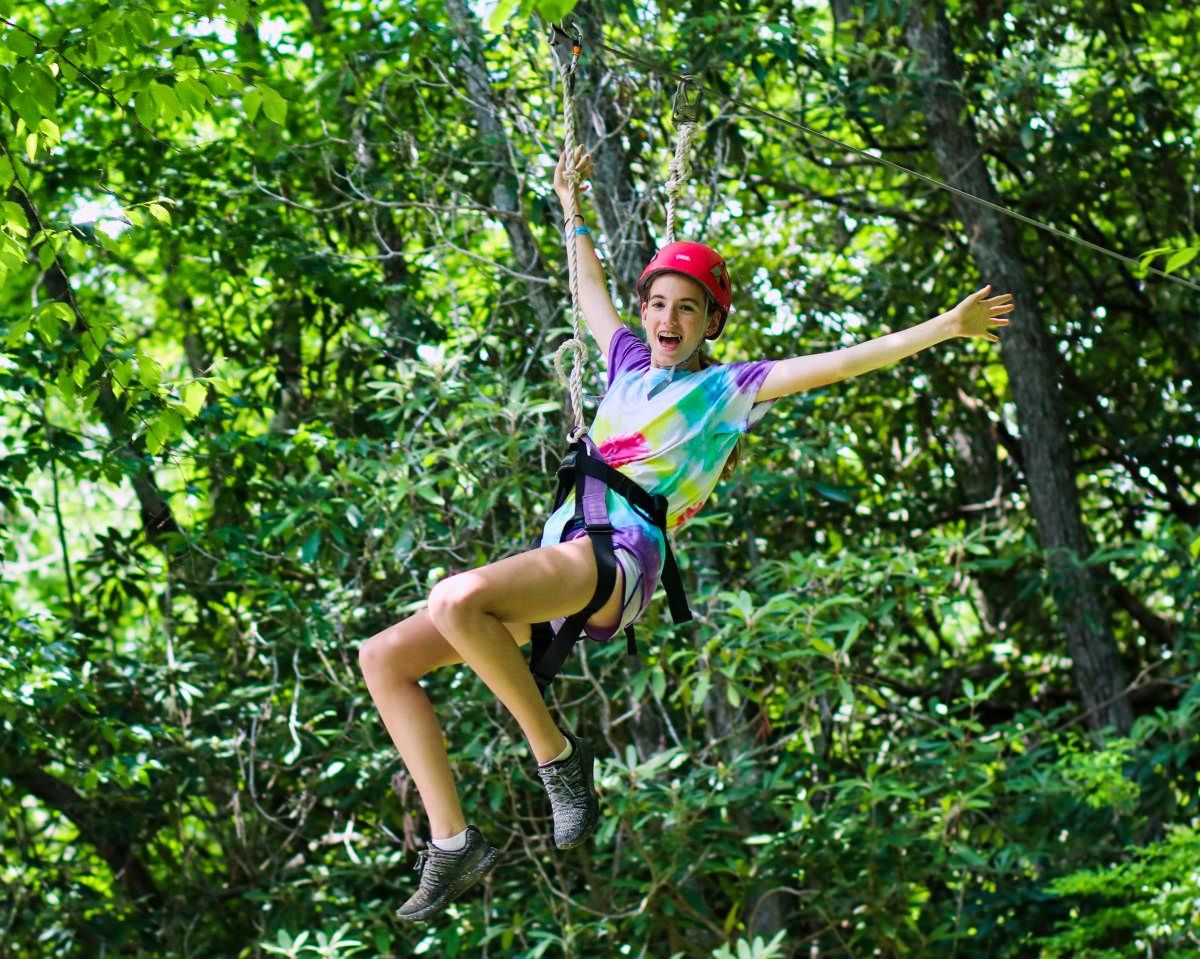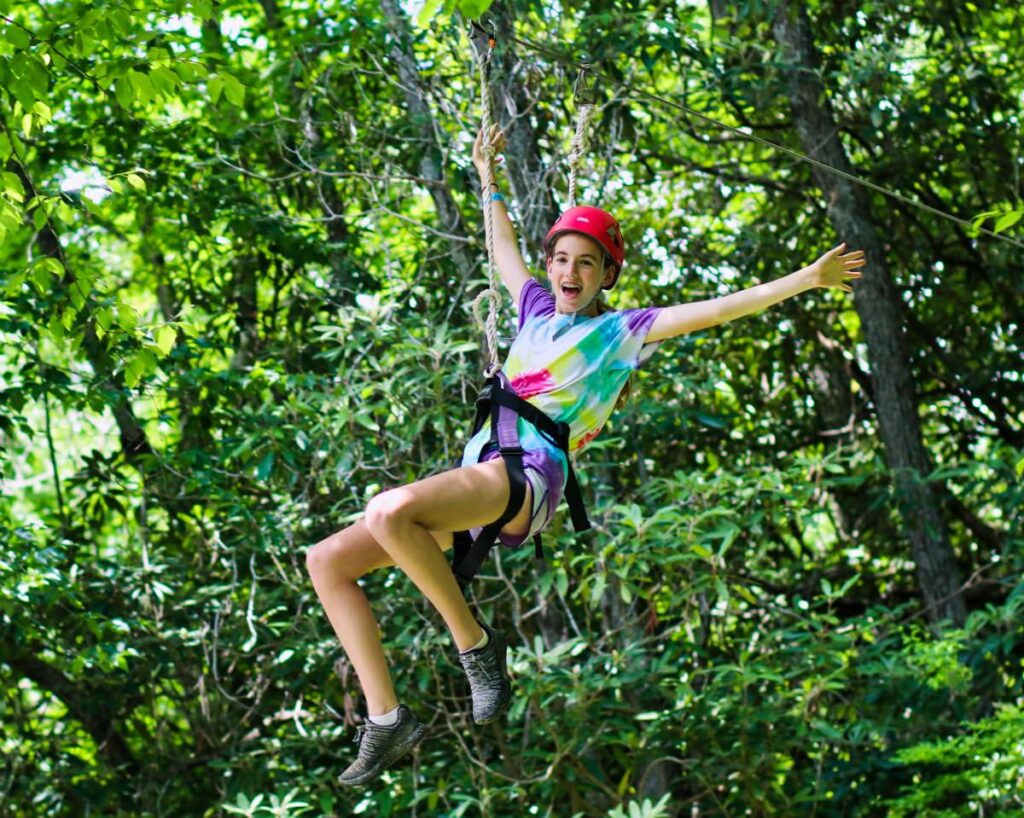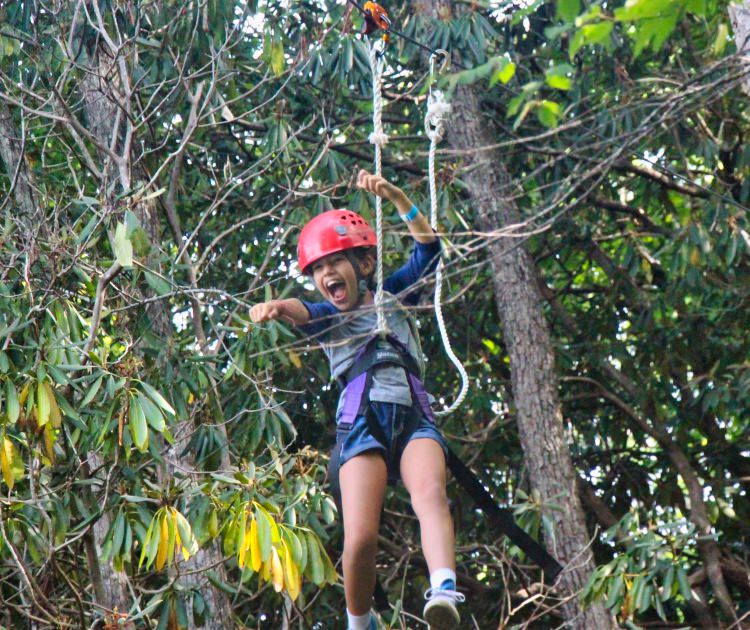 A Fantastic Zip Course
The Rockbrook Camp zipline course is a complete blast! It winds its way among huge rock faces, over wooded ravines, and across Stick Biscuit Falls, one of the major waterfalls on the camp property.
Instead of telephone poles and manmade structures, the course seems to grow right out of the forest making each element a mix of beauty and excitement.
There's zipping, hiking, and crossing high bridges. Geared up with a helmet, harness and pulley, you'll grin and scream through the trees.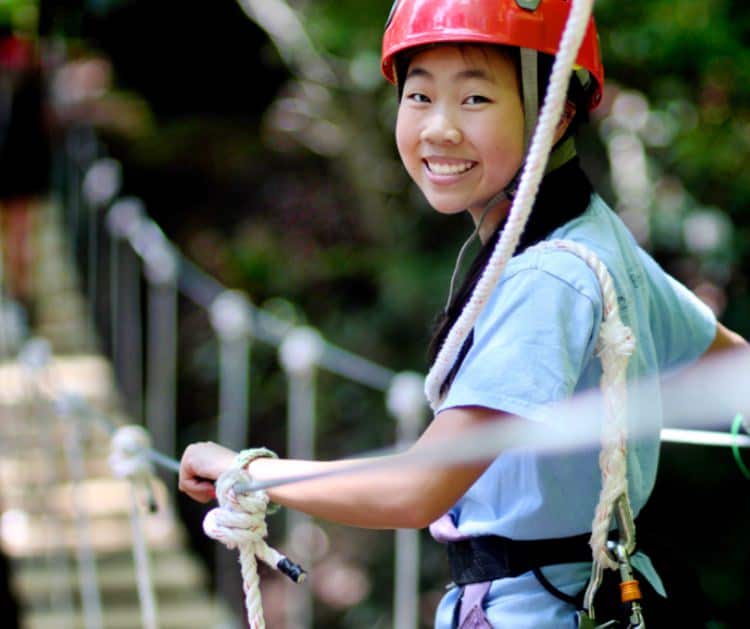 Safety First
As part of our ACA accreditation, Rockbrook adheres to multiple industry standards regarding the staffing, training, supervision, equipment maintenance, and course inspections of its zip line activity. For example, an ACCT-accredited professional annually inspects the course cables, anchor points, and all of the equipment used for the activity. Campers wear Petzel helmets and Yates harnesses fastened to Petzel dual-wheeled pulleys and static backup tethers.
Guides undergo a complete training on zip line course safety protocols, and receive regular supervision by a senior camp director.
Our zip course was built in 2014 to meet or exceed the ACCT (Association for Challenge Course Technology) standards for zip lines.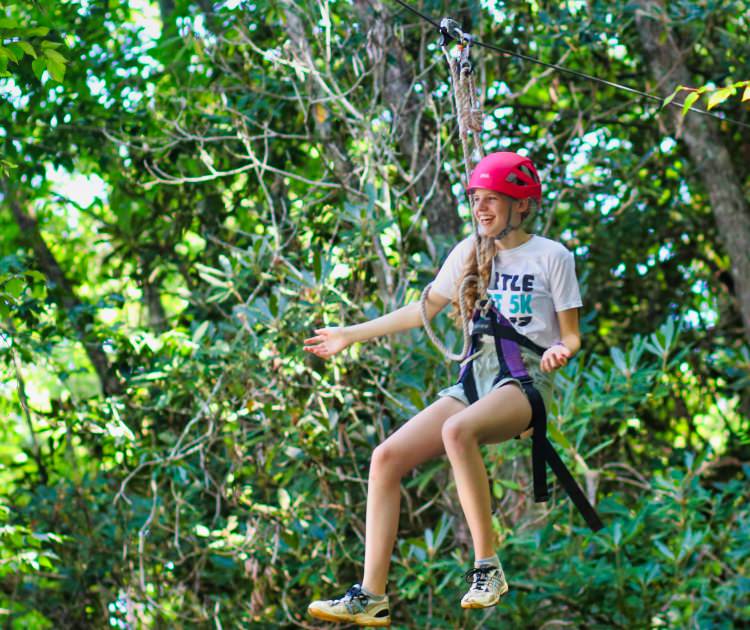 High-Flying Adventure
The zip line activity is open to all campers, from the smallest Juniors to the oldest Seniors, and it is madly popular with everyone! Every summer, you just have to take a ride on the zip lines at camp.
Sure it takes a little nerve to launch off of the rocks out into thin air, but the feeling of flying high through the woods is incredible.
Who wants to go zipping today?!
A Thrilling Ride
Camp Zip Lines
Watch this short video and see all the zipping in action.

Wide-eyed screaming fun!
---
An Adventure in the Trees
Start with a short hike through the forest to the launching point for the first zip line. High above the camp you'll glide by a 60-foot waterfall. Scramble around a huge boulder to find the next 150-foot zip that soars from rock to rock, over a ravine. The next challenge is a series of plank and cable bridges strung through a dense rhododendron thicket. Step carefully along the next swinging bridge as it crosses over a deep gully, reaching the rock perch that serves as the launch for the final 450-foot, screaming-fast, zip across to the other side of camp.
---