Once again, I thought we could publish a few pieces written by the campers themselves, telling us what Rockbrook has meant to them, and what they might have learned this session. We asked a Junior, and three Seniors (writing together) to share their thoughts, and these are the results!
Kate (9)–South Carolina

Rockbrook is a great place because it's a place where girls can learn. They don't just learn they become stronger people. When I first came to camp, I was not a really strong person. I did not make my bed, or clean much.

Then the day of camp came. From that second 'til now, I can tell all the girls and I have become stronger people and friends. I think that Rockbrook can make you meet a pal for life. I did, and we have told each other many secrets.

I also think my counselors are right about the saying "FFF" (Fierce Fabulous Females). That's what you will become if you come to Rockbrook.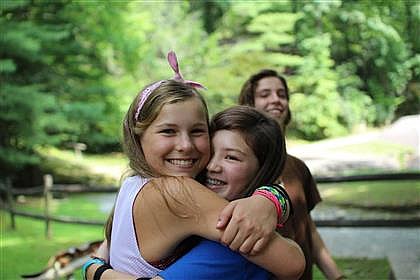 Rachel (14)–Virginia; Sanders (14)–Texas; Emily (14)–Georgia

When the three of us, Rachel, Sanders, and Emily, volunteered to write a snippet of the camp blog, at first we were unsure of how to put our thoughts into words. Should it be funny, formal, poetic, etc…? But, as we talked about it, it seemed to write itself:

To us, Rockbrook is waking up with a tangle of signatures strewn above your head. It's coming back to friends you haven't seen in a year, and feeling like you never left. It's the deafening crunch of gravel at rest hour, and star-gazing on the Hill when you're supposed to be asleep. It's the nights when the sky is within your reach, and the darkness is your blanket.

Rockbrook is arguing with your counselor over the existence of a Fairy Party [editor's note: just a dream…], and redetermining what "dry" means. It's days in which laughter's as constant as breath, and the cardinal's glow stays with you all year. It's the smile on your face when you're singing your favorite camp song at the top of your lungs.

Rockbrook is home.