The specialty Rockbrook Horseback Riding Camp is a 1-week overnight horse camp focused on English Hunter/Jumper and Huntseat Equitation riding instruction. In addition to its regular traditional camp sessions that include riding as one of its activities, Rockbrook offers this uniquely focused horse camp for girls who love horses and all things equine.
Horse camp girls join the Rockbrook community but spend all of their activity time fully immersed at the Rockbrook Riding Center working with horses, receiving outstanding instruction in mounted lessons, and developing their horsemanship knowledge and skills.  Riders will be matched with different equines to develop and teach new skills. The instructors adjust lessons and horses according to each rider's skill level and experience.
Designed for riders seeking the camp experience while improving elements and fundamentals on and off the horse, the Rockbrook equestrian camp provides a safe and fun all-about-horses camp experience.
Really love horses? Where else can you enjoy summer riding like this?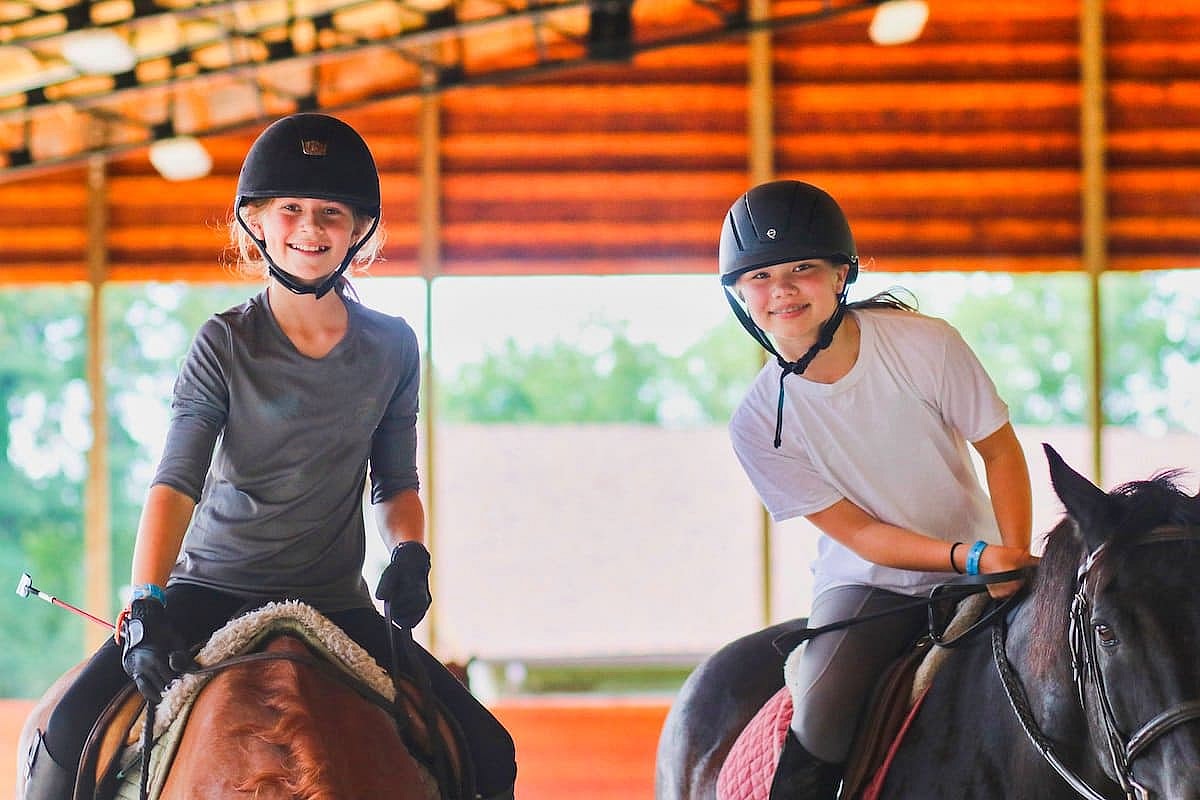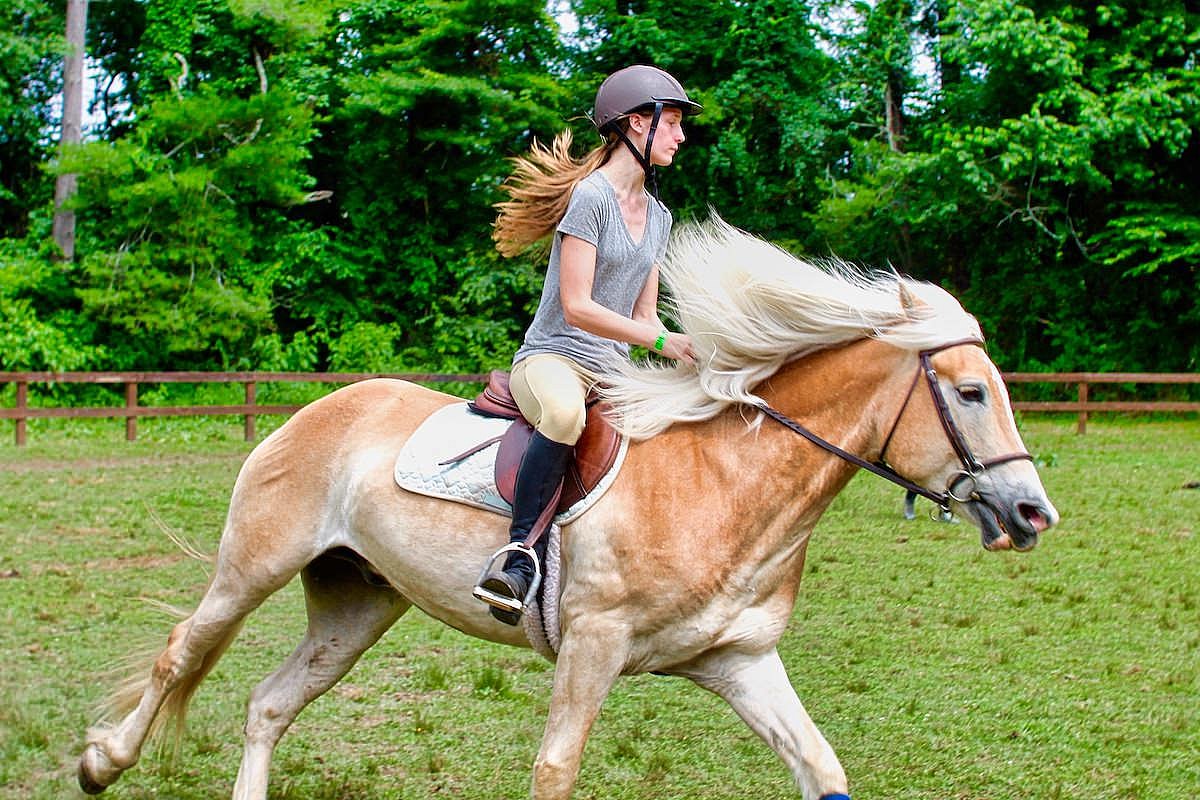 Riding with friends
A Full Day of Horses!
A typical day of horse camp will include two mounted riding lessons, aspects of horse care and barn management, as well as special demonstrations from various equine professionals. Campers will ride and learn in a friendly, educational atmosphere. Campers will have the opportunity to ride and experience different horses, all offering an opportunity to learn and develop different riding skills.
The program emphasizes a progression of riding skills including strength and balance drills, flatwork, equitation, exercises over rails, and jumping.
Between riding and barn activities, campers will have time to enjoy life at camp— cooling off with a quick dip in the lake, dressing up in costume for an evening program, and the raucous fun of Rockbrook dining hall meals.
The Rockbrook Riding center is home to all of the horseback riding activity at camp. Located in the mountains of North Carolina adjacent to the French Broad River, it covers more than 40 acres of pasture, includes outdoor rings and jump course, two barns, and the largest camp covered riding arena in North Carolina. The covered arena has engineered sand/fiber footing and full lighting making it the ideal place for riding lessons, keeping horses and humans cooler, day or night, rain or shine!
All of the horse camp girls live together in one of the regular Rockbrook Camp cabins, forming a multi-age cadre of equestriennes. Likewise, the horse camp girls will eat their meals together in the Rockbrook dining hall.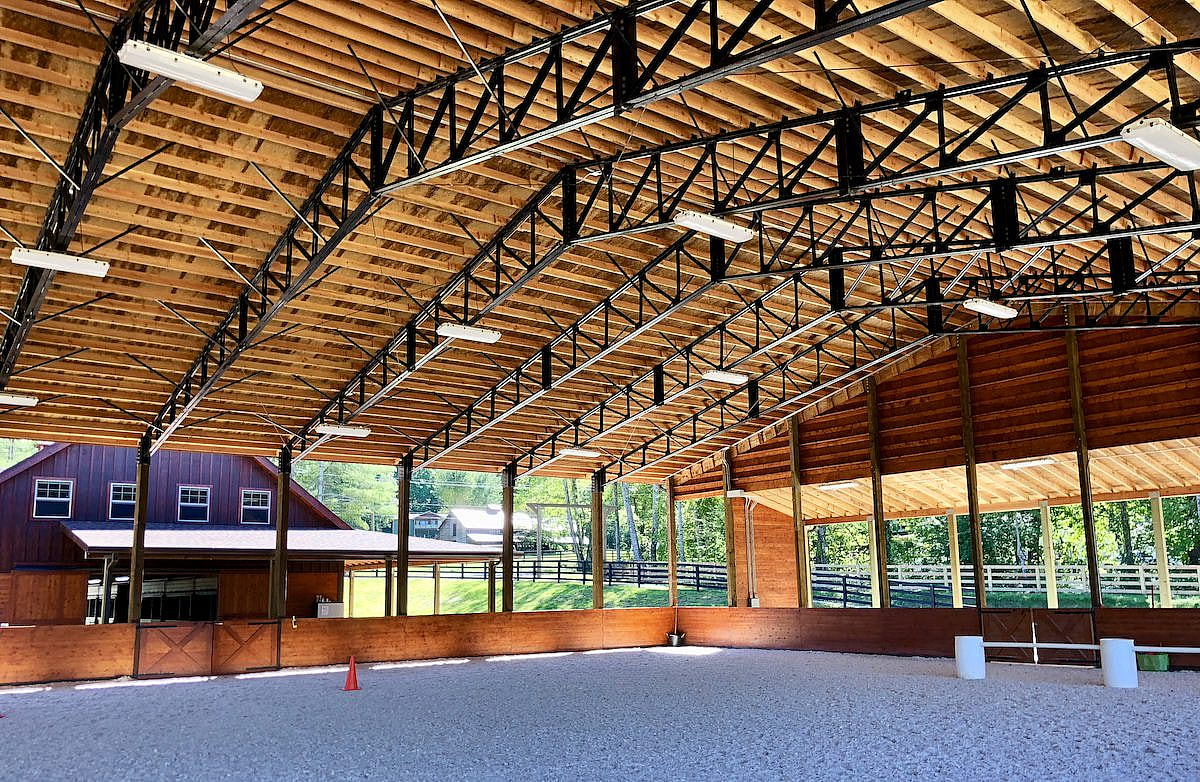 Equestrian Staff
Kelsi Peterson and Brittany McCathern are the co-directors of the specialty horse camp at Rockbrook. Kelsi is an Affiliated National Riding Commission (ANRC) rated rider and has many years' experience working with horses and teaching riding at summer camps, as well as coaching an intercollegiate equestrian team in North Carolina. Brittany is a Professional Association of Therapeutic Horsemanship (PATH) International certified instructor and has worked for several organizations as a riding instructor and riding Program Director.
A team of additional riding instructors and counselors provide individual attention and support to the campers as they learn about stable management, horse health care, and riding technique. Several guest professional instructors will also be available during the week to teach campers new skills.
Rockbrook is accredited by the American Camp Association (ACA) adhering to all of its defined safety and program quality standards. Read more about our ACA accreditation here.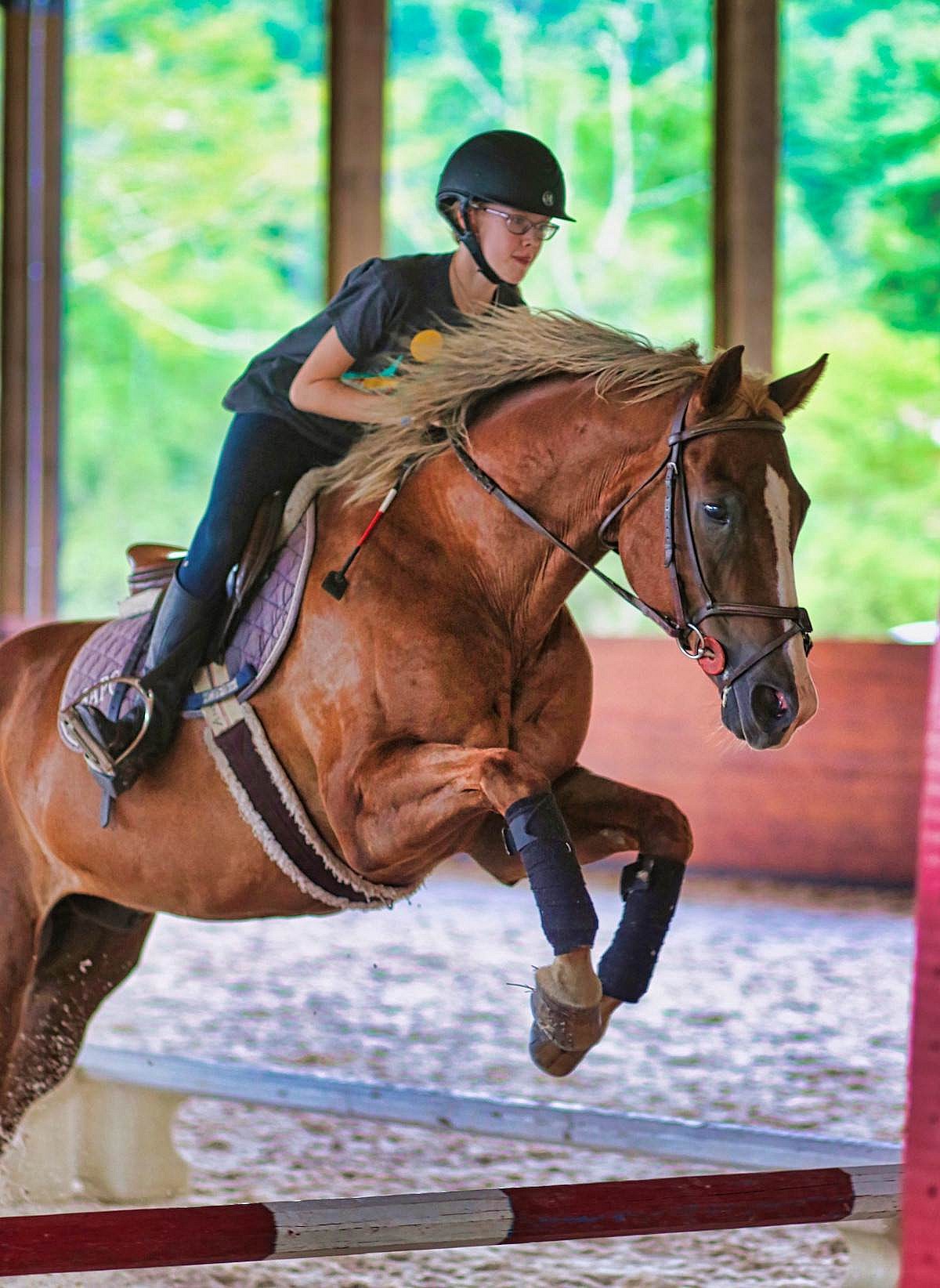 How to Enroll — Camper Qualifications
Enrollment for this specialty camp is restricted to girls who have completed the 7th through the 10th grade, and will be limited to a maximum of 8 girls. Riders must also have prior horseback riding experience and have demonstrated advanced skills, as defined accordingly:
Advanced riders know how to walk, trot, and canter in a group. Trot a course of jumps at least 2 feet, know their posting diagonals and their canter leads, and have at least three years of professional lessons.
Application is done online. Please visit our Session Dates and Rates page to learn more about when and how much horse camp costs.
In addition to the online application (which must be completed by a custodial parent), enrollment requires a short letter of recommendation from the applicant's riding instructor verifying the rider's skills. We will also ask you to submit videos of the applicant riding.
Riding Camp may be attended as a stand alone session. Or, campers can attend the riding camp as an additional session to their regular camp experience if the dates do not conflict.
Frequently Asked Horse Camp Questions
Can I bring my own horse?
No. For mostly health and logistical reasons, we do not allow outside horses to come to Rockbrook.
Can I bring my own helmet and boots?
Yes! We recommend that you have your own fitted helmet and boots, but we are happy to provide both as needed.
Can I bring my own tack to camp?
No. All of our horses have custom tack already, perfectly sized and ready to go.
Do we ride English or Western?
All of Rockbrook's equestrian camp programs are English Hunt seat style riding, but campers will get to experience other styles of riding as well.
Will we spend every lesson jumping?
No. This program is designed to build fundamental skills, and includes a range of lessons and drills. Look forward to a good variety of riding.
How do you assign riding groups?
In addition to the application materials, the Equestrian Camp Directors interview campers when they arrive asking about their riding experience, the horses ridden in the past, and their individual needs, preferences and goals.
How do you assign horses?
We match campers and horses based on the rider's skills and the horse's abilities and personality. Campers will have the opportunity to ride more than one single horse.
What if it rains?
No problem! Rockbrook has a covered arena that makes it possible to ride even when it's wet everywhere else. During a thunderstorm, we pause riding activities until it passes.
What's the food like?
So good! Our camp kitchen makes just about everything from scratch, and we can accommodate all kinds of dietary needs. Check out this page to learn more.
Where will we sleep at camp?
All of the horse camp girls will bunk together in one of the regular Rockbrook Camp cabins.
What if I am a beginning rider (not "advanced")?
We can recommend one of the regular camp sessions at Rockbrook. Those sessions are great ways to learn the basics of riding while enjoying the same great equestrian facilities, instruction and fun at camp.
For Girls
Horse Camp Action
Here's a short video of scenes from camp.

Take a look and see how much fun it is to ride at Rockbrook!