Tonight our ninth grade campers, known at camp as our "CAs," unveiled the surprise theme for their party to celebrate the session. They've been planning since the first day of camp when the group selected this theme, carefully keeping everything a secret from the other campers (and most of the staff!) at camp. From the food, music, costumes, choreographed group dance performances, brief skits, to a truly amazing array of decorations, these girls considered every detail. We call this party at the end of the session, this over-the-top dance party, the "banquet."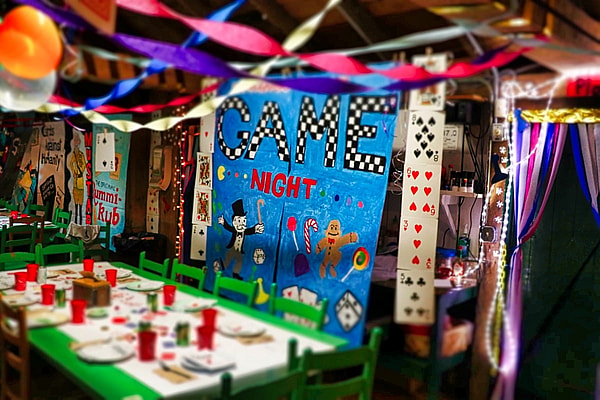 The banquet theme for this first session of 2019 was "Game Night." They focused on board games, card games, and a few electronic games to select their characters, food and of course the entire dining hall's decorations. Using mostly paint on paper and cardboard, we saw posters and props for Checkers, Clue, Chutes and Ladders, Boggle, Parcheesi, Stratego, Rummi-Kub, Operation, Monopoly, Blokus, Uno, Barrel of Monkeys, Connect 4, Twister, Apples to Apples, Candyland, Spot it, and Pictionary, as well as Tetris, Pac-man, and Just Dance. With this many games represented, it was amazing to see the variety of designs, and colorful drawings that covered literally every inch of wall space in the dining hall. In every direction, the girls saw larger-than-life depictions of their favorite games.
This session has a record number of CA campers, 28 in all, so this was a wonderful theme to accommodate lots of characters. For example, from the game CandyLand we saw Queen Frostine, Miss Mint, Princess Lolly, Grandma Nutt and even Plumpy. There were characters from the game Clue: Professor Plum, Colonel Mustard, Miss Peacock, Miss Scarlet, Mr. Green and a Detective. Mario and Princess Peach were portrayed. The Queen of Hearts, the Monopoly Man, the Operation Man, Just Dance characters, Pac-man and his pursuing ghosts also made an appearance, while all of the counselors transformed themselves into different color dice. What a crowd!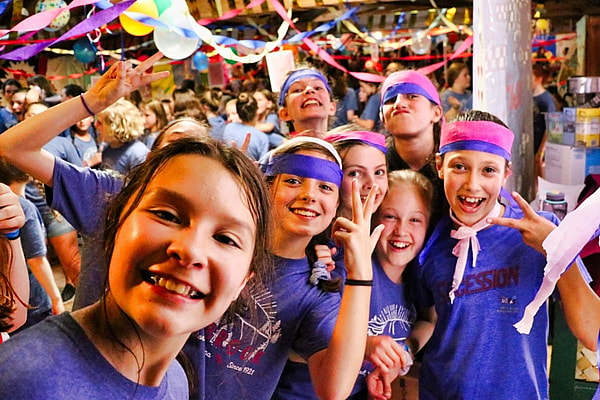 The food included "game piece" fruit kabobs, "puzzle" chicken nuggets, "pizza spinners," and checkerboard brownie/blondie cakes for dessert. The program included several dance performances, alternating with the entire camp jumping up to dance and shout to popular songs. Just imagine 300 people all singing (as loud as they can, by the way) "shake it off," "party in the USA," or "meet me in the middle!" Now imagine all those people packed into a room, with even more excitement and exuberance bubbling up from the friendships strengthened over a couple of weeks together. Add to that, loud music, eye-popping colorful decorations and costumes, and the kind of party food and snacks (i.e. sweet stuff!) kids love, and you have a REALLY fun party. I asked one camper between dancing how she liked the banquet, and without a split second of hesitation, she threw her arms up and yelled, "It's awesome!" There's no doubt about it.