There are several all-camp events that close the main sessions at Rockbrook, and as we have finished today, we will have enjoyed them all. It's important that these events involve everyone at camp because they represent the tight-knit community that has formed over the last few weeks, the feelings of camaraderie and appreciation we have for each other, and the unity gained from all of the moments— big and little —of shared experience during camp. The community of Rockbrook has grown stronger during the session, and while you sense it throughout each day, these final all-camp events make who we are as a group even more clear.
The "Banquet" is a great example. Our ninth grade girls, who we also refer to as "CAs," are given the responsibility of planning our session Banquet, to select a secret theme, and then present an elaborate party based on that theme. Special music, almost 100 different hand-painted posters along with other decorations, food to match the theme, plus dance performances and skits in costumes— all make the event. There are souvenir, decorated cups and printed programs on each table, plus, of course, lots of candy to assure it's a "sweet" party.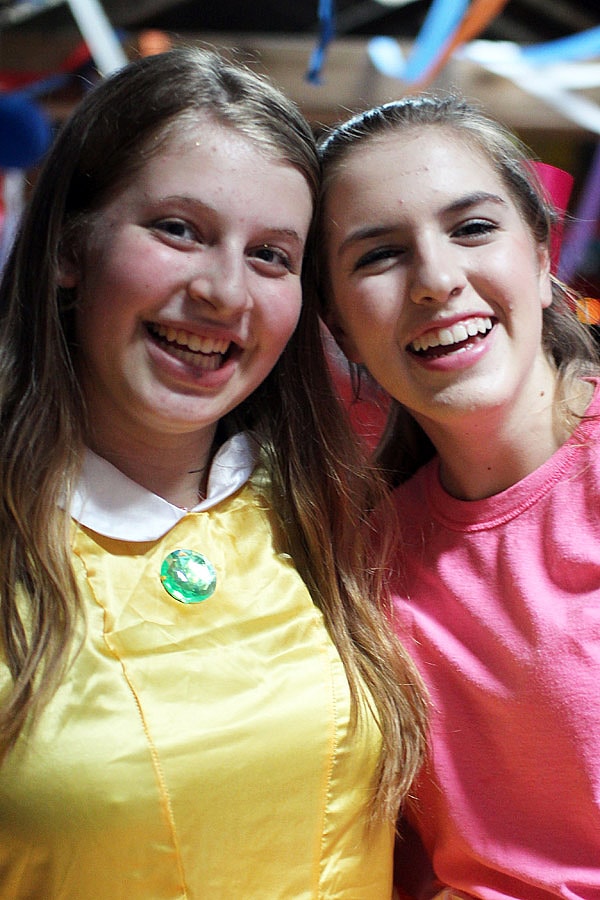 This session the CA girls presented a "Mario" banquet filled with characters from the Mario Brothers and Super Mario Nintendo video games. From Mario to Peach, Luigi to Toad, Donkey Kong to Daisy, there were colorful characters serving the dinner and performing several choreographed dances to some of the video game music. The campers, all dressed in this year's RBC t-shirt, joined in several of the dances, turning the whole dining hall into a fun dance party. Occasionally pausing for a photo or a giant gulp of water to re-hydrate, all of us danced (laughed, smiled and jumped!), sang (screamed and shouted!), and ate (nibbled chicken fingers and fries, and chewed different candies!) together. We were hot and sweaty, but oh so happy having this much fun.
The closing campfire, what has been called our "Spirit Fire" at Rockbrook for 95 years now, is another example of an all-camp event that signifies the positive feelings of community we enjoy here. Different from the banquet though, this event is more reflective and carries deeper emotions. First, we hold it on the last night of camp. We all dress in our white uniforms. We sing our more traditional songs like "In the Heart of a Wooded Mountain" and "How Did We Come to Meet Pal" around the campfire. And we hear campers and counselors speak about their time at camp and what it's meant to them.
More than anything, the Spirit Fire is a beautiful reminder of the camp community and the very real feeling of being respected and loved by a group of friends. We've forged a collective spirit over these last few weeks, supported by kindness, cooperation and care, and bubbling with enthusiasm and encouragement. The Spirit Fire is simply a focused moment defined by that spirit. As we sit together around the blazing campfire, with stars above and the sounds of crickets and night frogs all around, it's hard to not get a little teary. It's a wonderful experience.
It's been a fantastic session… packed with action, and maybe a little too much singing and dancing, if that's possible. Thank you for sharing your girls. We will miss them, and until then, look forward to singing and dancing with them again next summer.