Way down in Brevard, we are lucky enough to be located in the mountains and away from bright city lights, allowing us to have a wonderful view of the stars on clear nights. Today, however, the campers had a chance to see and be stars during the daytime on Out of this World day! This full Saturday was jam-packed with special events, crafts, food, and costumes all related to the Out of this World theme.
The first special part of our weekend was an all-day visit from the Pisgah Astronomical Research Institute's (PARI) Portable Planetarium. A former NASA research facility, PARI now hosts a Learning Center to inspire and educate people about science and technology. Today the Portable Planetarium came to Rockbrook for 6 viewings of their All About Space show, which included learning about the Greek mythology behind the names of planets and their moons, watching a meteor shower, and looking at all the Zodiac constellations. Entering the Portable Planetarium was like falling down the rabbit hole into Wonderland–campers and staff crawled through a dark tunnel into the planetarium dome that was then filled with the beautiful Milky Way.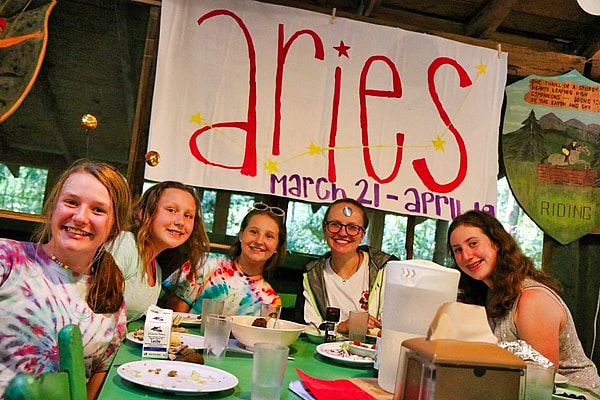 Our space-tacular Saturday continued at dinner with Zodiac birthday night. Campers with summer birthdays always get a special celebration at camp, but we also have a birthday night in order to celebrate everyone! Tonight, campers and staff sat with their fellow Sagittarians, Leos, and Capricorns in order to revel in their special identity and eat birthday cake. Not only does birthday night allow campers to celebrate themselves, it also allows them to sit at a meal with people of different ages they might not normally share a meal with. After dinner, the fun continued with an optional constellation kaleidoscope craft, and finally an all-camp favorite–a girls dance, replete with glow sticks!
While costumes, dancing, and learning happen every day at camp, Out of this World day allowed all the elements of Rockbrook to come together in such a way that campers were able to unlock their imaginations and explore new paths they might not otherwise take if it was just a "regular" day. With a theme, normal camp activities have a unique twist, a regular dinner becomes a huge birthday celebration, and a typical free swim becomes a time to lay with your friends in a planetarium and watch the stars. We can't wait for the next special camp theme to take us to infinity and beyond!