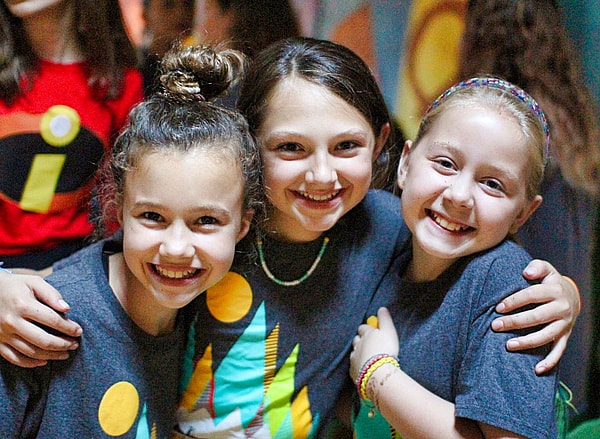 Ask any of the older campers at Rockbrook if they remember their first banquet, and they're bound to answer with a wholehearted "yes!" A Rockbrook "banquet" is an all-camp party held at the end of each session. It always has a surprise theme selected by our CA (9th grade) campers, who also design, plan and implement the details of the party. The banquet is a huge celebration that combines amazing decorations, special fun foods, performers in costumes (the CA girls and their counselors), skits, music and dancing— all revolving around the theme. Usually, there are about 20 CA campers working on this over the course of the session, so you can imagine how elaborate it can all become.
That's why banquets are so memorable. There's the element of surprise, and the sheer amazement arising when the girls finally enter the dining hall to see how it has been transformed according to the theme. It's a transformation that changes almost every interior surface: painted posters covering all four walls, tablecloths and table decorations, lights, streamers and balloons on the ceiling, and even posters decorating the floor at times! With characters dressing in full costumes dancing about, the music combines with the decorations to create a whole new environment. It can be almost mind-blowing for young children when they first see it. Then, between skits and choreographed dances performed by the CAs, it's a loud, excited dance party for everyone. Soon, we're all hot and sweaty, thrilled to be having this kind of high energy party with all of our camp friends.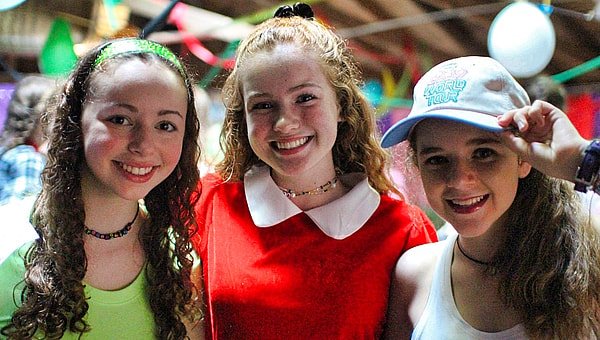 Tonight's banquet, our first session 2018 banquet, was entitled "Stranded at the Drive-in." Essentially a movie theme, the girls selected favorite movies and dressed as specific characters as they presented music and dances from particular films. We saw characters from Grease, Clueless, Shrek, Mean Girls, Monsters, Inc., Annie, The Hunger Games, Harry Potter, Breakfast at Tiffany's, and the Incredibles. Take a look at the photo below to see all the CAs in their costumes. They were so well done! The tables had red movie ticket stubs scattered about. The wall posters were colorful detailed representations of other films like Moana, Up, Tangled, Cars, Inside Out, Wonder Woman, Finding Nemo and Gone with the Wind. …films that most of the other campers would know. With the theme, the girls decided to serve movie popcorn, along with chicken nuggets, mozzarella sticks, corn dogs, and fresh fruit on the side… ice cream and brownies for dessert.
What a great banquet! Dancing and singing together at the top of our lungs, I'm sure every single person had a complete blast. It will probably take some work to wash all the glitter out of our hair, but I suspect this banquet will be unforgettable.