By Naomi Penner
I live in a mighty cabin on the Senior Line that sits up on a hill amidst the trees. A glorified tree house, if you will. Living with me are two co-counselors and 12, 13-14 year old girls. They are a spirited group of Rockbrook gals with nothing but wit, grit, pep, and cheer who always make me laugh. They are the girls of Penthouse and they are my family.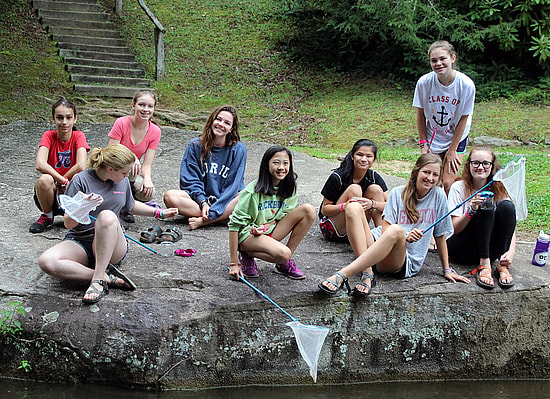 There's no doubt that all of us here at RBC are one big family. We live together in the wooded mountains for a few weeks during the summer, so we're bound to be close. We see each other during meals and activities, Assembly on the Hill, and Rockbrook Surprises, like a shaving cream fight or girl power themed carnival.
Yet, it's the family within your cabin that shares a different kind of bond. Your cabin is your home away from home. Not only are all your belongings living in it, but so are the people you spend the most time with at camp. Your cabin mates are the first people you see when you wake up and the last you see before you go to bed. You sit together at every meal. You cheer for each other the loudest. You are proud of everything they do. You take care and look out for one another. And most importantly, you love each other no matter what. It's your cabin mates who turn that cabin into a home.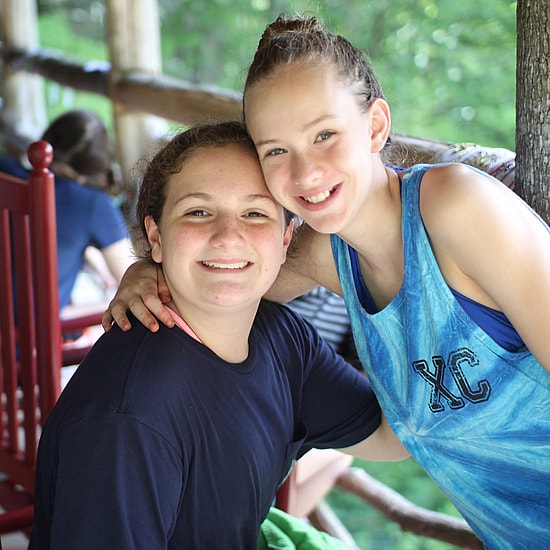 The fun thing about each cabin here at Rockbrook is that, just as every family, each one has a set of customs and traditions unique to just them. From mealtime to bedtime and everything in between. For me, it's never a Penthouse meal without standing up to sing along to a Rockbrook song at the top of our lungs, or a Penthouse day without hearing "What the Buddha?!" Every night before bed, we do "Rose, Bud, Thorn." It's a nice way to share our day. "Rose" is something you enjoyed about the day, "Bud" is something you look forward to at camp, and "Thorn" is something that just wasn't to your liking. A weekly tradition we do in Penthouse is "Secret Buddy." Every Wednesday, we draw names out of a hat to see who our Secret Buddy is for that week. Gifts include sweet notes tucked away in a book, or homemade gifts made during an activity that magically appear on your bed. My favorite Penthouse practice is our nightly Mad Lib. Whoever has "Mad Lib It Up" on the chore wheel that day gets to pick the Mad Lib and go around asking for a noun, adjective, verb, etc. Laughter is critical in Penthouse and we do it 'til lights out.
Even more special to a cabin are the memories created within and around it. I have so many to draw from with my girls. Like the time we all gathered on Side C, singing and grooving to the High School Musical soundtrack, audible from down the line. Fourth of July spent on the hill talking about our childhoods as the fireworks boomed and glimmered in the background. Or when we went stargazing together on the hill and found a running man and dolphin in the lingering clouds.
As the session nears the end, I'm savoring these final days with my Penthouse, and Rockbrook, family. Looking around the breakfast table this morning, I couldn't help but be grateful for the time had with this amazing group of Rockbrook girls. Luckily, the wonderful thing about family is that even when you're far away from each other, whether it be from Tennessee all the way to Poland, the love you have for one another remains.
Nie mówię po polsku! PentHOUSE!