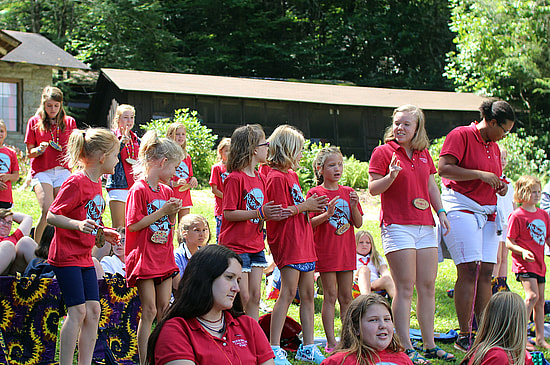 Welcome friends! Welcome to the group of campers who arrived this morning to begin their session at Rockbrook. We're all very happy to have you arrive, and are just as excited as you are to get started. Finally, the agonizing wait… all summer! …is over and you can meet all the great people here and begin exploring the many different things available to do at camp. The beautiful weather this morning added to the enthusiastic mood, and I suspect made the arrival and check-in process run even more smoothly. All 84 of the girls arriving were quickly settled in the cabins and happily touring the camp with their bunkmates before noon— checking out the different activity areas, trying things out a little (making a simple friendship bracelet, for example), and having their questions answered by staff members. Part of this tour involved a scavenger hunt where the new girls collected different colored bracelets hidden at different landmarks around the camp, like the gym, the flagpole, and the infirmary. It was a fun way to get to know each other, learn more about Rockbrook, and be active right away after arriving.
Let me mention the Chapel gathering that also happened this morning for the full session girls. At Rockbrook, these Sunday morning events are intended to provide an opportunity to slow down and reflect on some of the principles and values that help shape our camp community. Camp is mostly about big fun, but it's also about so many other important things, it's good to pause and discuss what we're learning along the way. These Chapel gatherings are not religious services, though, and they do not refer explicitly to any religious texts or doctrines. Instead, the events focus on broader themes that can be understood and appreciated by any religious tradition. The campers themselves plan and present the songs and poems they think illustrate the theme, and Sarah always reads a short children's book she thinks is relevant.
So today's chapel theme was, "We're all in this together," a recognition of community and the importance of including each other. Sarah read the book Odd Velvet by Mary E. Whitcomb to show how someone (or something) who first appears strange, can turn out to be wonderful, interesting and make all our experience more rewarding and fun. Whether considering new foods, activities, or even new campers arriving today, our community impulse to be accepting and curious is something we value here at Rockbrook. As we begin with kindness, compassion, and generosity, we foster the sort of positive relationships that cement our camp community. Including those different from ourselves is a simple extension of those values.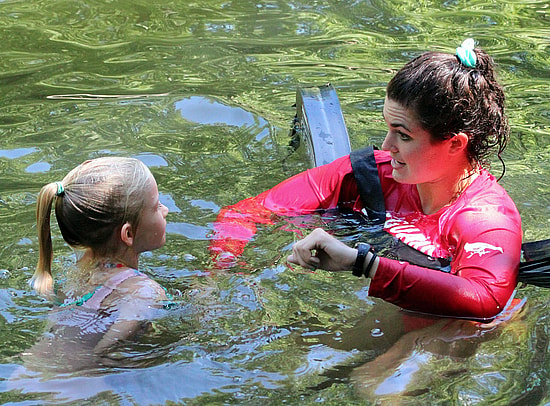 We took time after lunch to orient all of the newly arrived campers to the waterfront, and to allow the lifeguards to evaluate everyone's swimming ability. The cold mountain water of our lake, its different depths and diversions— the water slide and diving board for example —can be challenging for certain swimmers, so we ask all the girls to show us they can swim and tread water comfortably before letting them take full advantage of the waterfront. The girls earn one of three colored "swim necklaces" to indicate their swimming ability and corresponding lake activity. The weakest swimmers can still come down and cool off in the lake, but we require them to remain in the shallow area where they can stand up, and to wear a life jacket while in the water. With everyone's buddy tags labeled with their name and proudly hung on the tag board, it was next time for the big all-camp afternoon event.
Jedi Training Academy! Tapping into all things Star Wars related, we held a carnival combining costumes (of course!), music, dancing, surprising challenge games with prizes, and an unlimited supply of snow cones grinding out of our snow cone machine. We also arranged for two huge inflatables: an obstacle course called "Leaps and Bounds" that reminded everyone of "American Ninja Warrior," and a 25-foot tall water slide that let two girls slide at the same time racing.
The senior campers, with some help from their counselors, helped run the event, teaching and explaining the 10 different stations like "Pin the saber on Yoda," "Death Star Destruction," "Defeat Darth" with an arrow dipped in paint, a "Mars Matching" game, face painting ("The Face is with You"), a light saber duel that involved balancing on a slippery beam, and a way to make a light saber using a rod of foam and different colored tape. With snow cone in hand, the girls had a great time zipping between activity stations, cooling off on the water slide, and dancing and posing for photos in their costumes. Of course, Princess Leia (actually several of them) made an appearance, along with Darth Vader, Rey, Chewbacca, and a couple of storm troopers. Many girls wore a Star Wars t-shirt too. Two hours seemed to fly by, every minute filled by smiling energized girls. An active Sunday afternoon, just how we like it.