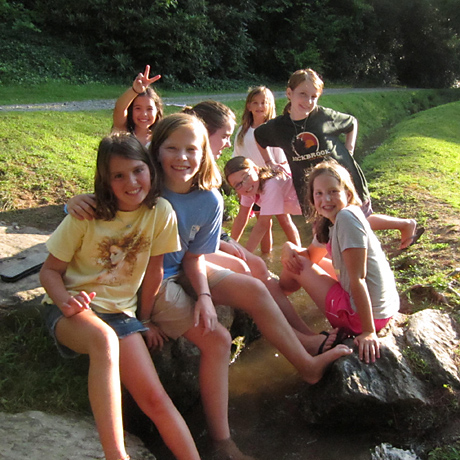 Have you run into Amy Chua's book Battle Hymn of the Tiger Mother, or heard any of the controversy surrounding it? The book is mostly a memoir of Chua's own childhood and her Chinese mother's parenting style, but it's also an account of how she is raising her own children with similarly strict, high standards, as opposed to what she sees as the overly indulgent, coddling, and soft ways of western parenting. Some of the anecdotes are shocking… demanding thousands of math problems be completed in training for a competition, threatening to burn her daughter's stuffed animals if a music composition wasn't played flawlessly, and refusing to allow her daughters to attend a sleepovers because they are a waste of time. It's not too hard to see why American mothers were so quick to denounce the book as horrible parenting advice.
After hearing about this, you have to wonder if Amy Chua ever sent her kids to summer camp. I kind of doubt it. We can only speculate, but for parents that value intellectual, musical or athletic achievement over everything else, spending weeks at summer camp to "just play" doesn't make much sense. Calls for a longer school year, and thereby a greater opportunity for classroom learning, are akin to this attitude. The idea is that if you really want to be good at something, even the best at it, then you have to give up other things. Superior achievement requires sacrifice! While it is true, this approach can yield highly trained, skilled people, you have to wonder "at what cost?" Sure you might be a top-notch pianist, but what did you miss out on when you were doing all that practicing? Yes, we can all be a lot better at math and science if we study all year round and you might even be a world-class athlete, but with all that training, do you have any time for other parts of yourself? Your creativity, your friends, your undiscovered talents? Sadly, the answer in most of these cases is "no."
Amy Chua's book reminds us that training our kids too rigorously, at the expense of the "whole child," can have serious consequences. Like a blind devotion to academic achievement, we risk narrowing educational experience and perspective to the point of debility.
Fortunately (and I would include Chua here), most parents understand the value of providing their children diverse educational opportunities because they want them to grow up with a wide range of personal skills that can serve them later in life.
That's why parents send their children to Rockbrook. They want more for their girls than just what school provides. They understand the tremendous benefits of a summer camp experience. They know camp is fun, but more importantly, is a break from all the "practices" of the school year, where girls can relax and explore all the other sides of who they are.