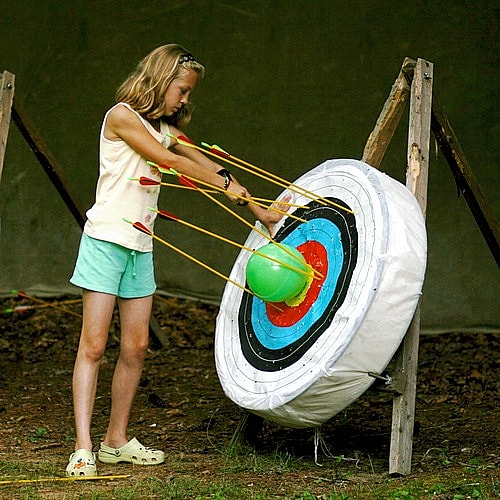 I spotted an article discussing how parents can understand why residential summer camps are worth their cost. It's true; sleepaway camps are usually expensive and can cost between $1000 and $2000 per week. And while it's also true every summer activity (e.g., other educational opportunities, extracurricular activities, family vacations, trips, and entertainment) costs something significant, what are the unique benefits of an overnight camp experience that can justify its price?
First of all, the American Camp Association has a lot to say about the benefits for youth of attending summer camp. We have written about it before here and here (and especially here!), but you should visit the ACA Web site to see what they say.
One clear, obvious benefit to camp is the fun and concrete skills kids gain from the wide range of camp activities available. By trying everything at camp, girls learn how to be an archer, a swimmer, a knitter, a tennis player, an actor, and a horseback rider, to name just a few. They learn to do things, exciting new things that can easily turn into life-long pursuits.
Perhaps more importantly, a quality camp experience provides kids intangible benefits as well. Here's how one camp director in the article put it.
"Besides all the exciting activities and friendships made, the immense value in camp comes in the development of key lifetime skills and attributes such as confidence, cooperation, communication, new skills and decision-making, to name a few. Camp goes beyond a summer session. It's unique in that it really is about each camper developing their best self for life… In that regard it is priceless."
More than other summer activities, a sleep away summer camp experience endows children with valuable life skills, provides positive adult role models, supports them with consistent encouragement, and all within the kind of well-rounded wholesome environment all too rarely found these days. These are lasting benefits that can really make a difference in a child's life as she becomes an adult. It's pretty clear; with that kind of benefit, camp is definitely worth it.