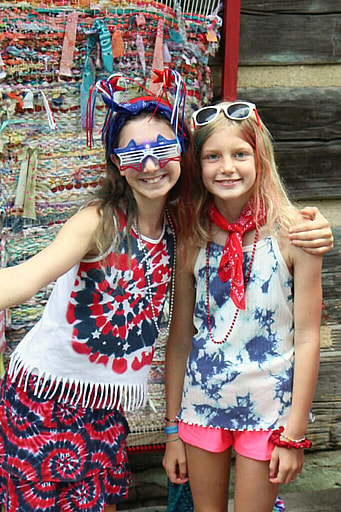 If you've been reading our posts over the years, you know that we believe summer camp is more than just fun. It's certainly filled with laughter, smiles and exciting activities, but it's also formative, truly educational in important ways.
For everyone at camp, life here teaches you things, really foundational things that stay with you long after you leave camp. The culture of Rockbrook, guided by its philosophy and values, drives this learning, creating the perfect context to explore, discover and grow… and along the way, to form incredibly meaningful friendships.
One place where this is especially clear is during the ceremonial campfire that closes each session, our "Spirit Fire." This is a time when we sing traditional songs and listen to campers and staff members reflect a little on their time at camp. With the whole camp gathered, we hear about making best friends, being your true self, feeling "at home" here at Rockbrook, and also deep gratitude for the experience.
Here's a great example.
This past summer, Liz Lydon, a longtime camper and now staff member, shared her thoughts on what Rockbrook means to her. Liz does a wonderful job describing how her Rockbrook experience has shaped her over the years. She writes:
Seven years ago I came to Rockbrook for the first time filled with excitement. Excitement for all of the fun activities, crafts, and trips that I would get to do here. Little did I know that I was coming to a place much more valuable than what the website could ever display. Little did I know, just how much I would fall in love with this wooded mountain, and how special it would be in my heart. Special enough for me to return time and time again, and even now, to return for the first time as a counselor.

There's something in the air at camp that makes you feel so valued as a person and sparks a lot of personal growth. I give much credit to Rockbrook for shaping me into the woman I am today.

Here at camp we all learn so many valuable lessons whether we realize it or not. So I ask all of you to reflect on three lessons that I've learned through my years at camp.

How to Live Free of Fear and Judgment

The first thing I learned at camp is how to live life free of fear and judgment. To make mistakes and grow from them rather than feel embarrassed. Ultimately, life is too short not to jump in the lake, or go down that rapid, or even just hop in the middle of a banquet dance circle. Rockbrook was my first safe space, and after years of revisiting camp and growing in confidence, Rockbrook taught me how to make a safe space within myself. It is so important for every one of you to understand that you are valued and loved and respected. Bring the confidence that you've learned while here at camp into the rest of life.

How to Be a Good Person

The second lesson I learned is that it feels good to be a good person. As you get older every year at camp, you pay closer attention to the songs, the prayers, and the history; and decide what it all means to you. They all teach lessons that we may forget while distracted by the real world and by social media. Rockbrook has maintained a culture at camp that encourages everyone to be the best human that they possibly can be.

Here, we remember the true value of being kind and having compassion. We know that it is much healthier to acknowledge the positivity in an individual rather than focus on what you might not like about them. We understand that every single person that you come into contact with can offer something valuable in your life.

How to be Myself

The third thing I've learned from Rockbrook, is how to learn about myself. It's here at camp that you have the time to look inward and reflect on who you are. How would you define yourself based off of your actions, emotions, and your perspective on life. Are you proud of who you've become? And most importantly, think about who you would like to be. Identify that person and actively work towards it. I know that for me, the best person to be is, in fact, a Rockbrook camper.

I learned through the years that a Rockbrook camper is kind and creative. They are never afraid to get a little dirty and have a little fun. They're the first to lend a helping hand and the last to run away from a challenge. It's the little things that everyone does while here at camp that make Rockbrook so special. I'm so thankful that I found Rockbrook and I couldn't imagine how my life would be without it.
At camp, you can't help but learn these sorts of things. The environment, the support, the encouragement, the other people reflecting these same values, and yes the fun of it all —everything contributes to making camp life this rich and meaningful. It's a wonder to witness and for everyone, a joy to experience.