Packing Tips
Gathering and packing everything you'll need for sleepaway camp is part of the fun! Here are a few tips and some advice about how to pack for camp and what to bring for your stay at Rockbrook.
Trunks work best for clothing, and duffel bags for linens.
Here's advice about "how" to pack for camp. Girls live out of their trunks and most prefer the traditional hard trunk. However soft trunks and plastic ones work just fine. Duffel bags can be stored under their beds.
Label Everything
Permanently write, or better yet, use sewn or ironed-on labels that include the first and last name.
Don't pack anything of value
Things do get lost, damaged, and/or borrowed while at camp. Old t-shirts, sweatshirts and shorts are quite the style at camp!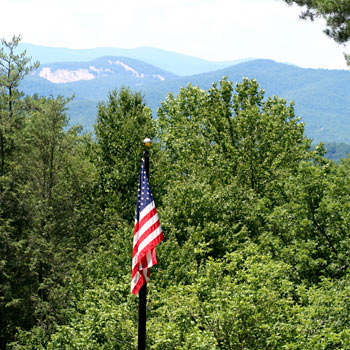 Think layers.
Even in the peak summer months, mornings and evenings can be chilly. It's common for the day to start out in the 50's – 60's and then heat up to the 80's during the afternoon.
Brevard has a temperate yet rainy climate.
It's normal for it to shower during the early afternoon, and usually coincides with rest hour. Still, a rain jacket is a must! Also, because of the dampness, it is common for things to mildew. Pack all stationery in plastic bags to prevent the envelopes from self-sealing!
Gearing up for Camp
Rockbrook campers and their parents receive a special discount at Everything Summer Camp (1-800-535-2057). Clicking this link enters the discount code (TRAIL355RB) automatically. We recommend this web site for camp trunks and other hard to find camp gear.
The Rockbrook Uniform
We wear our camp uniform only on special occasions: on Sunday mornings, for cabin photos, and to the closing campfire (not during most days). The uniform consists of white shorts, a white polo-type collared shirt, and red tie. Any pair of plain shorts and shirt will do, and the red tie is available to purchase in our online store.
Laundry
Dirty laundry is taken out once a week. Therefore your camper really only needs clothes for one week, even if she is coming for 4 weeks.
DID WE MENTION TO LABEL EVERYTHING?!!!!!
A Special Note About Cell Phones

Campers are not allowed to have cell phones at camp. While it may seem counter-intuitive, we have found that girls who bring cell phones have a harder time adjusting to camp life and can have more difficulty with homesickness. A large part of camp is learning to be independent and you can help your daughter succeed by making sure she does not bring a cell phone.

However, if your daughter is flying to camp, and you would like her to have a phone for traveling purposes, we will gladly keep it for her in the office until closing day. Please let the office know if we should expect her to have one.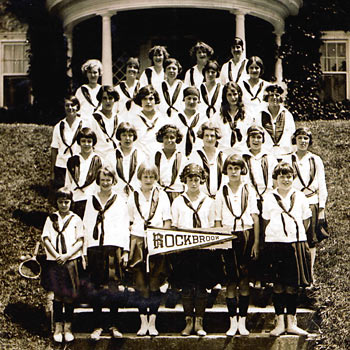 A Special Note About Electronic Screens

Campers are not allowed to have electronic screens at camp. We ask that campers do not pack tablets (e.g., iPads), e-readers (e.g., Kindles or Nooks), or iPods with touch screens (iPod Touch or iPod Nano). Beyond the practical rationale for not packing these electronic items— there are no electrical outlets in our cabins available for recharging —we strive to make camp a place for slowing down, "unplugging" from our devices, and for being more fully engaged with those around us.

We do allow campers to listen to personal music at rest hour and before bed (i.e., only in the cabin), but we suggest inexpensive, alkaline battery-powered players.
Suggested Packing List
Here is a list of what to bring to summer camp. While the items and quantities are "suggested," we've found these items to be important. It's also important to note that camper laundry is washed once a week. For international campers, we provide those items in the list marked with an asterisk (*).
| | |
| --- | --- |
| 4 bath towels | 1 beach towel* |
| 2 bathing suits | 3 washcloths* |
| 7-10 T-shirts/shorts | 1 pillow and 2 pillowcases* |
| Rockbrook T-shirt (mailed to campers) | 3-5 bras/ sports bras |
| 2 sets of twin size sheets* | 2-3 pair long pants/jeans |
| 2 blankets* | 2 sweatshirts or fleece pullovers |
| 1 sleeping bag | 4 sets pajamas/bathrobe |
| 3 pair tennis shoes | raincoat or poncho |
| 1 pair water shoes with straps (i.e. Chacos) | lightweight jacket or fleece |
| 1 pair shower shoes or flip-flops | toiletries and shower caddie |
| 1 pair shoes or boots with heel (for riding) | laundry bag |
| 1 pair white shorts | flashlight/batteries |
| 1 white shirt with collar (available at camp) | sunglasses |
| 1 red tie (purchase at camp) | insect repellent |
| 10 pair socks | sunscreen |
| 10 pair underpants | waterbottle |
Optional Items to Pack:
| | |
| --- | --- |
| An extra pair of glasses or contacts | Silly Costumes |
| Crazy Creek Chair | Riding helmet/boots (provided, but OK to bring) |
| Day pack or Bookbag | Books or reading material |
| Small games | Lip balm |
| Playing cards | Tennis racquet |
| Pre-addressed, pre-stamped stationery (in zip lock bags to protect from moisture). | Battery-powered lantern or twinkle lights |
Here's a PDF checklist version of this packing list so you can download, print it, and checkoff the items!
The Camp Store
"Sybil's Shoppe" is the camp store where campers have the opportunity to purchase necessities during their stay at camp such as flashlights, disposable cameras, soap, stamps and stationery. We recommend discussing with campers a budget of $10-20 per week for their camp store account. Purchasing items in the camp store is optional, and self-directed for each child. We collect the final balance (ordinarily by charging your credit card) on the last day of camp.