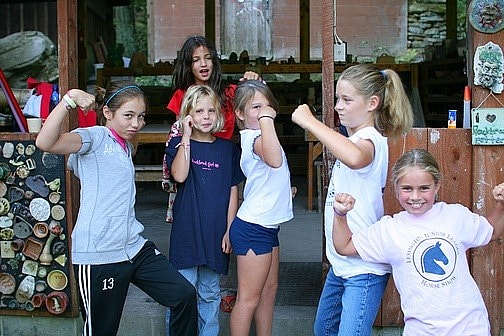 Back in July, Nancy Gibbs wrote a short article in Time Magazine called "The Meaning of Summer Camp." There's a lot she discusses, but the article's tagline gets to the heart of it: "It used to be about acquiring survival skills. Now it's about the social skills that need work." Parents used to send their kids to summer camp to toughen up a bit, to learn practical outdoor skills. Being away from the "comforts of home" and away from parents' assistance, made this possible. Now, Gibbs observes, camp is a place for kids to "unplug" and explore life without cellphones, text messaging, and their Facebook accounts. In other words, camp is still a place to break from the familiar, and when faced with new challenges, grow in new ways. Gibbs identifies the social benefits (learning to share, communicate, cooperate and so forth) that follow, but we should add physical (like becoming a stronger swimmer), emotional (like the joy of being completely silly), and psychological (like becoming more confident and self-assured) benefits as well.
Sometimes it's hard to see this, but all these benefits of a kids camp, not to mention how fun it is, arise because camp is so different from life at home and at school. Preserving that difference is one of the main reasons Rockbrook doesn't allow cellphones, computers, Internet access, electronic games, and other forms of technology that tether kids to what they have at home. It's one reason why sneaking a cellphone into camp is a terrible idea. While it may make you feel better, it will dilute, if not destroy, what summer camp is all about.
Camp is a place to acquire new skills and grow up a little while having a great time with your friends. It works because it's not the same as home, and that's a good thing.