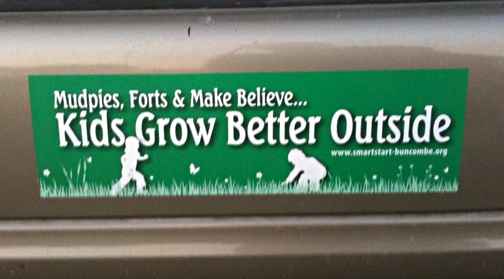 Spotted this bumper sticker the other day in Asheville, NC. Isn't it awesome!? It's put out by the Buncombe county partnership of the Smart Start Program, an "early childhood initiative designed to ensure that young children enter school healthy and ready to succeed." The sticker shows that, like we have claimed many times before, playing outside is really good for kids. Here are some of the benefits Buncombe County recognizes.
Kids are better able to play with other kids and work problems out with them.
Kids benefit from physical activity by experiencing healthier weights.
Kids have fewer problems with hyperactivity and are better able to pay attention.
Kids experience less stress than other kids their age.
Kids score higher on standardized tests.
It's not too hard to see how "children will be smarter, better able to get along with others, healthier and happier when they have regular opportunities for free and unstructured play in the out of doors?" And it's a simple step to realize how important summer vacation from school, and summer camps like Rockbrook, are for kids. All children really benefit from time outside, away from school, and certainly at camp.
Are your kids getting outside?