Today almost half the camp dropped into some high adventure as we took Middlers and Seniors whitewater rafting on the Nantahala River. Located about 2 hours west of Rockbrook, the Nantahala is a popular river to raft with thousands of people enjoying the scenic ride every year. Rockbrook has been taking campers there to raft since the early 1980s —longer than any other camp— and is the only girls summer camp awarded a permit to run its own trips down the river. This means we have our own equipment, hire our own guides, and follow an approved US Forest Service operating plan. It also means we can take large groups of campers down the river without having to hire an outside company, or charging anything extra.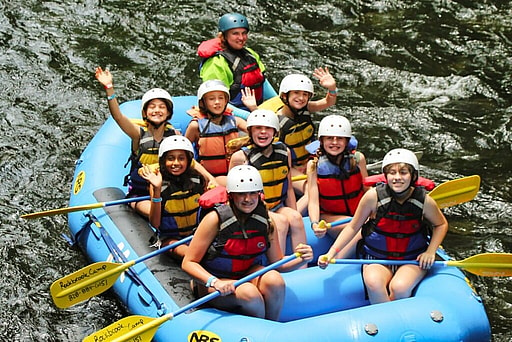 As a result, rafting over the years has become a regular part of the Rockbrook adventure program, easily being the most popular off-camp trip. I'd say 95% of the girls offered the chance, are thrilled to go. Why? Because it's so uniquely fun. It's all the gear. You feel tough just wearing the PFD and putting on the helmet. It's figuring out how to sit on the raft, bracing your feet under the thwarts, the challenge of holding paddle, and timing your paddle strokes with the others in your boat. Mostly of course, rafting is a blast because you're in the boat with your friends, bumping and bouncing over the waves, being splashed unexpectedly with bright, cold water. Between rapids there are calm stretches of the river where the girls can jump in for a quick swim and feel the shock of the especially cold Nantahala river. There's also plenty of time to chat, sing, and goof around for the camera. The trips today were perfect, both the morning and afternoon runs—warm and sunny weather, great timing to avoid other rafting companies' trips, and a delicious picnic lunch packed for us. The girls had a really great time.
What happens when you plant a garden of colorful plants, ones that have special dye qualities, leaf and stem varieties, and then introduce paint, textiles, paper and ink? You have the perfect inspiration for art. You have garden art, or what some campers are starting to call "gart."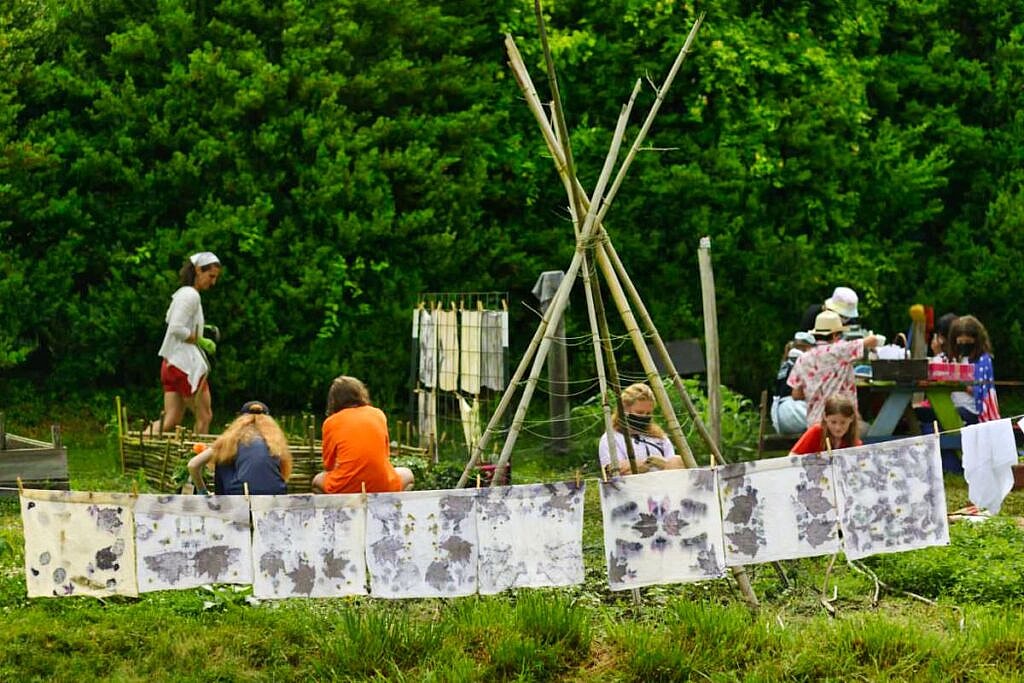 Gart is one of our newest activities at Rockbrook this summer. Conceived and led by Bailey Knight and Sara Green, this outdoor art activity is super cool and unique. This morning a cabin of girls painted, pressed and designed cards and plaques using flowers and leaves. The project included hammering these natural materials between squares of paper, and using paints to add complementary colors and designs. Another project involved taking white linen, soaking it in "rust water," and then steaming plants to release tannins into the cloth. Beginning with these organic materials creates really nice textures and patterns, true works of art the girls can be proud of.
One quick note about mail at camp. It's worth repeating that girls love getting mail at camp, the old-fashioned paper kind. Sure you can send emails, and those are easier for parents, but nothing beats a real letter or card. Our local Post Office can be overwhelmed and slower in the summer, so planning ahead is important.
Even after just a few days, we're seeing so many of the things that make camp great for children. The friendships and community feeling are growing stronger as we spend this time together in this beautiful place.