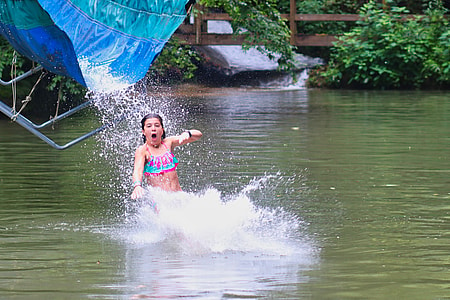 It's only been a few days into the session, and already it's clear that camp life is the good life. A casual stroll around the camp, really at any time, proves it. We have happy girls everywhere, engaged caring counselors, and genuine enthusiasm spilling out of every activity. It's remarkable too how quickly this positive momentum has appeared. You see it at archery when the girls cheer for each shot that hits the target, at the Alpine Tower when a camper makes it to the top platform, and at Curosty when the looms vibrate from quick fingers at work.  The poses at Yoga, the canoe strokes at the lake, the backhands on the tennis courts, the careful protocols and aim at the riflery range —together, there seems to be a natural rhythm to camp now. It's fascinating to see all this relaxed, comfortable and confident activity.
There also has been tremendous interest in the adventure trips being offered each day. When the staff announces a trip, the girls have been literally running to sign up. There's been so much interest in overnight backpacking, for example, we've added more chances to go in the coming days. The Juniors have been filling day hiking trips, and tomorrow's rock climbing outing to Looking Glass Rock will have a full group leaving bright and early. Likewise for the zip line trips: quickly full of eager adventurers. It's impressive how much these girls are ready for everything camp has to offer!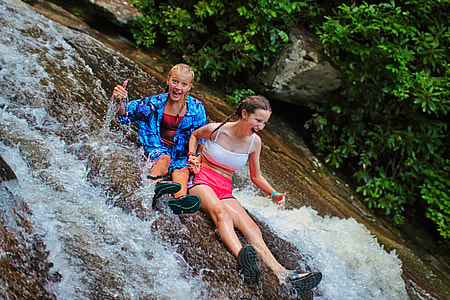 The entire Senior line spent their cabin day evening having a wild time at Sliding Rock. Just before dinner we loaded up all the buses, and drove up to a great grassy spot in the forest for a picnic dinner of hot dogs, Rick's homemade coleslaw, potato chips and fruit. A quick game of "I'm a Rockbrook Girl" helped digest our meal before driving the short distance to the Rock. Once again, since we were sliding after hours, we had the place to ourselves and the girls could easily get back in line to slide several times. Some slid as many as 6 or 7 times tonight! Back in the buses and after a short drive back down the mountain, Dolly's Dairy bar was our last stop of the evening. Cups and cones of delicious "Rockbrook Chocolate Illusion," or some other camp flavor made a nice cap for the fun trip.
Keep that snail mail coming. Receiving a true card or letter in their mailbox is a wonderful gift for the girls. Follow the instructions for keeping in touch on this page.