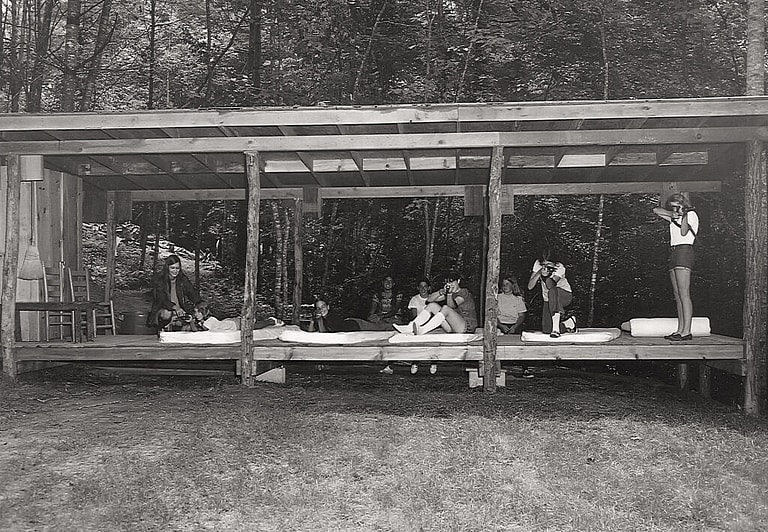 One of the many unique traditions of Rockbrook is the signatures in many of the cabins. Campers can sign their names along with the year and session on the inside, allowing them to leave behind a little bit of their legacy that they can return to years later. There are also a few special places besides cabins where signatures can be found. One of my favorite places at camp to read the signatures is the rifle range. The signatures on the range date back to the 1960's (the original range was located where Nature Nook is now). As a riflery instructor, I have spent a lot of time at the range and have enjoyed reading the Riflery Woman of the Week plaques from the 60's or the "We Creamed Keystone" or "Carolina was shot down today!" victory declarations from tournaments.
As a camper sitting on the student bench, one name really stuck out to me: "Jane Spell High-Up 77" is written in a light blue paint that seems to only have gotten brighter with age while other names have faded. I've always wondered what she used to write that with! Later as a riflery instructor, I read on the inside of the gun cabinet where Spell supposedly "ate a bullet 7-25-77." I always associated Jane Spell with the rifle range and was excited to meet her one summer and later learn she and my mother went to camp together.
One of the most exciting parts of being a riflery instructor is getting to name the guns. The girls enjoy calling the guns by their names and returning each year to shoot their favorite gun. We have Annie Oakley and Drop Dead Fred for the classic Westerns, Draco Malfoy and Captain Jack Sparrow from recent big movies, Guildenstern from Shakespeare, and Big Daddy, Bad Momma, and Little Bertha too. Some old favorites who have since been retired are the Fresh Prince of Bel Air, Oscar the Grouch, and Old Dirty Betty. I chose to name one of our new guns "Spell" in honor of Jane Spell, who has always been a part of the rifle range to me even before I met her. The gun reads "Spell" and then in a smaller print: "eating bullets since 1977." This summer the campers were so excited to shoot the new gun. Every time we had a new group at the range, someone would ask, "Is Spell named for Jane Spell?" Their next question would then be: "Did she REALLY eat a bullet in '77?" I wasn't there in 1977, so I can't for sure say if she did, but I do know Jane Spell became a Rockbrook legend when it was written in the cabinet!
—Leah Mayo