Being a Camp Nurse
If you like kids, you're a little outdoorsy, and you thrive in a close-knit community, being a camp nurse is a wonderful way to spend a part of your summer.
At Rockbrook, a team of healthcare professionals helps whenever anyone at camp, campers and staff alike, needs medical attention.
What is a Camp Nurse?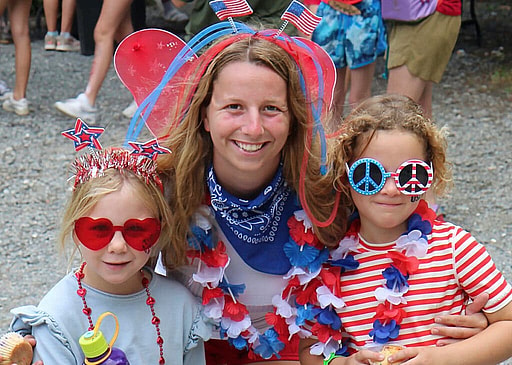 Camp nurses offer general first aid, administer prescribed treatments and medications, communicate with the camp administration, camp physician, and parents, all while monitoring and evaluating the overall health and wellbeing of the camp community.
Camp nurses find themselves greeting campers, reassuring them, answering medical questions, and caring for them when they need medical attention for any illness or injury that might crop up at camp.
A camp nurse job means helping kids feel better, listening to their physical discomforts, and assessing the health-related conditions affecting their camp experience. It means working with other healthcare professionals (other nurses, camp physician and physician assistant) to diagnose and treat the ailments campers and staff members experience at camp.
The Benefits of Camp Nursing
There are so many!
Air-conditioned housing.
Awesome Rockbrook dining hall meals.
Highly competitive weekly salary or camp tuition grant.
Free laundry & Internet service.
The excitement of joining a fun, positive community.
Regular time off to explore nearby NC mountains.
Camp Nurse Job Requirements
Working with a young, active population at camp, most medical issues are minor, but camp nurses must be able to assess medical needs quickly and be ready for emergencies.
Must hold current Registered nurse (RN) or licensed practical nurse (LPN) certification.
Must hold current First Aid & CPR certification.
Experience working with children and young adults desirable.
Ability to implement standing treatment orders.
Ability to monitor and chart treatment records.
Must possess a friendly, kind, understanding attitude.
Frequently asked questions about our Camp Nurse Jobs
Do I have to work all summer?
No. We have a team of nurses who work shifts to cover each of the sessions of camp scheduled. Some nurses live locally in Brevard and work occasional shifts, but most of our camp nurses live at camp and work for an entire session lasting 2, 3 or 4 weeks. Working more than one session is an option too.
Can my daughter attend camp with me?
Yes! Many of our nurses come to camp and work while their daughter attends the same session under a tuition grant— a great experience for both mom and daughter! Some nurses choose to work for a salary instead.
Where will I sleep at camp?
Nurses sleep away from our Health Hut in an air-conditioned house called the Castle Rock Lodge. When on duty for a night shift, nurses sleep in the upper level of our Health Hut.
What other medical services are available at camp?
We have a camp physician who makes a weekly visit to camp, and works remotely with our nursing team as needed. We also have a camp physician's assistant who remains on call throughout the summer. Our local hospital is located 11 minutes away by car. All of our counselors undergo epi-pen training during staff orientation and are First Aid and CPR certified. Our trip staff members hold advanced wilderness First Aid training as well.
What about the camp dining hall food?
Oh. You are going to love it! Here's more about our camp meals.
How many campers and staff attend Rockbrook at a time?
There are approximately 210 campers (ages 6 to 16) attending each session, and about 58 cabin counselors, plus activity support staff, and other special staff members. Altogether, there are up to 325 people on camp at any one time.
How can I learn more about Rockbrook?
The best way is to read through our website. There's a lot there! You might start with the most common questions.
Rockbrook is accepting applications for Camp Nurses next summer!
Being a camp nurse is one of the best ways to experience camp as an adult, to enjoy the positive, healthy, outdoor environment, and to join a supportive community of friendly young people. It's also a great way to introduce your daughter to all the benefits of sleepaway camp.
If you have any questions, just reach out. We're excited to meet you!
Apply to Work