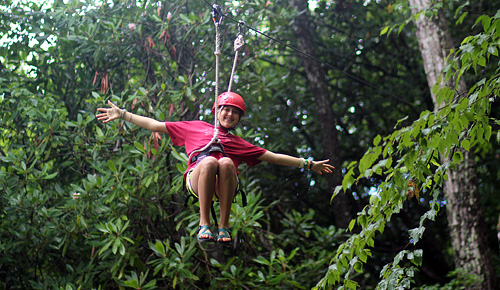 It being the 4th of July weekend, we all stayed close to home and enjoyed activities in camp today. This part of North Carolina is a popular tourist destination… even more so this weekend … so to avoid the crowds, we thought it a good idea to do things in camp. For example, our zip line was humming with action all day today. Located in the woods a short distance up the trail leading to Castle Rock, the zip line begins with a high suspension bridge strung between two massive boulders. Wearing a helmet and a harness clipped into a safety cable is essential both to support the campers should a foot slip, but also to give them a small boost in confidence from the cable's reassuring tug. The suspension bridge is a little "freaky," as one girl put it, because it's wobbly and (intentionally!) missing a few planks. Staring down through the gaps in the planks is indeed a little disconcerting, but it really makes you concentrate as you take each step. At the end of the bridge, perched high on the rock, the campers then clip their pulley into the zip cable. Here a little bravery is called for because the first step is out into the air with about 50 feet of nothing below. Immediately, you are accelerating down the cable, flying by the Hi-Up cabin and zipping 450 feet across to the other side of the camp. It's a thrilling ride! The zip ends gently over an inclined platform, where it's just a matter of standing up and unclipping your pulley from the cable. "Time for one more zip?" You bet!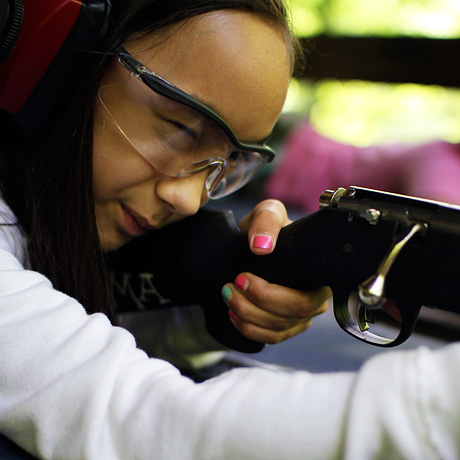 One of the benefits of attending a full session of camp, and especially this 4-week (our longest) session, is that the girls can really dig into their favorite activities, signing up for them several times if they like. The kayakers can take trips to more advanced rivers, the weavers can start more elaborate projects, and the girls can really improve their skills whether its their tennis serve, their archery or riflery aim, their one-handed cartwheel, or dive at the lake. These talents can take extra time to develop, so having a chance to do more while at camp can make a difference. And on the other hand, a longer session means having more opportunity to try new things, to experiment with something that might even become a new favorite. Have you ever tried acting, rock climbing, or dance? At a long session, you certainly can.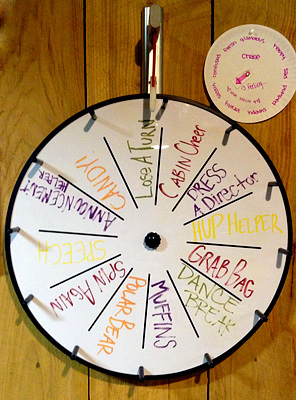 This is the "Wheel of Fun." It is mounted on the wall in our dining hall, and is a huge hit with the campers. Reminiscent of other "clicker wheels" (think of game shows like "Wheel of Fortune" and "The Price is Right," for example), a person spins it, hoping it will stop spinning on a something desirable. Our wheel has things like "Candy" and "Muffins," but also "Dress a Director," "Cabin Cheer" (work together as a cabin and present a cheer to everyone at the next meal) and "Dance Break" (pick a song to play during the next meal so that everyone can get up and dance). Girls also hope to avoid some of the spots, though… things like "Polar Bear" (which means the whole cabin jumping in the lake before breakfast), or "Lose a Turn." We don't spin the wheel at every meal, but when we do, it's very exciting for everyone. We pick the person to spin by narrowing down the group with a series of criteria. It's different every time, but it goes something like this. Chase, who often does it, will say "Stand up if your hair is in a ponytail." And about 100 campers and staff members will stand. Then she'll narrow it down by saying, maybe, "Stay standing if you're wearing red." Then maybe, "Stay standing if you have or had braces." She'll keep this up until there's one lucky person still standing who gets to spin the wheel. All of the items on the wheel apply to the whole cabin, so as it's spinning, everyone is quivering with anticipation, and when the wheel stops, the whole dining hall explodes with cheers. All in all, the "Wheel of Fun" is something we do simply because that's what it is— fun… big fun for everyone.