If you take a stroll down behind the Rockbrook tennis courts, past the lower pottery studio, and through the tunnel under the highway, you'll pop out by the French Broad River, nearby where all our horseback riding happens at camp. There we have our fenced pastures, horse barns, riding rings, and equestrian office— all on the west side of US276, while the majority of the camp, connected by the tunnel, is up the hills on the east side.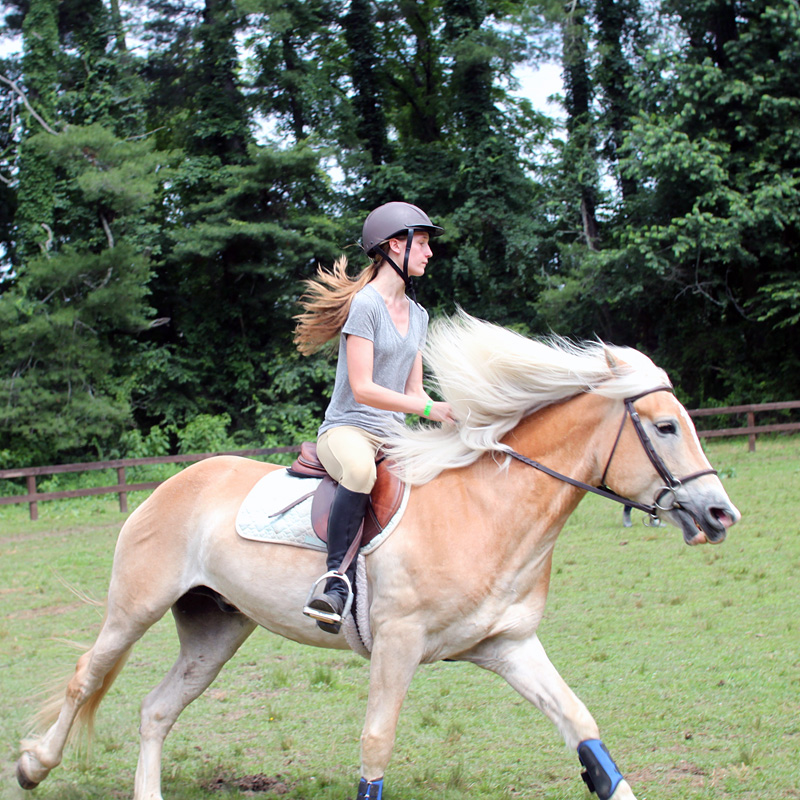 This summer we have 30 horses at Rockbrook, all being superbly cared for by Kelsi, our Equestrian Director, and her staff of riding instructors. The personalities of the horses, their strengths and sensitivities, identify them as suitable for riders with specific skills and confidence riding. This photo, for example, shows Olivia riding Rocket, a 10-year-old thoroughbred/half linger cross who came to us from Mary Thomson at St. Andrews University. Isn't it a great shot? Rocket can ride hunter jumpers and dressage, and has been used for several years in lessons for young children. He responds well to definite riders, and can be a little quick when jumping. It looks like he and Olivia— even their manes— are right in sync in their canter! If your daughter decides to take riding while she's here at camp, you'll no doubt hear about the favorite horse she rode, perhaps Otto, Watson, Annie, Quinn, or even Rocket. If you write her, you might ask about which horses she's had a chance to ride. 😉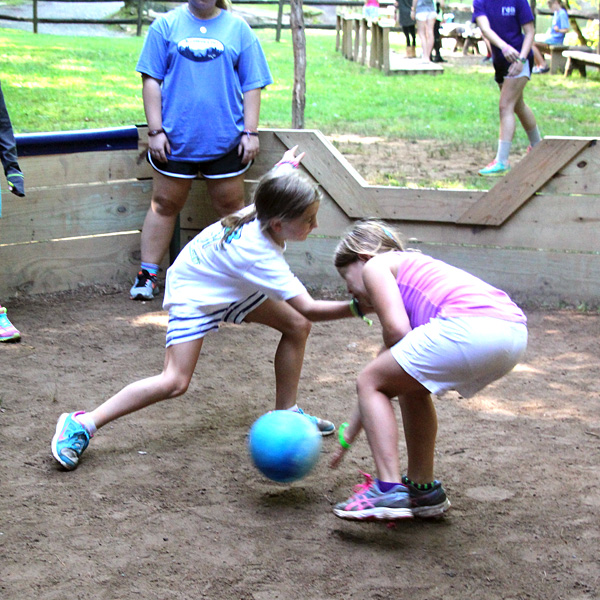 Ordinary dodgeball played in our gym is often part of the "Sports and Games" activity, but just outside is an octagonal court, about 20 feet wide with 30-inch high walls, that is for a special kind of dodgeball called GaGa (or Ga-ga Ball). The game is thought to have come from Israel and its name from the Hebrew word "ga" which means to touch or hit. "Israeli Dodgeball" is another name for it. Played mostly during free times at camp, like before lunch and after dinner, girls of any age and athletic ability can enjoy a game of Gaga. Any number can play too, making it easy to start a game and include everyone. The object is to hit a small, soft ball with your hands (not throw it) to hit other players in the leg, eliminating them from the game. As the girls knock the ball around inside the court, they jump wildly out of the way trying to avoid being hit. The court is just the right size to keep the game moving quickly, and soon when the last person is left (the winner) another game starts right up. Later in the week, there will certainly be an impromptu Gaga tournament for those girls gaga about gaga!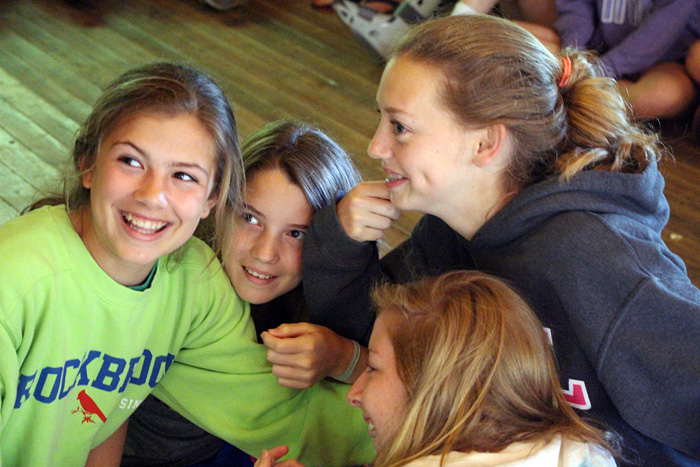 During the cabin skits tonight that were part of the Senior Line's evening program, I was impressed by how much fun the girls were having being silly and performing for each other, but also by how close they had already become after only this first week of camp. It's another of the amazing benefits of camp— by spending so much time together, unplugged from screens, sharing, communicating, and cooperating, your Rockbrook girls are also building emotional bonds with each other, growing more and more comfortable each day. It's clear that camp life is fundamentally social, but perhaps different from the relationships formed at school, kindness and encouragement define the way Rockbrook girls treat each other. They are simply quick to be nice, and that really fuels the friendships being formed here. Over time, it's this closeness that makes camp life so rich, and that's so rewarding to experience.