Our first set of whitewater rafting trips for this camp session happened today. Bus and van loads of Middlers and Seniors, 60 in all, made the trek over to the Nantahala River to take a wet and wild ride. It's now a deep tradition for Rockbrook girls to raft this popular river, one that we started way back in the 1980s. Rockbrook is fortunate to have a forest service permit allowing us to run trips without outside help, using our own gear and our own hand-picked guides. That makes a big difference to maintain the upbeat, friendly vibe of Rockbrook on these trips.
Of course rafting is exciting and fun— wearing the cool gear, riding in the raft with your friends, the shock of the "freezing" cold water, goofing around for the camera at different points along the trip, and the thrill of bumping and splashing through the rapids. We were lucky today to have excellent weather, warm and sunny skies keeping everything bright all day. This is the kind of outdoor adventure we love at Rockbrook— thrilling, funny, and packed with friends. Perfect!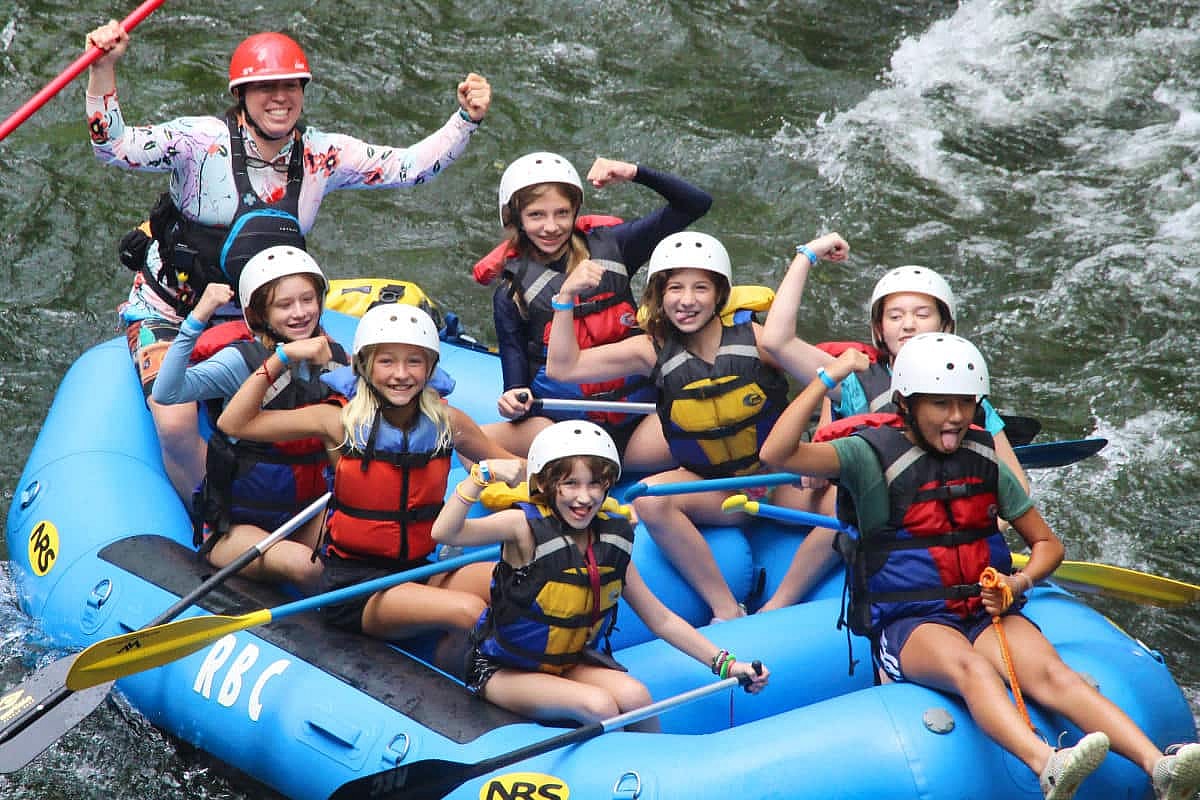 Here's something I spotted on the bulletin board outside the dining hall. Can you tell what it is? It's a flier announcing one of the many camper-led clubs at Rockbrook. Starting a club is something that's caught on this summer for some reason. Anyone can start their own club. All you need is 2 or more people with a common interest, and then a time and place to meet. So far this session, girls have announced about a dozen of these clubs, each designed to invite others to join. During the announcements after meals, club members can come up and pitch the details of their club.
The 0% club is one of my favorites. It's a club that invites people to show up with any kind of fear, and then working together, they reduce that fear to zero. "We will fix that !! 🙂 " Isn't that amazing!? Another is the "Finding Things" club. This one meets at the dining hall, and you can show up if you need to find a lost item. The members of the club team up and help you find it. This club fixes things too. Other clubs celebrate certain individuals, for example the "Sofie Society" and the "Ismini Club." There's a "Lima Bean" club for all those (and their like-minded allies) who "love lima beans." There's a "Space Club" for anyone who "cares about space." There are clubs devoted to different book series like Harry Potter and Percy Jackson, as well. We can only imagine the conversations that happen in each of these clubs.
I love the spirit of this club-creating phenomenon! It shows how the girls here understand the value of joining a group of people, of being open and accepting of new friends, and belonging to something with a shared interest or concern. They may not be able to tell you a deep reason why they are forming their club or why they enjoy doing so, but I think it's a wonderful expression of our camp culture— enthusiastic, positive, inclusive, social, and little zany too.
I feel like all of us would benefit from joining the 0% club… but that's another discussion.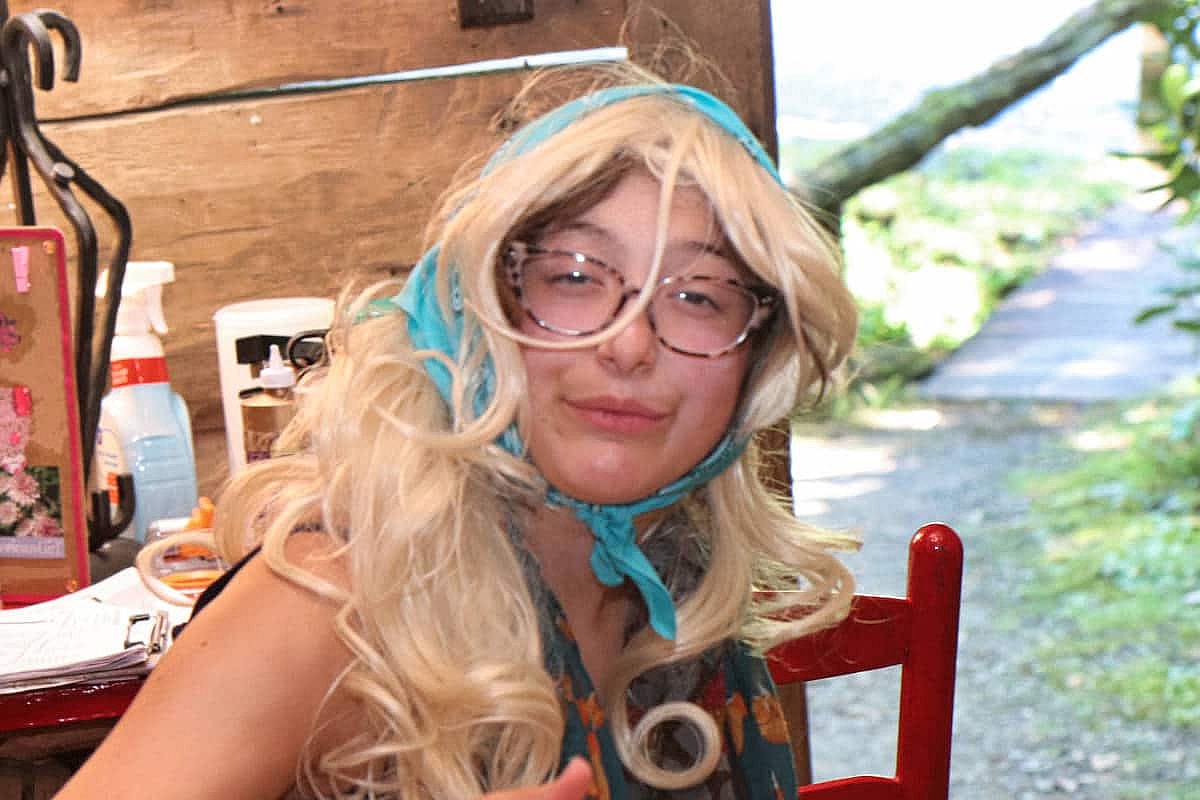 Camp is a place where costumes are expected and celebrated. It's common, in fact, for at least someone to be wearing something that transforms their look. It might be as simple as a pair of goofy sunglasses or hat with cat ears, or it can be a whole body banana suit, both of which I spotted earlier this week. We know that wearing a costume provides a special freedom of sorts. It allows a person to let an otherwise hidden aspect of their personality show. It's a chance to parade something of yourself, or perhaps to expose your creativity, all just for the fun of it. Sometimes, we'll dedicate an entire day to a costume theme, like today's theme of "grannies." All around camp, you could bump into folks who were more hunched over than usual, who seemed a little grey or who had a raspy sounding voice. People were wearing nightgowns, using walking canes, and a few seemed to have wigs. Many campers adopted names of their old lady personas. You could meet an Ethel, a Gertrude, and a Nellie today at camp.
Tonight's evening program continued this theme by gathering everyone back in the dining hall for a rousing bingo tournament! Like all expert bingo players, the girls kept multiple cards up to date as Casey and Marston, our Bingo Matrons, spun the basket of labeled pingpong balls and announced the letter/number of each ball that emerged. We played Frank Sinatra, danced a bit, and had a grand time slowly filling our cards until someone shouted BINGO! That won a prize of some sort for the entire cabin group playing— cookies and milk, popcorn, or popsicles, for example. It was another example of Rockbrook girls being a little silly, playing a game together, laughing (a lot!), and enjoying the feeling camp.