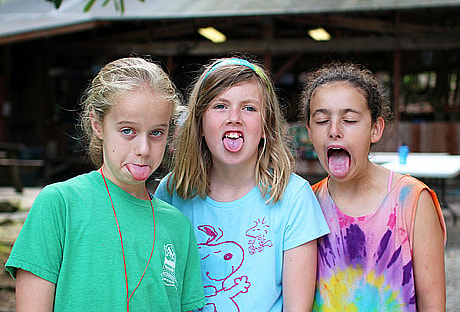 Ah, don't be so sad! This is the last full day of our second session and that can be a little upsetting, but it's not because these girls are leaving camp and can't continue to have the kind of silly fun we've been having over these last few weeks. It's not because they can't go whitewater rafting, rock climbing, or zip lining any longer. It's not because they can't jump in the lake, shoot a rifle or play teatherball, and it's not because they can't weave or throw another pot on the wheel. Sure, all the fun things we do at camp are ending for this summer, but what's really at the source of everyone's melancholy is having to leave our friends, our new, extraordinarily close camp friends. It's leaving the people (not the camp activities, cabins or muffins) that's so difficult. Here at Rockbrook, as we've relaxed into our true selves and found caring people despite it all, as we've shared so many full experiences together, we've grown to appreciate camp as a special place because of its people. So that's the problem; we have to say goodbye tomorrow to the people at camp. As they sing "I don't wanna go home" in one of the camp songs, I think they mean "I don't want to leave these great folks." It's how we feel when we're together; that's what's ending with camp, and that's kinda sad.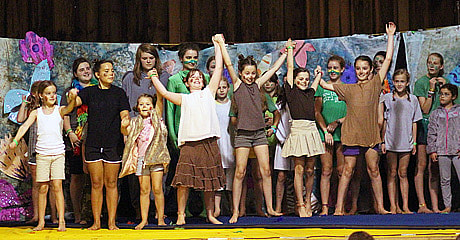 Knowing this is the case, we do what we can to make the most of these last hours of camp by sticking together. For example, this afternoon, we all gathered in the gym to enjoy the performance of this session's musical, The Jungle Book. For some girls, those who had auditioned to be a part of the play, it was time for all the rehearsing— memorizing lines, choreography, and songs —the costumes, and set decorations to be coordinated and presented. For everyone else, it was time to cheer and applaud the hard work and talents displayed. With the whole camp gathered, including a few parents of the cast members, we could sing, clap and celebrate, more enthusiastically than ever.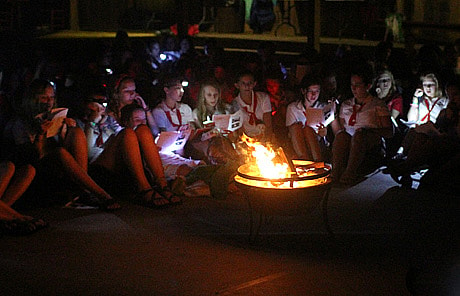 As has been our tradition for more than 90 years, we closed this final night of camp with a campfire we call the "Spirit Fire." But for the first time in recent memory, we held the program in the gym because of rain. As is usual, the entire camp dressed in their red and white uniforms, but this time circled around a fire built in a low insulated vessel. So as the rain fell outside, everyone stayed dry and comfortable in their crazy creek chairs singing the traditional Spirit Fire songs and listening to different campers and counselors speak about their experience at camp. By the end of the program, the rain had stopped allowing Sarah and the other directors to light a small white candle for each person, and all of us to circle around the lake for the final few quiet songs. This was another all-camp event that conjured a few tears, and many, many hugs. Like so much at camp, it was charged with emotional energy born from the amazing relationships between your girls and all the wonderful people they've met. It's an astounding thing, and a true privilege to be part of it.