When Nancy Carrier founded Rockbrook 100 years ago, I wonder if she realized just how extraordinary the setting of the camp is. Her father had chosen the property for their family estate 25 years earlier after being attracted to its large rock faces, hills, running creeks, proximity to the French Broad river, and rich valley farmland. It included several hundred acres of forest surrounding the main house to the north, south and east up to the ridge line. When Nancy decided to build Rockbrook, she hired a local engineer and worked to arrange the camp buildings to fit the natural contours of the land. She used locally quarried rock and timber cut from the camp property to build the many buildings, adding to the feeling that Rockbrook was a natural part of these hills, almost as if it had sprung up organically and had always been there. She preserved and incorporated the natural beauty of the land, making it an integral experience for everyone who spends time at camp. Today, we all benefit from being close to its strong trees, its cool running waters, ancient boulders, and views of the distant mountains.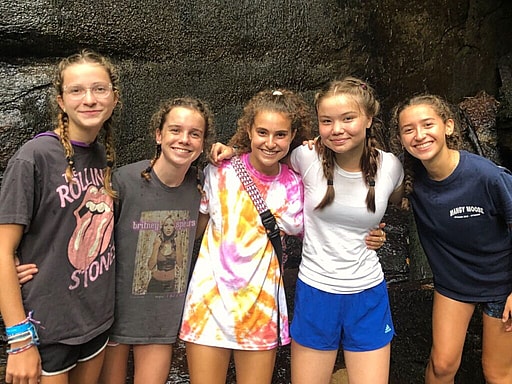 Today I explored a remote section of the camp property with two different groups of Seniors. We went on a hunt for the elusive "Kilroy's cabin." This is an old, simple wooden structure, now dilapidated, where legend says a hermit character named Kilroy once lived. There's a tragic story linked to Kilroy that involves love and loss, and a beautiful woman with red hair and light colored eyes. The cabin is said to be hidden and difficult to find unless the group searching for it includes a red-headed girl. There's no trail that leads directly to the cabin, so groups hiking to it must bushwhack through the woods with hopes of finding it.
Hiking to the cabin is challenging. It's mostly uphill with some parts being very steep. It requires ducking and weaving through thick bushes, sometimes literally crawling on hands and knees. There are muddy sections and briar patches to avoid, slippery slopes and small creeks to cross. All of this makes for slow going. It inevitably means getting dirty, sweating enough to soak through your t-shirt, and pulling twigs from your hair along the way. But it also means getting very close to the forest, crouching down low enough to notice more, touching the nearby trees, and encountering mushrooms, snails, spiders and other insects. Today we came upon two species of snakes, found several feathers, and stood at the base of a waterfall. The hike lasted two and half hours.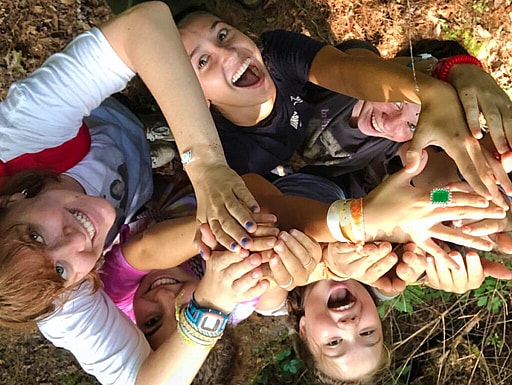 In many ways, this experience is fairly typical at camp. I had a group of girls cheerfully engaged with the natural world around them, chatting, singing and laughing together as they exercised all their senses. These were teenage girls paying attention to each other, sharing stories as we "hiked," embracing this challenging experience without a shred of complaining or whining. They were cooperating and communicating with the greatest of ease. They were bright and happy under these difficult conditions, whether accidentally brushing into thorns or sliding down a steep bank of leaves. Over and over again, I heard how the girls were having a great time. "I love this kind of stuff! Let's do it again sometime soon," one girl exclaimed to me.
Does this sound like the teenage girls you know? Do you regularly see this kind of enthusiasm, social confidence, curiosity and positive attitudes? Are the teenagers you know game to do things, real world things like this? I would bet not. I have a hunch that these girls are different when they're at camp, happier yes, but also more outgoing. I also believe that for the most part they are less stressed and anxious at camp. There are things about camp life— things it uniquely offers, but also things it profoundly lacks —that have this real effect on teenagers, on their immediate health and happiness, and longterm personal success.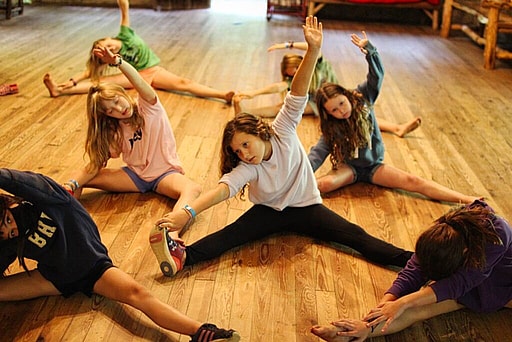 If you've been following my posts recently, you can probably guess one side of this. I've been claiming that camp is uniquely situated to add certain experiences to a teenager's life, for example, to feel the support of a caring, noncompetitive community, or the joy of regular free time to create, imagine, and play. Camp provides that rare feeling of belonging and acceptance. It tunes your awareness of others. It's built upon experientially rich, real-world interactions and meaningful relationships. It brings out the best in these girls as it brings them together. This is what camp adds.
The other side of this— what is crucially missing from camp life —came to mind after reading this opinion piece by psychologists Jonathan Haidt and Jean M. Twenge. I've written about their research in the past, making different points about self confidence and handling adversity, but this new article points at the same culprit: the smartphone. Once again we learn how "smartphones in general and social media in particular" are correlated with sharp increases in teenage loneliness, depression and anxiety. Their new research shows that this is a worldwide phenomenon affecting children everywhere. They ask, "Do individual teens who consume a lot of social media have worse health outcomes than individual teens who consume little?" And they answer directly; "the answer is yes, particularly for girls."
There are no smartphones and no social media at camp. Instead your girls are making real connections. They're looking around, engaging with the world around them, not looking down, scrolling mindlessly through some idealized version of reality. At camp they're actively, not passively entertained. They're making true friends, not superficial Instagram "followers," or vain Snapchat "streaks."
The girls here at Rockbrook know this too. They know camp life is contrary to what they experience on their phones. Oddly, they love camp, and actually love not dealing with their phones while here, but every one of them will likely return to their social media habits when they get back home (or even the instant they get in the car on closing day! …Here's an idea. Leave her phone at home! You'll be able to enjoy her camp personality a bit, and hear some stories before she take steps back into that virtual world again.). The allure of this technology is too powerful. It's tied to too many aspects of modern life. Haidt and Twenge advocate for creating the conditions where kids learn to socialize in the real world, for example by banning phones in schools and delaying when young children begin using social media.
Well, your girls already have those very conditions; they have them at camp. On a daily basis they are counteracting the negative effects of social media. In the long run, I hope your girls can draw upon their camp experience to recognize when their smartphone use is diminishing their real world engagement. If so, I think that self awareness will benefit their relationships and longterm happiness.