Sunday mornings begin at a more relaxed pace compared to the rest of the week. We all sleep in an extra few minutes and then arrive for breakfast in pajamas… no worries about being dressed with cabin chores done beforehand. Also on Sunday, it's been a long standing treat to serve fresh donuts along with our breakfast, having a little taste of the outside world. Then there's cabin time for changing into our uniforms (white with a red tie) before assembling on the hill for flag raising. The Hi-Ups do the honors of presenting and raising the flag. Immediately afterwards, everyone walks down the lower line of cabins to the wooded amphitheater where we hold our Chapel program.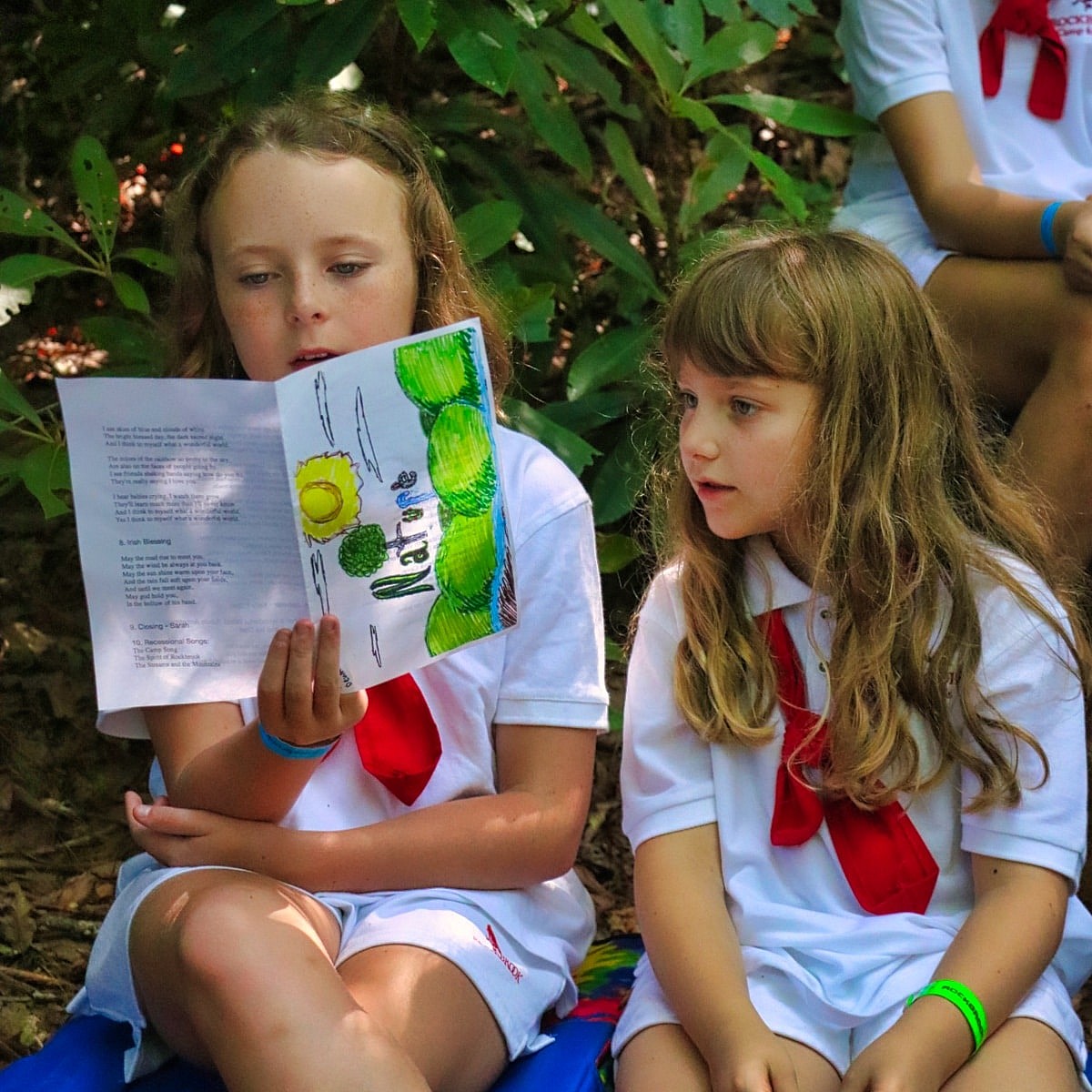 Today the Middler campers and some of their counselors presented a program on "Nature." Like all of our chapel programs, this gathering was not a religious ceremony, but instead an opportunity to identify and reflect upon a core value or experience we all share at camp. In the past, we've held chapel programs on friendship, kindness, gratitude, community, and compassion for example. This morning we took time to consider our relationship with the natural world.
We sang "Tell me Why," a slightly modified lyric to "Country Roads," ("Almost Heaven, Rockbrook Camp..") and "What a Wonderful World," accompanied by Tunde on guitar and Isa playing ukulele. We heard short readings on Nature selected by campers Sidney, E.A., Amelia, and Elizabeth.
Camper K.P. read a short reflection she wrote about her feelings in Nature and its importance to all of us. She said,
Nature is all around us. It is a big part of Rockbrook and it has a role in almost everything we do here. Rafting the Nantahala, hiking to Castle Rock, even dinner on the hill: Nature is a way of life around Rockbrook and we all live it.

Sometimes it is calming to just sit on the Hillside Lodge porch and look down at the garden, watch campers play in the creek, and see the girls splashing around in the lake. The serene setting of Rockbrook on a North Carolina mountain surrounded by trees and species of plants is the nicest place I know.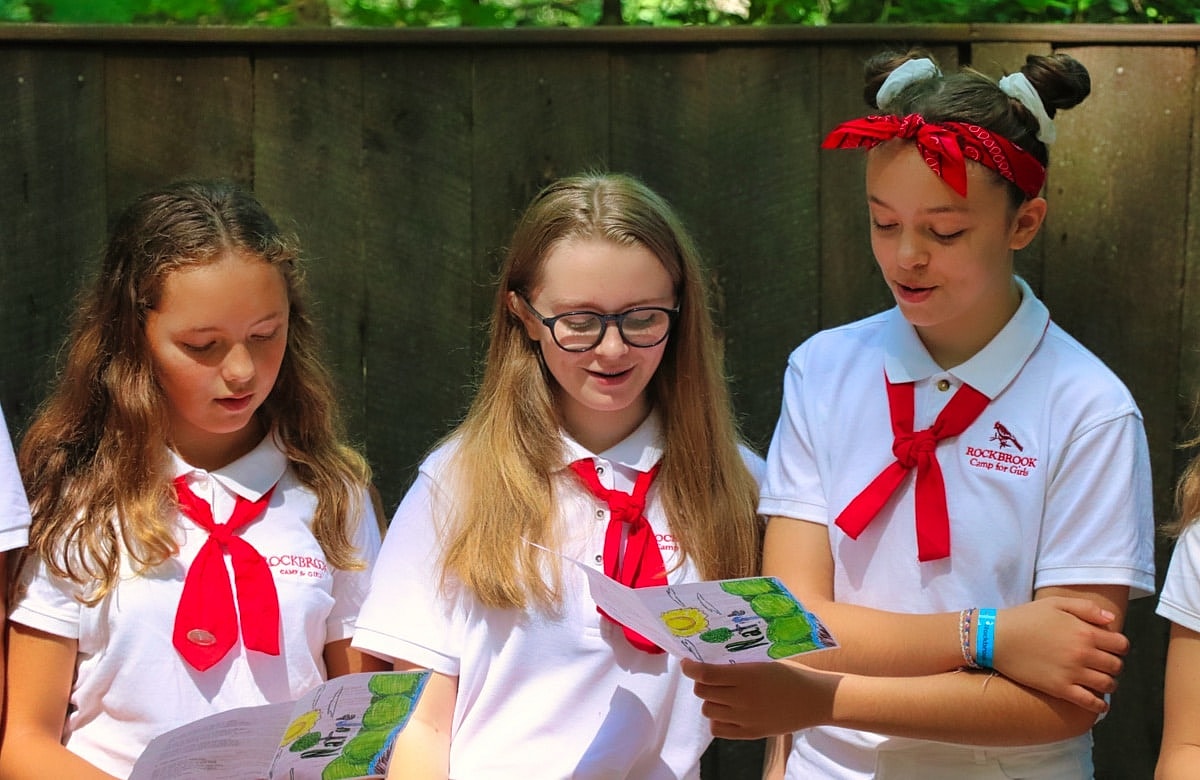 Sarah echoed this sentiment by reading the illustrated children's book, "You Are Never Alone" by Elin Kelsey. This is a wonderful reminder of how nature touches almost every aspect of our lives, that "this beautiful planet showers [us] with gifts" in so many ways. The book illustrates how nature supports and at times heals us, how it stimulates our emotions, sense of wonder and imagination. Quite literally, Nature helps us be human. Much like what we enjoy at Rockbrook, it is a "warm, supportive, community that is always there for [us]." Sarah added how lucky we are at camp to experience the plants and animals of the forest (yes, even the "sprickets") so intimately, feeling the joys of Nature without a care in the world. This message really resonated with the girls, many of them nodding their heads in agreement as she read the book. Good stuff!
Lunch was another incredible meal prepared by Rick and his kitchen crew— roasted, dry-rubbed chicken breasts, fingerling potatoes, and honey-glazed, oven-roasted Brussel sprouts, with fresh blackberries and whipped cream for dessert. Amazing! The food at Rockbrook always gets high marks, and with meals like this, you can easily see why!
Our all-camp afternoon activity was a wild carnival of events down at the landsports field. With fun music pumping, and different snacks to keep us going, the girls enjoyed group games and challenges related to the theme of "food." For example, one event challenged the girls to eat a doughnut dangling from the end of a string without using their hands. Similarly, another challenge required the girls to peel a banana (first cut in half) using only their feet. We used actual pieces of corn on the cob to play games of corn hole. The girls took turns making "pies" of whipped cream to toss at their counselors. There was a "grit pit," a literal pool of warm grits, to experience. There were cookies to decorate, and beaded composting "worms" to make. One game was particularly fun, a challenge to use only rubber bands to break open a watermelon. They girls worked together stretching two or three rubber bands at a time over each watermelon, gradually adding to the band's total pressure. There was only a small crack forming to warn them before the melon exploded to bits leaving a ball of sticky rubber bands behind. It was very exciting, and the kind of big crazy fun, we love at camp.