Sometimes at camp, I ask my girls what their schedule is like at home. Their answers amaze me: their days are jam packed with school, sports, and other activities. My campers are in high school and, as high achievers, I am really impressed that they are able to balance everything and still have time for friends and fun. Still, there is a lot on their plate: between basketball, dance, really challenging classes, and other pressures, many say they get stressed.
They view Rockbrook as a break from that, and Rockbrook is uniquely suited to providing a less stressful environment. At camp, I think we take a step back and look at what really matters, and have patience with the rest. It's a place where a camper doesn't have to worry about being reprimanded if she is five minutes late to an activity. Instead, she is greeted with a smiling face and excitement. It's a place where we wear costumes and do crazy dance moves without fear of being judged. It's a place where 'perfect' doesn't really matter, but being a good friend does. Without the stresses of our outside lives and with a really loving and supportive community, girls feel profoundly comfortable to try new things and get close with people.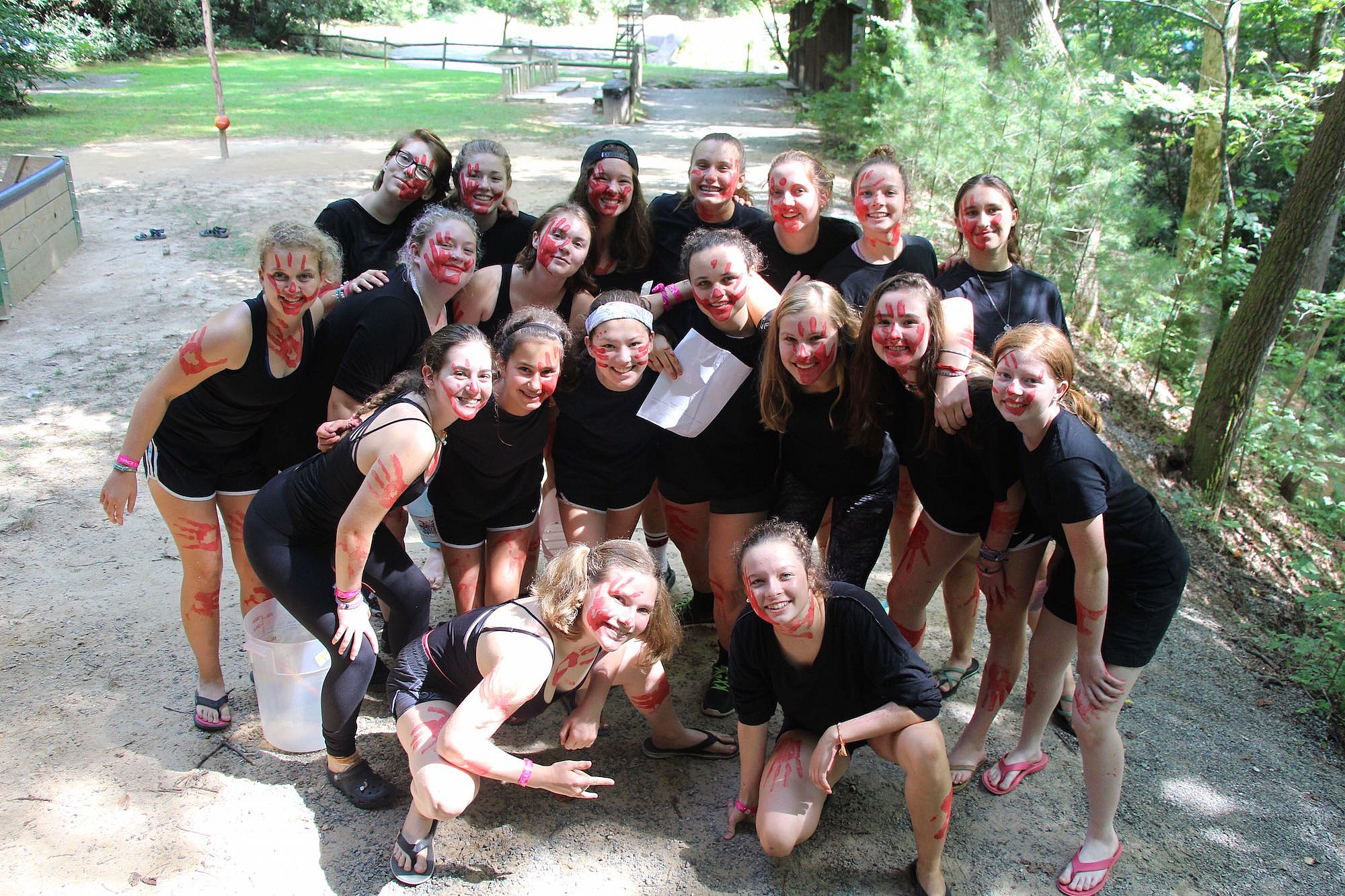 Sundays at Rockbrook really exemplify this. We take things a little slower on Sundays. After the girls' dance last night, everyone was exhausted, so the extra hour of sleep was greeted with joy. We then ate Krispie Kreme donuts for breakfast (a camp tradition!) before going to chapel. The juniors and middlers led chapel this morning, and we all reflected on the theme of "Playfulness." We sang songs like 'Zip a Dee Do Dah' and girls shared their thoughts on playfulness and how they think about it at camp. It was a perfect way to spend the morning before a delicious muffin break and tidying up our cabins.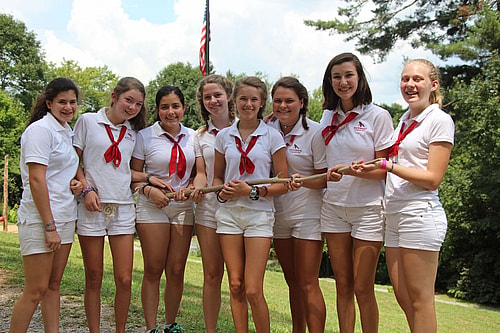 After that, we had Assembly on the Hill. This is a time for the entire camp to come together and honor cabins with the famous 'Mop Award,' or a prize for the cleanest cabin. We also honored girls who were outstanding in the categories of Spirit, Manners, and Bend-a-Back, which means going the extra mile for a friend. After, we watched as the counselors had an old-fashioned water balloon toss. The middlers won!
We have a good amount of down time on Sundays, and everyone appreciates the chance to have a break and hang out for a little bit of time. Bop It has been big in my cabin this session, along with Trivial Pursuit and playing drums. During a stretch of time today, my cabin of fifteen-year-old girls spent time playing together in the creek. Every cabin has something that brings their cabin together, and it is nice to have a little bit of ease in the schedule so we have time to hang out with no rush of going somewhere else.
This afternoon, we had an extra long rest hour (such an important part of the day!) and then it was time for Miss RBC. Miss RBC is basically a talent show where each cabin puts on a skit for the rest of camp. Girls get very creative—the CA's played drums and interpretively danced/sang to Eye of the Tiger. Senior 4 rewrote the lyrics to 'Hush Little Baby,' singing, "You're going to follow the cardinal bird." Middler 4 ended up winning—they did a time traveling skit that went through the decades starting in the twenties. They sang songs and did dances from each decade—it was incredibly impressive! Everyone in the audience was wide-eyed and clapped wildly after the performance!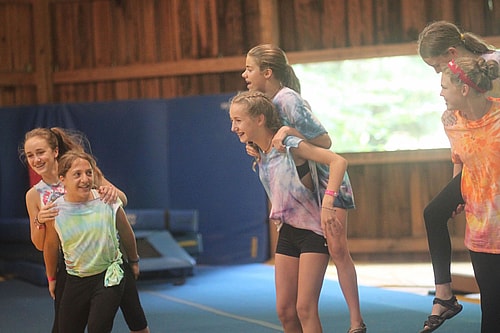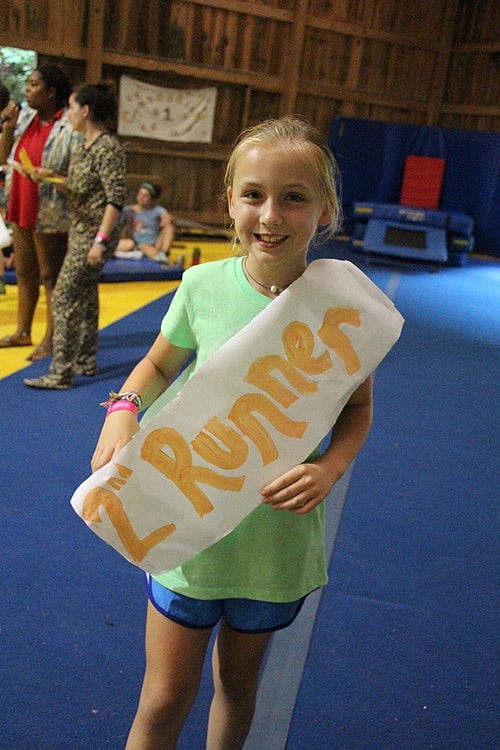 For Miss RBC, we don't use outside music or flashy lights. We just need the stage of the gym and a lot of imagination. I think there is something beautiful in the way we are completely captivated and entertained even without all of the distractions we usually would have at home. It is such a simple event to put on, but everyone enjoys performing and celebrating others' talents.
After dinner, we had a barn party as the twilight activity! Girls could choose to walk down to the barn, play with the horses, eat a Popsicle, and watch the drill team perform! The drill team is comprised of girls who love riding, and they were able to synchronize their moves—it was quite a performance! Afterwards, the drill team members got Dolly's, an extra special treat!
After a wonderful day of relaxation, it was time for movie night! Girls look forward to this every Sunday night. They bring down sleeping bags and pillows and curl up next to their good friends and watch great movies. Tonight, it was Zootopia! Every age group loves this movie, and many had not seen it before!
Tomorrow, we will return to a normal schedule, which is great because we get to continue doing so many activities! Still, today was a needed day of relaxation. Camp is winding down. Next Thursday, we will be back in our normal lives, back with all of the worries, joy, and support that come with that. What we have learned at camp, though, does not need to stay at camp. Rockbrook teaches us to slow down and reconsider what is important and what is not. We stop worrying about how we are perceived, and we realize that perfection is not the expectation. The biggest lesson I hope we take with us when we leave these mountains is simply: I Am Enough.