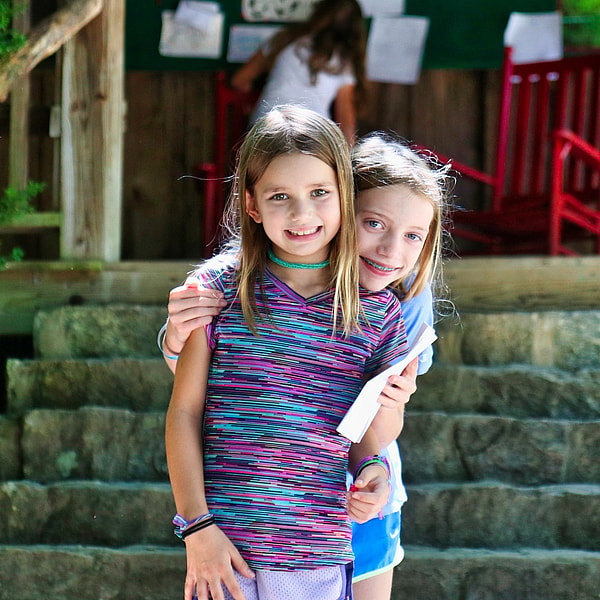 The recent streak of days with perfect summertime weather continued today as we woke to a foggy cool morning. As the camp begins to stir and the girls make their way to the dining hall for breakfast, it's common to wear long pants and a sweatshirt or fleece. The temperature today was about 64 when we woke, so it felt great to cozy up like that. Then as the sun burned off the fog, we soon felt warm and comfortable under bright blue skies and clear sunshine. The temperature climbed to about 83, but with relatively low humidity it again felt really good to be outside. Since we essentially spend all of our time outside —even the cabins are open-air, screened buildings— this kind of weather is inspiring. It makes everything we're doing pop with more vibrant colors, perhaps a little more pep, and an extraordinary freshness. Yes, it was ideal camp weather.
"Cinnamon Apple" was the surprise muffin flavor today. The bakers in the kitchen start about 7am to be ready for this mid-morning snack. Mixing, scooping, and baking 300 individual muffins takes some time. Having a freshly baked treat like this, though, is definitely a highlight of most everyone's morning. The muffins are so delicious, it's challenging to have to limit yourself to just one!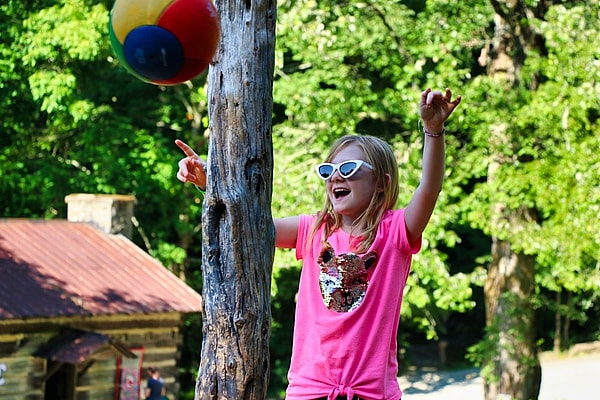 Rockbrook girls know that wearing a costume adds to whatever we're doing, making things funnier and more fun. That's why we'll occasionally declare a costume theme for the day, like today's "Under the Sea" theme. It was fun to see how the girls and staff members interpreted that theme. They mixed things up with beach attire (Hawaiian shirts, sunglasses, hats), shark and octopus hats, seaweed skirts, and colorful coral leggings. The Hi-Ups and several counselors decorated the dining hall with streamers and painted banners, and an "ocean-related" playlist of music was queued up for all three meals.
There have been a flurry of adventure trips going out this week too. We went rafting on Tuesday, but today Clyde took an excited bunch of girls out to Looking Glass Rock in the Pisgah Forest for an all-day rock climbing adventure. They left early in the morning to reach the south side of the rock face in time to jump on a couple of popular climbs, one called "B52" and another called "Fly By." Leland and Sarah took a few advanced kayakers to run the rapids of section nine on the French Broad River north of Asheville. Meanwhile, Jayne and Sam offered an overnight camping and canoeing trip on a different section of the French Broad. All of these trips were offered to the girls as options they could choose, switching up their schedule as they like. So many options all on the same day!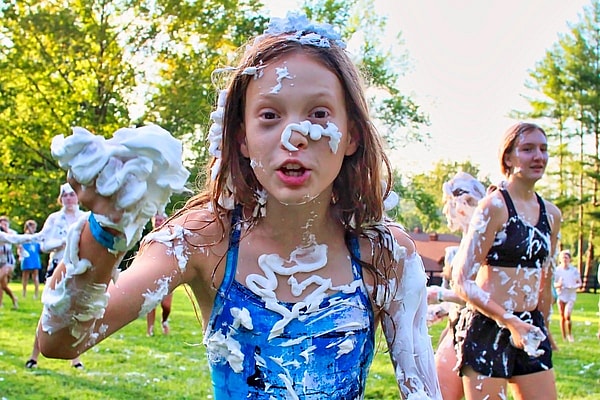 We presented another fun option to the girls during dinner when we announced that tonight's twilight activity would be a shaving cream fight and slip-n-slide held down on the grassy sports field. This is an event of exuberant play. Girls of all ages, and counselors too, dress in their swimsuits, arm themselves with cans of white foam, and proceed to spray wildly being as mischievous as possible splattering unsuspecting friends. Soon, there are wild hairstyles, messages written on bellies, and even some girls completely covered in shaving cream. As you might expect, this makes the slip-n-slide an extra slick ride. Be sure to visit the photo gallery to see some of the wild messy fun of the evening.
It's been another full camp day, one with plenty of adventure, creativity, and fun with friends. We couldn't have asked for a better combination of cheerful campers, enthusiastic staff members, weather and camp activities. Life is very good here at Rockbrook!