Sundays at Rockbrook are a wonderful mix of relaxing, contemplative, messy, and wild. We broke with our "normal" schedule of activities and trips, of course. We began with a rising bell at 9:00 AM, sleeping in a whole hour later, to stagger right to breakfast. The campers indulged in skipping morning chores and finding Krispy Kreme donuts waiting for them on their tables.
While some would argue that sleeping in is the best part of the Sunday schedule, I love the flag raising on the hill conducted by our oldest campers, the Hi-Ups. We begin by circling around the flagpole, and today we were met with a warm breeze and sunshine. In line with tradition, the girls pledge allegiance to the flag and then sing "America the Beautiful" before filing to chapel in respectful silence. The CA's, who use the last cabin on the walk to chapel to plan the end-of-session Banquet, all stand in front of their secret space to guard it.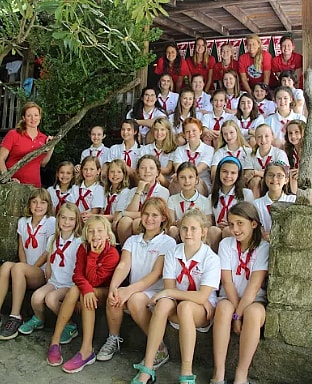 Today's chapel theme was "Special Places," and it was camper-led, from the programs' art to the agenda inside of it. The Junior and Middler campers used the week to plan which songs, speakers, quotes, poems, and stories to include. One camper brought tears to our eyes as she spoke about happiness as a special place, in light of the normal ups and downs of life. Many talked about why Rockbrook was theirs: They can be themselves, are relieved of the pressures and routines of home or school, and make long-lasting friendships.
We followed this low-key morning with a hearty, thanksgiving-style lunch. (There was turkey, cranberry sauce, lima beans, potatoes, and tofu for the vegetarians. Everyone loved it so much that we sang our special song of appreciation to the cooks!) Good thing the girls had bellies full of food… After rest hour, we surprised them with a special scavenger hunt that had them zigzagging all over camp looking for clues to win ice cream for their cabins!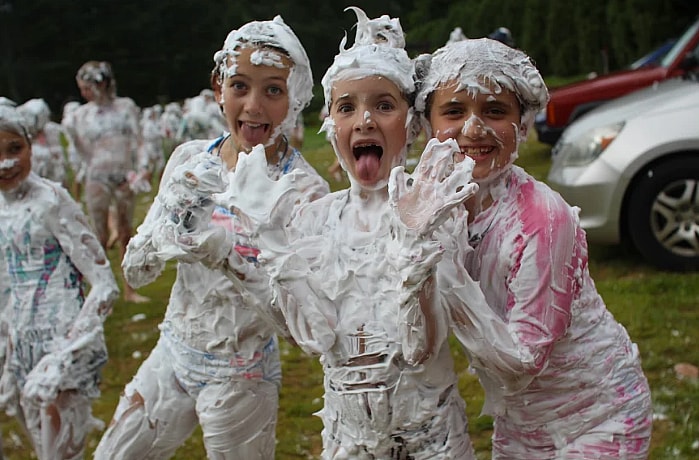 The campers eventually settled in the gym, in front of a giant screen, for movie night after an epic shaving cream fight. Surprisingly clean after such chaos, the girls brought their coziest blankets, stuffed animals, and pillows. They squealed in celebration when they found out that we were watching Moana and sang along to the soundtrack. Full disclosure, after I left to retrieve their nighttime snack, I could hear them singing from the other side of camp. Sunday ended on the perfect note when everyone came together at the end for our "Goodnight Circle" routine.