At breakfast this morning we announced a special activity the girls could select today: attending a wood turning workshop presented by local artist George Peterson. George is married to an Alumna of Rockbrook and has two daughters who attend camp. He is known nationally for working with wood, shaping, etching, carving, burning and finishing it into amazing functional and decorative pieces. He just returned from showing his work in Japan, and has worked with galleries in New York, San Francisco and Atlanta as well. One of his bowls was recently chosen for the oval office! His Web site, The Circle Factory, shows some of his latest work. Check out what he's done with old skateboards.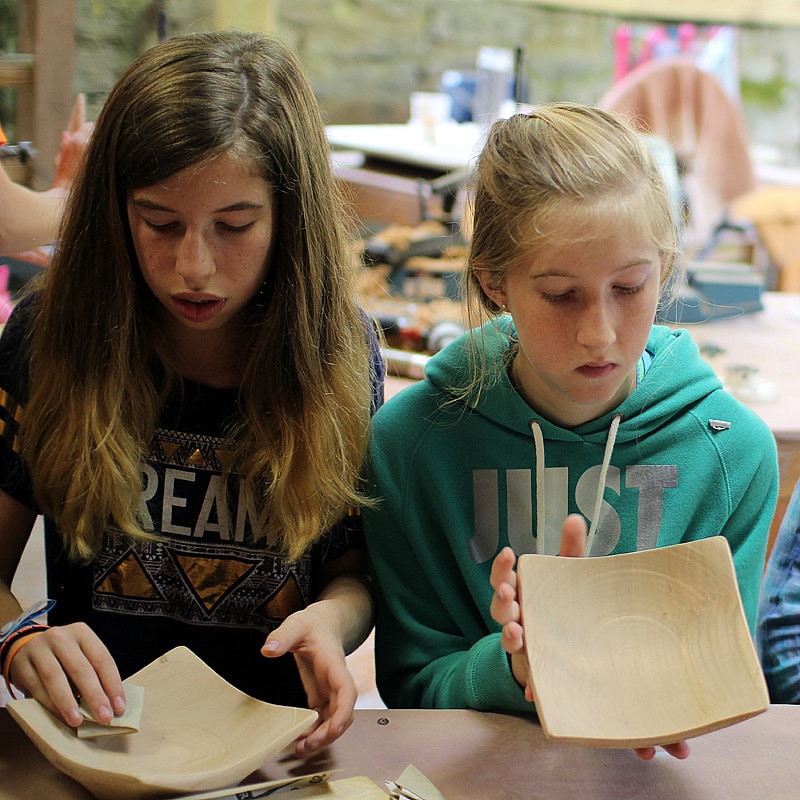 George started by demonstrating how a wood lathe can spin a block of wood, and allow his sharp chisel to cut away curly shavings, slowly revealing a uniform shape. It was a little loud, but so fascinating to watch a bowl materialize from the block with each chip of wood removed. After forming the interior of the bowl, George demonstrated using an electric carving tool how to shape the exterior and bottom. This wasn't just a demonstration though. George was ready for each girl to have her own bowl to work on. He had the interiors started, and with George guiding the tools, the girls carved and sanded their bowls, readying them for the final two touches: burning the letters "RBC" using a metal brand, and adding a coat of mineral oil to protect the wood and give it a pleasing shine. Throughout the day, in a total of 4 workshops, campers were carving and sanding very cool wooden bowls, now keepsakes of their session at Rockbrook.
The Rockbrook lake already has floats, beach balls, kickboards, noodles, tubes, and other assorted floating balls and toys, but today the lifeguards added a few other items "just for fun," as they put it. For the morning periods, it was an arsenal of water pistols, and water shooting devices. The junior campers in particular had fun spraying each other, easily refilling their weapons with water from the lake. In the afternoon, suddenly there was a watermelon to play with. Some of the older girls took turns swimming with it, tossing it from the diving board, and watching it— after a very excellent splash —slowly resurface. After each toss and loud kerplunk, the girls would laugh and laugh, ready to pass the watermelon back up for another throw. Simple stuff, I know, but you would love it too!
Tonight was an event that many of the girls, especially the older campers, look forward to all session, and that has become a camp tradition over the years: a dance with Camp Carolina. We probably fired continuously all of our tankless water heaters this afternoon, and the very few mirrors in camp attracted a constant crowd, as the girls prepared for the night, pulling out a special outfit or maybe dressing in a silly costume. Once again we split the two camps and held two dances, our Juniors and Middlers staying at the Rockbrook gym with the younger boys and our Seniors and Hi-Ups dancing in the CCB dining hall with their older boys. At Rockbrook, our friend Marcus (aka, DJ Dawg) played all the music, doing a great job selecting songs the girls know, as well as songs with popular dance moves like "Watch Me." At both dances we outnumbered the boys about 2:1 making the night, for the girls at least, more about dancing with their friends than with the boys. Sweaty and tired from jumping and dancing around for an hour and a half, the older girls were very excited and chatty on the ride back to Rockbrook. Happy and tired: that's another good camp day.