We were lucky today to host local artist George Peterson and his wife Margaret (who is an Alumna of RBC) for a workshop on wood turning. George works with wood and is known nationally for his carving, etching and finishings of both functional pieces and sculptures. He's shown his work across the United States, in New York, San Francisco and Atlanta for example, and recently returned from a gallery opening in Japan. You can see a few examples, including his latest work with old skateboards, on his Web site: The Circle Factory.
Beginning with a block of wood, George demonstrated how a wood lathe spins the block, and when he carefully presses a sharp chisel into the whirling wood, twisty shavings fly away. It's mesmerizing to see how a uniform bowl is revealed, like it was hiding inside the block of wood. After removing it from the lathe, George then showed the girls how he uses an electric carving tool to shape the bottom of the bowl. The best part was next; giving it a try themselves! With George guiding the tools, the girls took turns working on their own shallow bowls, shaping and sanding them to a smooth finish. After branding each piece with the letters "RBC," the girls added a coat of mineral oil to bring out the wood's grain and give the bowls a protective and pleasing shine. George presented 4 workshops throughout the day, giving the 12 girls in each a really cool, unique wooden bowl to keep as memento from their camp session this year.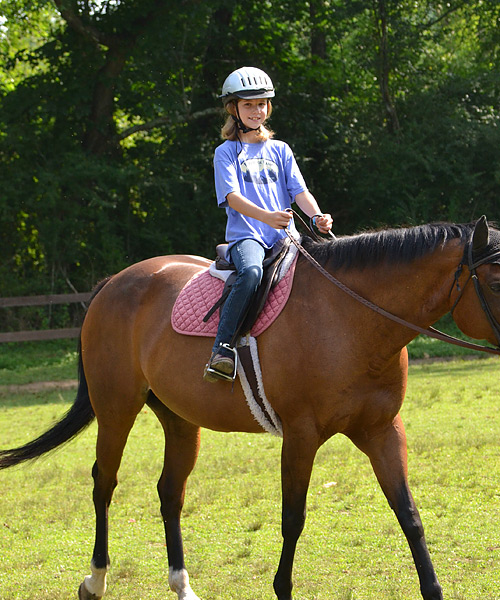 Meanwhile, the full range of in-camp activities kept hands and feet busy all day. Badminton in the gym, loom weaving in Curosty, horseback riding down at the stables, yoga in the Hillside Lodge, climbing at the Alpine Tower, swimming at the lake, shooting at the archery and riflery ranges: all examples that come to mind. Action springs up in every corner on a day like this, but also a yummy, mid-morning muffin break, free time before lunch to chill out, and a delicious rest hour before jumping right back in for the afternoon. The pace of our day here at Rockbrook is wonderful.
Hidden in the shade among the ferns and broad-leafed hostas (which by the way are sometimes called "Plantain Lillies") just behind the office, a few junior campers have discovered a fairy garden. It's a delicately cultivated part of the forest really, an area that catches the eye as somehow more alive, more intentional and definitely more beautiful… painted rocks, colorful leaves and flowers, neatly arranged pieces of bark, sticks and lots of moss. After discovering it, it made complete sense to help the fairies be more comfortable, so using popsicle sticks, candle wax, string and beads, the campers built houses for the fairies, one with a back porch and another suspended from a low-hanging branch. On the roof of one house, they made their intentions clear by writing, "Welcome Home." Now, thankfully, the fairy garden is a fairy village, proving again, thanks to these generous, creative campers, that Rockbrook is a "Fairyland of Beauty."
The biggest thrill of the day came after dinner when we held a dance, as Rockbrook has for generations, with the boys of Camp Carolina. The girls eagerly look forward to this night as a chance to clean up a little (which of course means firing all of the camp's tankless water heaters at once), dress up a little, but really to giggle, be silly (again!), and jump around with each other. Tonight we held two dances simultaneously, the Juniors and Middlers staying here in our gym to dance with the younger boys, and our seniors and Hi-Ups heading over to the CCB dining hall for their dance. At Rockbrook, we invited our friend Marcus (aka, DJ Dawg) to pump out the music. He always does a fantastic job playing songs the girls know, as well as songs with popular dance moves like "Y.M.C.A." The older girls spent a solid hour and a half dancing, at one point forming a conga line, singing along to the songs, and sweating as the night wore on. That much dancing takes muscle! A little tired and definitely hot on the bus ride back to Rockbrook, the girls seemed to have all good things to say about our excellent night out.