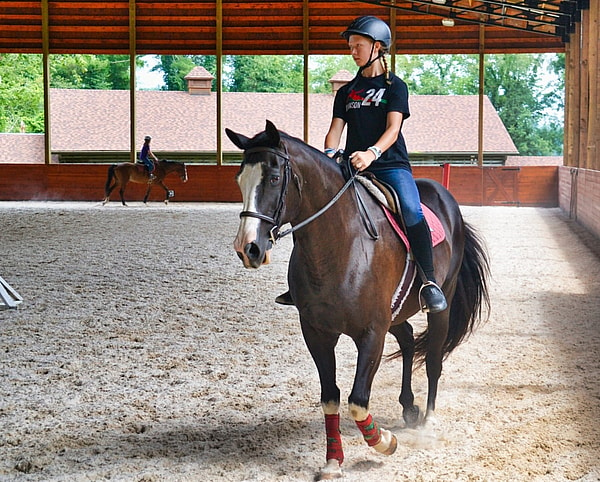 These past few days, between the two July mini sessions, have allowed the full-session campers to dig deeper into various activities and spend a little more time honing their skills and knowledge of techniques. For example, down closer to the French Broad river where Rockbrook's Riding Center is located, our young equestrians have been riding and working up to more advanced skills. The covered arena with its engineered footing (2 types of polyester fibers blended with a fine silica sand, and kept moist with regular watering) has been an ideal place for setting up cross rails and other vertical jumps for the girls. Some of the more popular horses, like Smoke, Snoopy and Rodin, have been working on the jumps with the girls. These are horses that train throughout the year at St. Andrew's University, and are very good at trotting and cantering over poles, as well as experienced jumpers. They know exactly what to do when their rider approaches a jump, eager to clear it. It's wonderful to see the smile on the girls' faces as they zoom over the jumps.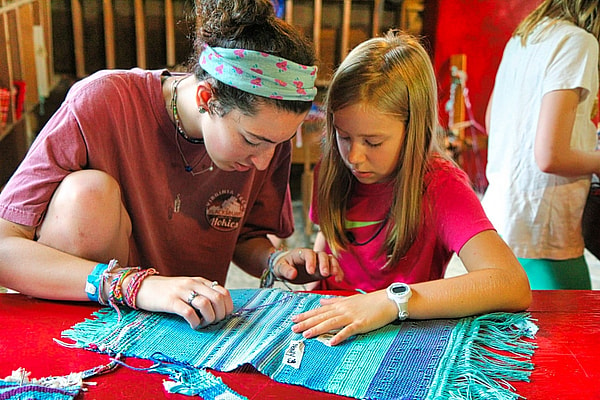 The same is true for adventure activities. Climbers ventured off-camp to Looking Glass Rock for a day working on the climb called B-52, while kayakers tackled the more advanced section of the Green River. Even in the craft activities, the weavers finished edges, t-shirts were dyed with a new pattern, and the pottery folks learned more about throwing on the wheel. The friendship bracelet patterns are becoming more complex and the needlecraft projects more intricate.
On the other hand, these few days also seemed to take on a slightly more relaxed pace of life. With added familiarity came greater comfort, making moments of free time feel great. We seem to be hanging out more naturally and simply enjoying each other's company. Instead of a race, we've discovered a sense of place. Instead of a goal, we're taking a leisurely stroll.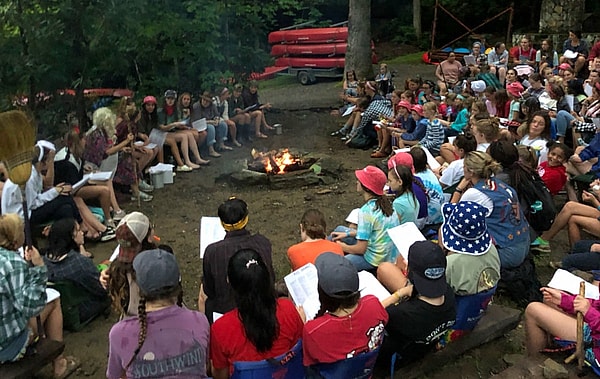 Tonight's evening program was an all-camp campfire, but one with a silly theme— Jug Band. Inspired by aspects of Appalachian culture, but along the lines of the old TV show "Hee Haw," the campers and counselors dressed in their mountain attire (flannels, overalls, bandannas), tied their hair in pigtails, and in some cases painted freckles on their cheeks. Even Sarah arrived dressed as "Sayrry," a mountain granny wearing a long dress, carrying a walking stick, and a pet (rubber) rattlesnake. The program included group songs, skits, and folks taking turns telling jokes. We sang "Rocky Top," "Sippin' Cider," "Mountain Dew," "She'll Be Comin' Round the Mountain," and others. There was a skit performed to the "Rooster Song." All along, the girls played improvised "musical" instruments like shakers, cans, and other things to tap or bang. For jokes, we heard that you call a pig that knows karate "Pork Chop" and when a horse is being negative it's a real neigh-sayer. With a nice campfire glowing with orange flames and the whole camp gathered around, it was a fun and amusing evening.