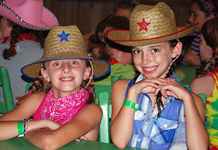 Here is a broad list of terms, a long glossary, about camping and summer camp generally and Rockbrook in particular. It includes concepts, buildings, activities, and staff definitions. We'll be adding more words and definitions to this summer camp dictionary in the future, so please let us know if there are certain terms you want to see.
Activity Registration — Process where campers sign up for a scheduled set of camp activities.
Adventure Challenge Activities — Activities that require campers be belayed using ropes and special climbing safety equipment. e.g., High Ropes Course.
All-Camp Event — A special event or activity where all campers participate together. e.g., Color Wars, Olympics.
American Camp Association — The national organization of camp professionals providing education program, conferences, and accreditation services for summer camps.
Aquatic Activities — Activities that occur in, on, or near water. e.g. Swimming, Kayaking, Canoeing.
Aquatic Area — The physical site of an aquatic activity. e.g., Pool, Lake, River.
Archery — Activity where camper use a bow to shoot arrows at targets.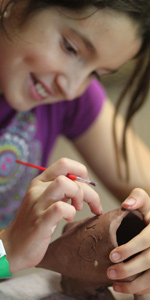 Arts and Crafts — Camp activities that design, build and hand decorate objects using fibers, paint, clay and other materials. Encourages imagination and artistic creativity.
Basketball — A sports game where players throw an inflated ball through a netted hoop fixed ten feet high against a backboard.
Bathhouse — A camp building containing showers, sinks, and toilets.
Belay — A technique whereby a rope is used to protect climbers from falling.
Buddy system — A system that pairs individuals to assist in their mutual safety while swimming.
Bunk — A cot-sized bed often stacked into a set with one on top of another.
Cabin — A simple wooded structure, often with open screened windows, designed to house a group of campers and their bunks.
Cabin Assistant — A junior camp staff member who lives with campers and assists an older, more experience cabin counselor.
Cabin Counselor — A camp staff member who leads, counsels and lives with a group of campers.
Cabin Day — At Rockbrook, a special day or afternoon session, when campers stay together as a cabin for a full-afternoon activity.
Camp — A camp is a youth development organization, supervised by professional adults, that strives to foster personal growth for children by providing them fun, safe educational/recreational programs, outdoor experiences and group activities while away from home during the summer months. Here's more on the definition of camp.
Camp Director — A person who has direct responsibility for administering a camp's program, services and operations.
Camp Food — The meals and snacks served at camp, usually in a dining hall, as picnics, or on off-site trips.
Camp Nurse — A healthcare professional who administers prescribed treatments and medications, and monitors the health and wellbeing of the camp community. Camp nurses work in a camp's infirmary.
Camp Songs — Songs sung by children at summer camp. Often accompanied by hand motions.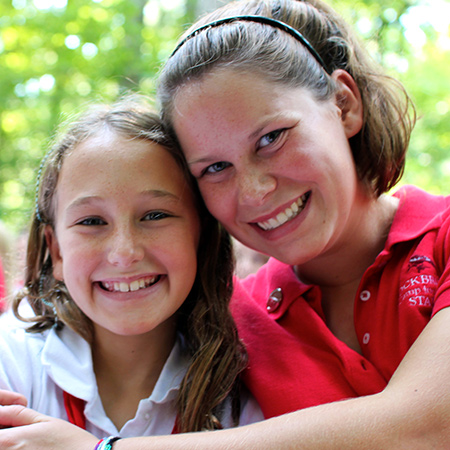 Camp Staff — People hired to work at summer camp. Includes kitchen, office, maintenance, health care, transportation, activity, cabin counselor, and administrative positions. Here's more about working at summer camp.
Camp Store — A building or area of camp that sells items for use at camp. Can include toiletries, batteries, etc., but at Rockbrook does not include snacks. Sometimes called a canteen.
Camp Trunk — A large, sturdy, rectangular piece of luggage used by campers to store their clothes while at camp. Sometimes called a footlocker.
Camp Uniform — Distinctive colored clothing sometimes worn by campers. The Rockbrook uniform consists of a white Polo Shirt, white shorts, and a red tie.
Campcrafts — An activity devoted to the skills and knowledge of camping, for example fire building.
Camper — A child, young person, and occasionally an adult, who participates in a camp program or experience.
Camper-Counselor ratio — The number of campers divided by the number of counselors hired. Often expressed as numbers, 4:1 or 4 to 1, for example.
Cancellation Policy — The policy defining the rights awarded to a person canceling a reservation for camp. Often includes reference to the refunding of paid fees.
Canoeing — A watercraft activity where campers paddle a canoe. Includes both lake and whitewater locations.
Canteen — A store or shop selling items for camper use while at camp. Can include snacks.
Care package — A package sent to a camper while at camp, often containing food, reading material, or small toys. Rockbrook does not allow care packages.
Catalog — An extensive brochure describing a camp's history, philosophy, activities, staff and policies.
Ceramics — Also called pottery, an activity where campers use clay to form vessels and sculpture that can then be glazed and kiln fired.
Chapel — A weekly event at camp where the community reflects upon and celebrates its values. At Rockbrook, a non-religious group activity, where campers select songs and stories they find meaningful.
Children's Camp — A summer camp for children. Includes both Day Camps and Overnight Camps.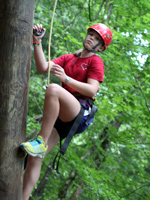 Climbing Tower — A man-made tower designed to simulate rock climbing. Can include a variety of obstacles, inclines and hand holds. Rockbrook's climbing tower is an Alpine Tower.
Closing Campfire — The final campfire of a summer camp session. Often used to recognize campers and staff and make awards. Rockbrook calls its closing campfire the Spirit Fire.
Closing Day — The final day of a camp session.
Color Wars — Refers to an all-camp event where multi-age teams, often dressed and named after a color, compete through a series of challenging events.
Cooking — A camp activity where campers learn basic food preparation skills. Sometimes focused on using a campfire for cooking.
Counselor in Training — A camper who takes on leadership responsibilities while at camp. Can be a Cabin Assistant.
Counselor Lounge — A room or building restricted to cabin counselor use during their free time. Often includes a television, computers, and Internet access.
Daily Schedule — The defined times for activities, meals, all-camp events, and free time that structure each day.
Dance — A camp activity for campers to learn different styles of individual and group dancing.
Day Camp — A camp where campers go home to their parents or guardian each night.
Dining Hall — A large building capable of seating campers and camp staff for eating meals.
Doughboy — A food prepared by cooking dough on a stick held over a campfire. Sometimes called a Stick Biscuit.
Drama — A camp activity where campers learn acting, stage, vocal and improvisational performance.
Evening Program — An activity held after dinner for an age group. Includes skits, games and song contests.
Family Camp — A camp session operated to serve parents and children together.
Field Hockey — A field sports activity where teams use crooked sticks to attempt to move a small ball into the opposing team's netted goal.
Fitness — A camp activity where campers play games designed to encourage physical activity, flexibility and coordination.
Free Swim Period — A block of free time for optional swimming. At Rockbrook thre are two, one before lunch and the other before dinner.
Gym — A large building with open floor space available for ball sports like basketball and volleyball.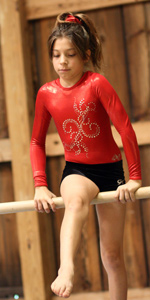 Gymnastics — A gym sports activity focused on tumbling, balance and coordination on a high bar, balance beam, or open floor.
Health Form — A form recording information about a person's health history, current health status, allergies, and required medications. Often required to attend camp.
High Ropes Course — An adventure challenge climbing course requiring users be protected by a safety rope (on belay), harness and helmet. Sometimes built in trees. Can include zip lines and high wires.
Homesickness — A feeling of distress caused by being away from home.
Horseback Riding — A camp activity where campers ride horses. Often includes learning horsemanship skills, and can include English or Western styles.
in loco parentis — A legal term meaning "in place of the parent" and refers to the supervisory responsibility a camp accepts when caring for children.
Infirmary — The camp building where health care staff members distribute medications, see patients with health complaints, and provide overnight health care as needed.
Jewelry Making — An arts camp activity where campers use fibers, wire, beads, and found natural objects to make bracelets and necklaces.
Lifeguard — A waterfront staff member who holds a lifesaving and rescue certification, is a skilled swimmer, and responsible for the safety of swimmers.
Lodge — Buildings for age group or all-camp assemblies. At Rockbrook, each age group holds its evening program in a different lodge.
Lookout — A non-certified waterfront staff member who provides extra "eyes" and helps lifeguards watch swimmers.
Low Ropes Course — An adventure challenge course low to the ground where participants do not require a belay system. Can include low beam, wire, and teamwork initiatives.
Morning Assembly — A short period of time after breakfast where campers and counselors gather in their lodge for announcements, skits and songs.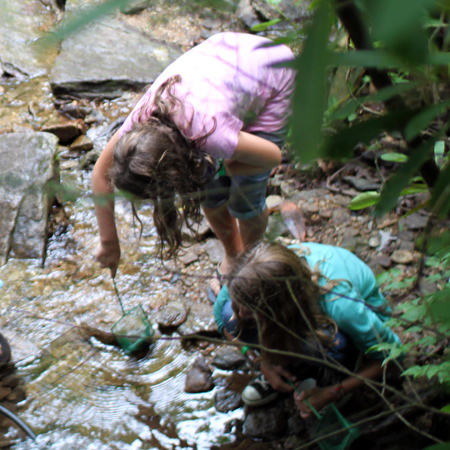 Nature — A camp activity devoted to exploring the natural world where campers learn about plants, insects and animals.
Needlecraft — A camp activity where campers knit, crochet, and embroider using cloth, thread and yarn.
Opening Day — Refers to the first day of a camp session.
Outdoor Adventure — A category of camp activities that occur in natural settings that are often exciting and scenic, and require special equipment and safety protocols. Outdoor Adventure activities include: hiking, backpacking, canoeing, kayaking, rock climbing, rafting, and zip lining.
Overnight Trip — An optional off-site camping trip where campers spend the night for one or more nights.
Package Policy — Describes a camp's rules about campers receiving care packages or other gifts in the mail.
Painting and Drawing — A camp arts and crafts activity introducing campers to the techniques of painting and drawing in different media.
Parent Handbook — A document for parents describing a camp's policies and procedures regarding cabin groups, packing for camp, health care, travel, communication, services, and fees.
Personal Flotation Device — Refers to a U.S. Coast Guard approved lifejacket.
Polar Bear Swim — An optional swimming time scheduled for early in the morning before breakfast.
Promotional DVD — A DVD disc containing short videos presenting a camp's program. Intended to inform prospective campers and their families.
Puppetry — A camp activity where campers make puppets and produce puppet shows. Often part of a Drama activity.
Religiously Affiliated Camp — A summer camp whose mission revolves around a religious tradition or denomination. Often supported financially by a religious organization.
Rental Programs — Refers to a service where an outside group or organization rents a camp's facilities or activity offerings.
Resident Camp — A camp where campers stay overnight and the camp is responsible for them 24 hours a day. See sleepaway camps.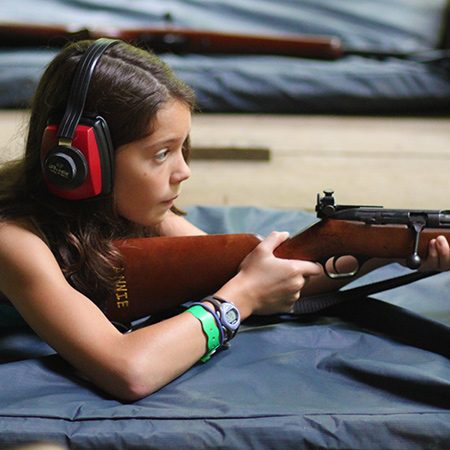 Riflery — A camp activity that teaches campers safety protocols and techniques of rifle target shooting.
Rock Climbing — An adventure camp activity introducing campers to the equipment, safety rules and physical techniques of climbing rocks. Can include off-site trips.
Seasonal Staff — Camp staff members working only during the camp season as opposed to year-round.
Sleepaway Camp — A camp where campers sleep overnight and the camp is responsible for them 24 hours a day. See Resident Camp.
Snack Break — A time between activity periods when campers and counselors receive a snack food.
Soccer — A field sports activity where teams use their feet and legs attempt to move a leather ball into the opposing teams goal.
Special Needs Camp — A camp whose facilities, staff and program are designed to be appropriate for campers with special physical, medical, or behavior characteristics.
Specialty Camp — A camp that focuses its program around a certain activity, subject, or event.
Swimming — A camp activity where campers float, play and propel themselves in and through water.
Teen Camp — A summer camp with programs and activities designed for teenage campers.
Tennis — A racquet sport camp activity focused on the rules and fundamental techniques of court tennis.
Tent Platform — A wooden deck, level and slightly elevated off the ground designed to act as the base for a tent. Sometimes left open or covered with a tarp to accommodate campers sleeping in sleeping bags.
Tetherball — A game where two players hit a ball tied to a string or rope that is fastened to a stationary pole.
Trip and Travel Camp — A summer camp where campers move from one site to another staying overnight for multiple nights. Often include wilderness trips, but can include vehicle travel to different sites.
Twilight Period — A period free of time at Rockbrook after dinner and before Evening Program.
Visiting Day — A special day in a camp session reserved for adults, often parents and grandparents, to visit campers while at camp.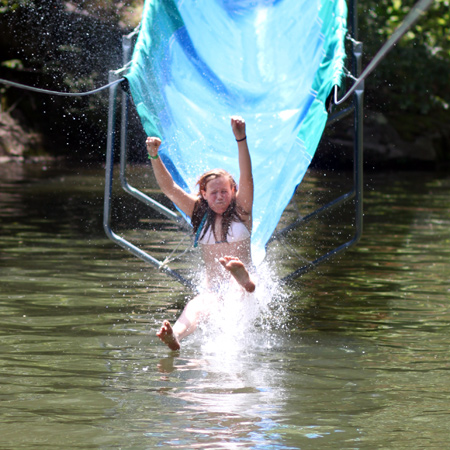 Water Slide — A waterfront apparatus designed to allow campers to climb one side and slide down an incline into the water.
Weaving — A camp activity where campers make fabric by interlacing two sets of threads or yarns at right angles. Includes hand and loom techniques, as well as basketry.
Whitewater Kayaking — A camp boating activity that involves using a double-blade paddle to maneuver a small plastic boat through river rapids.
Whitewater Rafting — A camp boating activity where a group of people paddle to navigate river rapids in a large rubber raft.
Woodworking — A camp activity where campers use basic hand tools such as saws and hammers to make objects out of wood.
Yoga — A camp activity where campers practice physical movements and breathing exercises to increase flexibility, tone and relaxation.
Youth Camp — A general term meaning camp for young people. More commonly associated with religiously affiliated camps.
Zip Line — An adventure camp activity where campers connect to a pulley that slides down a suspended, inclined steel cable.