It's been the most phenomenal session. The campers, both the seasoned, multi-year returning girls and the first-timers, took everything that makes up camp and elevated it to become one of the most joyful, supportive, friendly groups I've ever seen. How they sang songs in the dining hall, how they strolled together between activities, how they laughed and smiled watching each cabin's skits during evening program —this was clear in these, and so many other ways.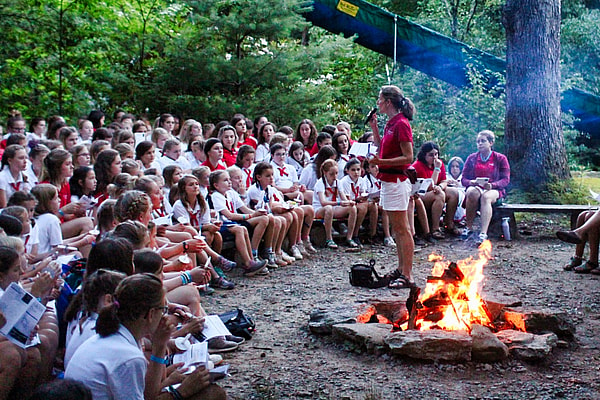 Tonight during the closing campfire ceremony, what we refer to as the "Spirit Fire," we saw the special character of community these girls and the staff have formed while at camp. As the girls gathered around the campfire, dressed in their white uniforms, they huddled close to each other, many with arms around, or their head resting on, the nearby shoulder. When they stood to speak about their time at camp this session, we heard girls express gratitude for the people they've come to know and love at Rockbrook. One marveled at how fulfilled she feels at camp, just by "being here." A staff member said she felt lucky to have found Rockbrook, a place of such "authentic caring."
Alternating between these reflections on the session and singing traditional camp songs, the program became increasingly emotional. Several girls sniffled, but when others had trouble stifling their crying, the melancholy mood was contagious and soon it was difficult to hear over the sobs and gentle weeping. I was reminded of the saying often attributed to A.A. Milne's Winnie the Pooh, "How lucky I am to have something that makes saying goodbye so hard." When something is this good, it's just sad when is has to come to an end.
Cherishing the memories, saving the craft projects, and collecting the photographs from the session can help a little, as can staying in touch with their camp friends, but the feeling of camp will have to wait until next summer. Thank you everyone for being a part of Rockbrook. You are what makes it special, all of you, all of us, together. How lucky we are!