It's been a summer like no other. That's for sure!
Five months ago, as we began to grapple with the serious implications of the CoVid-19 health crisis, we found ourselves going back and forth about holding our regular summer camp sessions. We devised different models for balancing the need to prevent spreading an infectious disease, and the need to fashion the kind of fun, carefree community we all so love about camp. Could we keep our campers and staff members safe, and at the same time recreate that feeling of togetherness that makes Rockbrook special?
Ultimately, as you know, we made the difficult decision to suspend our regular sessions because we did not feel comfortable compromising. The people of Rockbrook are too important, the friendships too central, the feeling of camp life too essential, for us to put any of it at risk either by drastically altering our camp program or accepting even a remote possibility of an outbreak. It was a heartbreaking realization felt by hundreds of Rockbrook Families and their girls.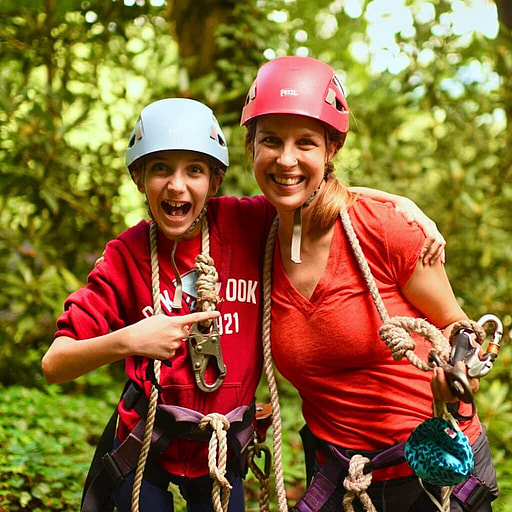 But we couldn't just sit by and do nothing! Rockbrook was ready to go! We had a beautiful camp, enthusiastic staff members, and loads of exciting plans all eagerly awaiting the return of happy girls. We needed something different where we could share Rockbrook, stay safe even as the pandemic was accelerating, and allow Rockbrook families to still get a little taste of camp life this summer. Soon, the idea of "Family Play Days" was born.
If you weren't able to attend one of the Play Days we offered, they were fantastic! On four consecutive Saturdays in July, Rockbrook families and friends arrived at camp to spend the day exploring the forests and trails of Rockbrook, enjoying all sorts of creative, sports and adventure activities, playing at the Rockbrook lake and savoring a delicious picnic lunch. We had 30 staff members on hand to keep everything running smoothly for the 100 or so people who visited each sold-out play day.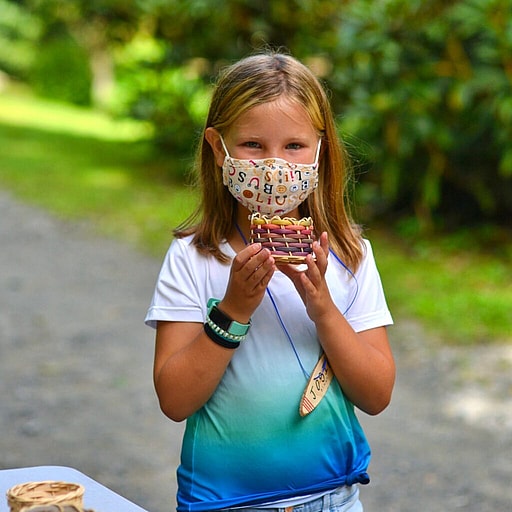 We had girls climbing the Alpine Tower, moms shooting archery, and dads flying down the water slide. I think everyone made a tie-dye t-shirt, sampled several freshly baked muffins, and took the scenic hike to Rockbrook Falls. Ziplining was especially popular, with a non-stop series of groups navigating the course throughout the day. Live mountain music from Ray and Elizabeth entertained us during lunch. There was stunning weather for tetherball and tennis, baskets and bracelets, leisure and laughter.
Perhaps the best part of our play days was the real sense of relief they provided. After enduring months of social isolation, tolerating all sorts of loss, and being thrown into the most profound uncertainty any of us have ever experienced, it was wonderful to actually do something real. There was such gratitude from everyone attending, thanking us for providing these opportunities to get outside immersed in the natural beauty of Rockbrook. It felt great to splash around in the chilly lake, to lounge on the hill while eating lunch, and for many, simply to breathe in a bit of that familiar camp smell. For all of us, for the families attending and the camp staff alike, these play days were in many ways therapeutic, just what we needed to recharge our camp spirit.
Now, as we look forward to the summer of 2021 and Rockbrook's 100th anniversary, we'll recall this past summer with some fondness for what we were able to accomplish safely. Thank you everyone for your understanding and enthusiastic support. It's wonderful to know the love for camp is stronger than ever!