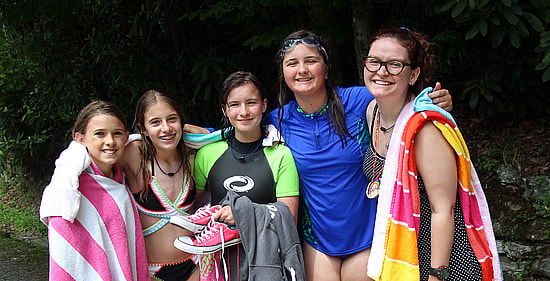 Welcome new mini session campers! We're very excited to have you join us at Rockbrook. For all of us on the staff and for the First Session campers already twirling through their session, this was a big day where new girls would be joining the camp community. More girls naturally means more fun, more voices singing in the dining hall, and lots more action throughout the camp. After a nice smooth arrival process— cars parking and unloading, luggage being carted to cabins, checking in with the office folks, nurses, and head screeners —cabin groups of new girls where exploring the cabin together. Serving as both a tour of camp and an introduction to the various activity offerings, these groups followed a scavenger hunt where they collected bracelets hidden at different areas of the camp: at the tennis courts, gym, health hut, and upper pottery studio, for example. It's good to start with a little orientation, and this is a fun, active way to learn your way around camp.
We've been getting wonderful feedback about the new covered arena and stable we added to Rockbrook this past year. We wrote about the construction of the arena earlier, but today we had several parents take a tour of the facility and remark how much they were impressed. "It's gorgeous!" was the most common comment. One mom said she thought this was the nicest covered horse arena in western North Carolina. I'm not sure about that, but its size and its quality footing (fiber additives blended with silica sand) do make it stand apart. Later we'll post more information about this great addition to the horseback riding program at Rockbrook, but it was nice to hear a few "horse people" say they were impressed with our design and finished project.
We took some time after lunch for the newly arrived campers to demonstrate their swimming ability to our lifeguards, and when successful to earn a colored swim necklace. For some girls, the mountain stream water feeding our lake can be shockingly cold and thereby make it more difficult to swim and tread water as our "swim demos" require. So a girl who swims well in a warm pool may appear less confident in the Rockbrook lake, but we've found that with some practice and assistance from the waterfront staff, she can get used to the water and improve. On a warm summer day, the lake feels great, altogether refreshing. And when the water slide is open during free swim periods, and the lake is filled with girls diving, floating, playing games and swimming laps, the lake is absolutely delightful.
One of the best ways to kick off a new camp session is to launch right into an all-camp event, something that brings everyone together for music, dancing and costumes with surprising creative activities, challenges, and games with prizes. Just add a theme, and this combination becomes a carnival, a multi-station, free-flowing symphony of fun. That's exactly what we did by throwing a Star Wars themed carnival or "Jedi Knight Training Academy." The Senior campers and counselors built and operated 10 different stations like the "Matching on Mars" game, "Death Start Destruction" shooting game (using Nerf pistols), "Pin the Saber on Yoda" game, and "Shoot the Sith" game, for example. There were two huge inflatable games: something called "Leaps and Bounds" that seemed really difficult, and a bungee cord race. We had our snow cone machine grinding out pounds of ice for everyone, and a couple of sprinklers set up to keep things cooler in the bright sun. For costumes, the were many Jedi Knights, a team of Darth Vader characters, and probably a dozen girls dressed as Princess Leia. One counselor dressed as Yoda and another as Darth Maul, but my favorite was the baby Wookie being carried around. As the campers arrived at the landsports field, they could make their own lightsaber from a foam pool noodle and different types of tape. They could have their fortune told, their face painted ("The Face is with You"), or challenge a Jedi master to a lightsaber duel. There were plenty of things to do for everyone, easily filling two hours with activity. A perfect camp Sunday afternoon!