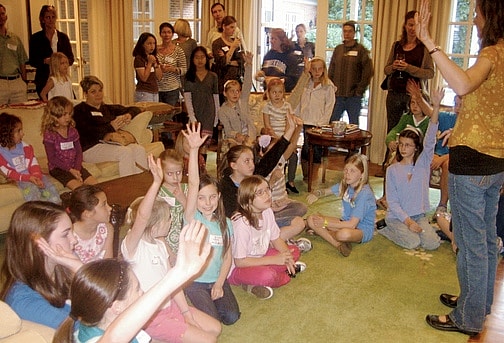 Are you ready for summer camp Charlotte girls? Judging from everyone's enthusiasm at last weekend's camp party at the Beltz's home in Charlotte, the answer is "Yes!" With the new Rockbrook Camp movie and slideshow from last summer's sessions all set to go, Sarah and Mandy met so many of our Charlotte NC campers and a bunch of their friends interested in learning more about RBC.
For returning campers and parents, it's always fun at these parties to see the new camp movie, spot yourself and your friends in the photos, and just to recharge your Rockbrook spirit.
And for new campers, meeting all the people, talking with the families, having the camp directors answer your questions, these parties really are one of the best ways to see why so many girls love Rockbrook.
It's wonderful to see that Rockbrook is the girls summer camp Charlotte families are buzzing about.