Being a camp community that spends most of its time outside, you can imagine that we pay a great deal of attention to the weather. But I should clarify that; the directors and other adults think about the weather, plan for it, make adjustments because of it, celebrating or bemoaning what mother nature sends our little nook in the mountains. We are focused on the weather (even to the point of installing our own weather station!), but the kids, the girls at Rockbrook generally are not. Today, for example, we had "perfect" warm and sunny weather for our whitewater rafting trips, and all of our other in-camp activities, but I don't think the girls noticed it much. Instead, they paid attention to each other and to the activity, laughing and splashing, bumping and paddling down the Nantahala. It's amazing how "in the moment" these girls are, oblivious to everything beyond what they're doing and the friends they're doing it with. On other days, I've seen campers completely ignore the rain, happily wearing a hat instead of a raincoat, playing in the creek as if it was any other day. There's no air conditioning in the cabins, but that simply doesn't matter to the girls when there are so many more immediate things to discuss with bunkmates. When it's hot and humid late in the day, that's just another reason to head to the lake. The weather demands attention now and then, but most of the time it's just the context for our daily camp experience. We all know, for example, to stay safely inside when there's a threat of lighting, or the opposite, we may stop what we're doing in amazement of a brief hail storm. This kind of complete engagement, energized immersion into the daily activities that structure our day— which makes "time fly" and fuels the intensity of the fun, by the way —makes everything external largely insignificant. The weather? "Oh yeah, I guess it rained."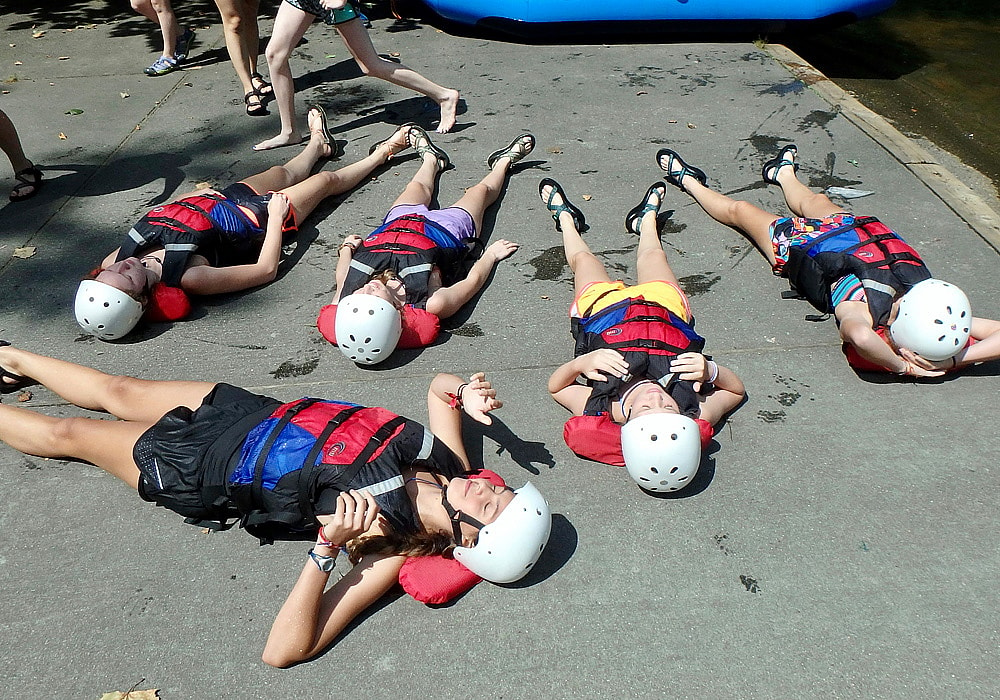 We took about 60 people whitewater rafting on the Nantahala River today. We offer this trip every year to all of the Middlers and Seniors, and for many it has become their favorite outdoor adventure experience of their session. One bus of girls chose to spend the night at our outpost near the river, enjoying a little camping complete with maybe one too many s'mores before bed. The river trip itself delivered plenty of frigid water and thrilling drops through the class II and III rapids, but as you can see the girls added a good dose of silliness to the trip as well, posing for photos, making "high-fives" with their paddles, and riding "the bull" until falling back into the boat or forward into the river. Using our own equipment and guides the girls already know helps this extra silly fun take over. Songs and spirited shenanigans all the way down!
Be sure to take a look at the online photo gallery. Today's shots are particularly good. We have two full-time photographers who roam around camp trying to capture the action. At times only one is working, and at others, both are busy trying to snap a photo of every girl (at least one!) while also showcasing the different activities all happening at once. It's difficult to be everywhere at the same time, but especially when both photographers are working, they do an amazing job keeping the gallery interesting. Spend a few minutes scrolling through the photos and you will discover the incredible variety of things your girls are doing— riding, shooting, jumping, zipping, weaving, tie dying, playing, swimming, balancing, paddling, acting, painting… —but also I hope you'll get a sense of how they're learning along the way. Every activity involves specific skills, techniques, terminology, equipment or materials. Some require careful athletic coordination, imagination or creativity. Personal qualities are being exercised too: perseverance, bravery, patience, humility, and stamina come to mind. Rockbrook's organized camp activities bring all of this together, and when led by such amazing, caring instructors, and when the forces of "positive peer pressure" ("Let's sign up for kayaking!") soften feelings of hesitation, girls grow in astounding ways. They experience not just something novel and fun; they discover new success and confidence too.
Climbing is a great example of this learning, of the broad educational (in the best sense of the word) benefits of camp activities. Of course, beginners learn about the special equipment needed to climb safely: the kernmantle rope, helmet, locking carabiners, belay device, and harness with its array of straps and buckles. They learn about different climbing techniques: various holds, body positions, and balancing stances. The older girls can learn how to belay. There are mental skills also: concentration ("Don't look down!"), determination, and problem solving each step of the way, for example.  Emotions like fear and frustration often play a role too, not to mention the elation of achieving the goal of reaching the top of a climb. Climbing means overcoming your fear of heights (which we all have to some extent) by learning to trust, to trust the safety equipment and ultimately to trust your own ability to climb effectively. Whether it's on our high ropes climbing tower, wall in the gym, the routes on Castle Rock, or on Looking Glass Rock in the Pisgah Forest, the Rockbrook girls who climb are learning so much more than simply "how to climb." So much more!