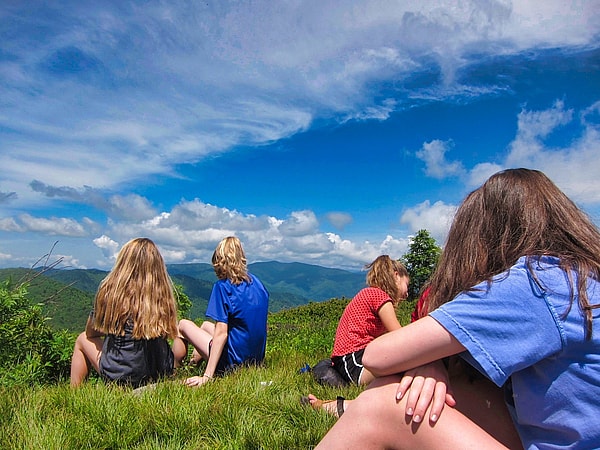 It was a full day of high altitude adventure for a group of 13 seniors who signed up for a special trip today. Lukas and Gabby, two of our outdoor staff members, planned and led the trip. Leaving after breakfast with muffins for a snack break, and a pack of sandwiches for lunch, they drove up to the Blue Ridge Parkway, making it all the way to the edge of the Shining Rock Wilderness area where they parked and set out on the Art Loeb Trail. This trail leaves the parking lot and follows the ridge line over several of the highest mountains in North Carolina, Black Balsam and Tennent Mountain being the most prominent. You can see from this photo that these peaks, which are over 6000ft high, are grassy, treeless knobs that provide amazing distant views when the weather is good, like it was today. Perfect places to enjoy the pleasure of a homemade muffin baked at camp!
Spending the whole day out allowed the girls next to make a fun stop at a popular swimming hole known as "Skinny-dip Falls." They had come prepared with swimsuits and towels, and with their packed lunch, the sunny afternoon swimming and sunbathing on the boulders below the falls was wonderful. They took turns leaping from the "jump rock" and posing for photos. The leisurely pace, plenty of time to soak in the surrounding forest (big trees now!), and the delightfully cold mountain water created a special experience.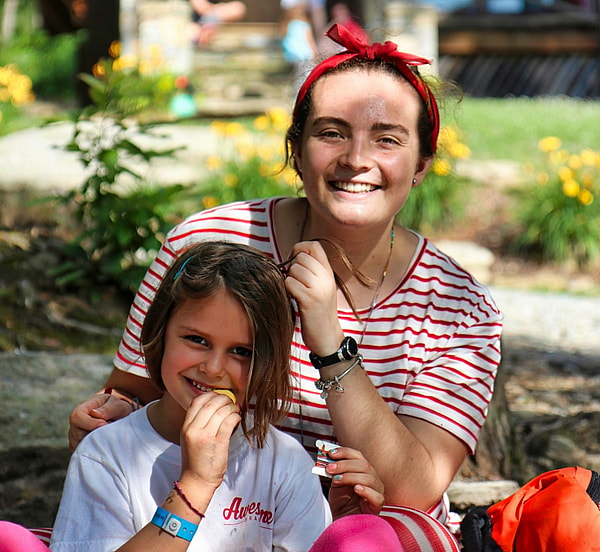 Back at camp, we deemed today "Red and White Day." Essentially, we created a simple theme for creative costumes or dressing up. In some cases it was a simple as wearing a red t-shirt or a headband, and since Rockbrook's colors are red and white, just about everybody had something they could wear. Sarah went all out, though. She has Rockbrook gear going back to the corduroy RBC hat, Rockbrook socks, hair ties, t-shirt, shorts, and fleece tied around here waist. Rockbrook red and white in all ways. It's neat how the pleasure of a simple dress up theme adds to the fun of a zany community like Rockbrook.
After dinner during our "Twilight" time, Chase organized an all-camp game of "Counselor Hunt." As you can imagine this involves the counselors hiding and the campers, as cabin groups, scouring the camp looking for them. We randomly assign point values to the counselors so that when found points can be added up to award prizes in the end. A few counselors successfully hid throughout the search period (I suspect covered in leaves), while others were found almost immediately. The whole event is really fast paced as the cabin groups race around trying to be the first to find any particular counselor. Here too, something simple— in this case "hide and seek" —made for exciting all-camp fun.
Don't you just love this last photo? It's a gorgeous example of another simple pleasure of life at Rockbrook. Different than the fast-paced, competitive, technology-fueled, pressure (even anxiety) of our kids' ordinarily lives, camp opens up space for girls to explore, play freely, imagine and create. …like right here in this photo where all of that is happening spontaneously beneath a hydrangea bush. The best word for it might be "joy." There's a contentment, something additional and deeper, that makes camp "fun" more affecting. Sometimes it takes a while for girls to realize they can be themselves like this at camp, but once they experience it, everyone will tell you they love it. They know "There's no place like camp."