After the arrival of our mini-session campers, I have been made more and more aware of the simple magical moments of Rockbrook, enhanced by the campers themselves: At breakfast, a sea of girls bumped around the dining hall to work together in teams to clean their tables. I delighted in watching campers skip across the rocks to go down the slide for the first time while I lifeguarded. As the sun set, I was lucky enough to hear a symphony of giggles coming from cabins while the girls planned skits for Evening Program. I am so grateful to these new campers to add to such an amazing group of girls for first session!
We celebrated the mini-session campers' arrival by declaring today as Crazy Hair Day! There's no such thing as a normal day at camp, and girls sure did flex their creative, confident, and unique muscles with this one… I spotted ponytails, wigs, and frizz thereafter as girls went to the activities they got to sign up for last night.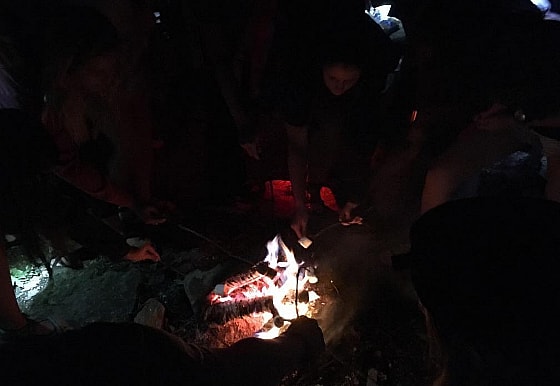 My favorite part of the day was towards the end, however. Last week, two cabins won a special prize that they were finally able to claim tonight… S'mores! After the senior campers wrapped up their evening skits and nightly "goodnight circle" routine, we marched over to Vesper Rock to build a fire. This is the ideal campfire spot, which overlooks our lake and has a view of the senior girls' lodge. One of the girls who adores the wilderness helped make the fire with little trouble at all. Having been on many off-camp trips and taken numerous nature-related activities at Rockbrook, she confidently delegated tasks to the rest of the group and gave us pointers for next time.
Nighttime was in full swing when we got the fire started. The campfire was our only light source as we sang some favorites: Little Willie, the Cider Song, Midnight Train, and Take a Little Bit of Ginger. As other girls prepared for bed, they enjoyed their nighttime snacks, listening to a silly story told by one of their fellow campers.
Meanwhile, another lucky group of younger campers hunkered down to listen to a bedtime story by one of our beloved Directors, Sofie. I know that they had fun listening to her animated style, and I'm thrilled that we get to keep making memories with these girls through their cabins' very own special treats. Next on the agenda, we have older campers lined up to stargaze on the hill with a telescope on a clear night soon and the oldest campers plunge into the cold lake early in the morning.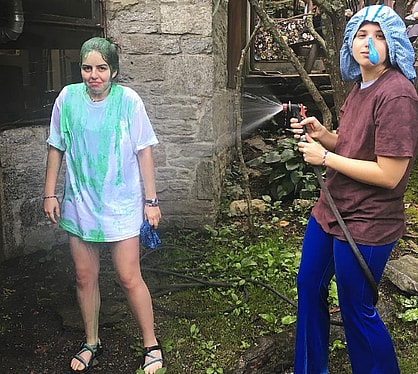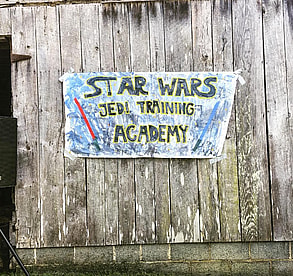 In the more routine days of camp, without big events like Jedi Training Academy or Nickelodeon Surprise Night, I'm reminded that girls are learning what it means to find joy in simple moments and true quality time with friends. I can't wait for more magic to unfold tomorrow and throughout the session, via little and big surprises, silliness, and being unapologetically present.