If you've been following the photo gallery, you know dressing up in costume is a regular occurrence around here. Every other day or so, we have a special event, or just an announced theme, where we encourage the girls and the staff members to dress up or create a silly character. And the sillier, the better! You should see what these girls come up with when they combine hats, dresses, wigs, make up, paint, glasses and all kinds of improvised props like sticks, leaves and brooms.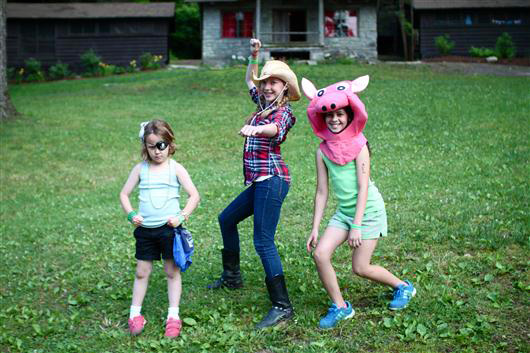 A great example of this was the "Disney Photo Shoot" the girls held on the hill after dinner, during the hour of free time we call "Twilight." It's a time when the girls can hang out, take showers, read, play tennis or tetherball, but when they can join an optional camp-wide game or activity. The "Photo Shoot" was just that: a chance to dress up and pose for a few photos. It seemed to be most popular with the Juniors (K-4th graders), but the counselors were also pretty excited about the chance to pose. I'm not sure how these costumes were "Disney-related," but I'm sure if we asked, the girls would have a clear answer. In the end, of course, that doesn't matter because dressing up is really just for the fun of it. It's a chance to let go a little, to laugh with your friends about how crazy we look, and to be completely indifferent about what people might think. It's camp!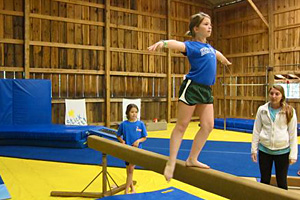 Down in the gym, Elaine Trozzo our longtime gymnastics coach is working with the girls. After a thorough warm up with plenty of stretching on the deep blue padded runway (flexibility!), she has been helping them with beam techniques (balance!). Elaine and her staff of counselors are great at tailoring each class to every camper's level of gymnastics experience. Beginners might be practicing on the low beam, while more advanced girls can work on the full-sized balance beam, for example. Each day the girls can enjoy a different gymnastics event. Maybe the high bar, the mini trampoline, or the tumbling runway- there will be helping hands, instruction and encouragement to make it great.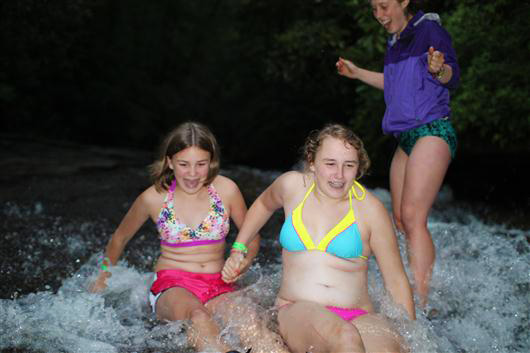 It looked a little cloudy as we pulled out of camp with all of the Senior girls loaded into 4 buses, but we were hoping the rain would hold off for a picnic and trip to sliding rock. As we drove along Looking Glass Creek in the forest though, it started to sprinkle a bit, so suddenly our picnic needed shelter. Fortunately, we knew just the place were we could all sit and eat while waiting for the rain to stop. You might guess that it was a bit chilly at this point, but did that prevent us from stopping at sliding rock? No way! The rain had finished, and dinner had really energized the girls. Yes, the water was "FREEZING!" but that didn't prevent many of the girls from enjoying the plunge. I do think the squeals were partly due to the water temperature, but also from the sheer delight that comes from such an extreme experience. With Dolly's Dairy Bar at the entrance to the Forest, we had to stop on the way home. It's funny how despite being chilly and wet, nobody was too cold for an ice cream cone!