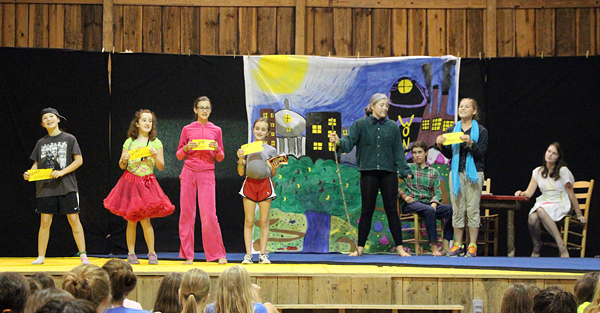 This afternoon the entire camp, plus a few of the invited parents of girls performing, gathered for a special event in the gym, which, like last night's banquet, was the culmination of creativity and hard work spread over many days during the session. It was this session's camp musical, Willy Wonka JR! Throughout the session the cast members have been learning songs, rehearsing choreographed dances, and memorizing lines for the main characters in this well-known story of Charlie and his quest for a golden ticket to tour the Willy Wonka Chocolate Factory. We had campers of all ages playing the main parts: Willy Wonka, Charlie, Grandpa Joe, Augustus Gloop, Veruca Salt, Violet Beauregarde, Mike Teevee, and an entire crew of Oompa-Loompas complete with orange skin and green hair. The songs were wonderful too— "Cheer Up Charlie," "Pure Imagination" and the "Candyman," standing out as favorites. Watching the performance, I could really tell the girls were enjoying themselves. Thanks to everyone, particularly the drama instructors, for making it an enjoyable afternoon for everyone!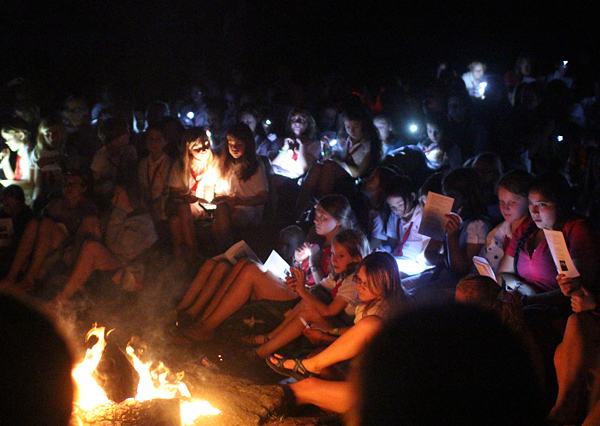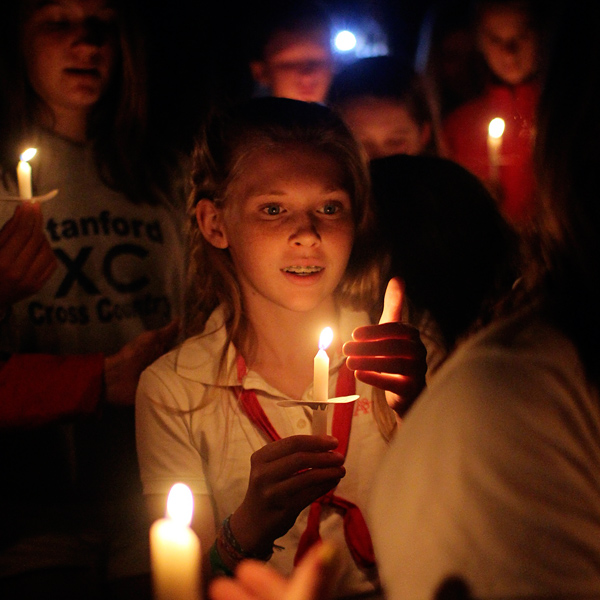 We closed the day, and the session, tonight as Rockbrook girls have closed their session every summer since the camp was founded in 1921— with a special campfire we call our "Spirit Fire." Different from the zany exuberance we're more accustomed to around here, this is a chance to slow down a little, clean up a little (We wear our "whities" uniforms.) and enjoy a campfire together paying tribute to the experiences we've shared, the deep relationships we've formed, and the personal strides we've made together at camp. The scene is beautiful— counselors and campers gathered around the fire, squished shoulder-to-shoulder, maybe sitting on a welcome lap, inching as close as possible together, stars and tall oaks high above, crickets chittering about, all glowing a dim orange from the fire and nestled in the woods we have come to know and love so well. Adding to this are the traditional songs sung as part of the Spirit Fire program. Here's a 1-minute recording of a song from last night.
The program also included campers and counselors from each age group presenting short speeches summarizing how they feel about Rockbrook and relating what they've learned during the session. Sarah also spoke, tonight giving everyone a challenge to enliven their "Rockbrook Spirit," their kindness and generosity of attitude, their authentic selves, back home and at school. We closed the Spirit Fire with everyone lighting their own small white candle and forming a row around the lake, singing softly. With the water reflecting candlelight back onto everyone's faces, surrounded by all these friends, and filled with so many great memories from the last few weeks together, this was an emotional, beautiful moment. I can't think of a better way to mark the great camp session we've had together.